The Sad Reason Shawn Mendes Strained His Relationship With Camila Cabello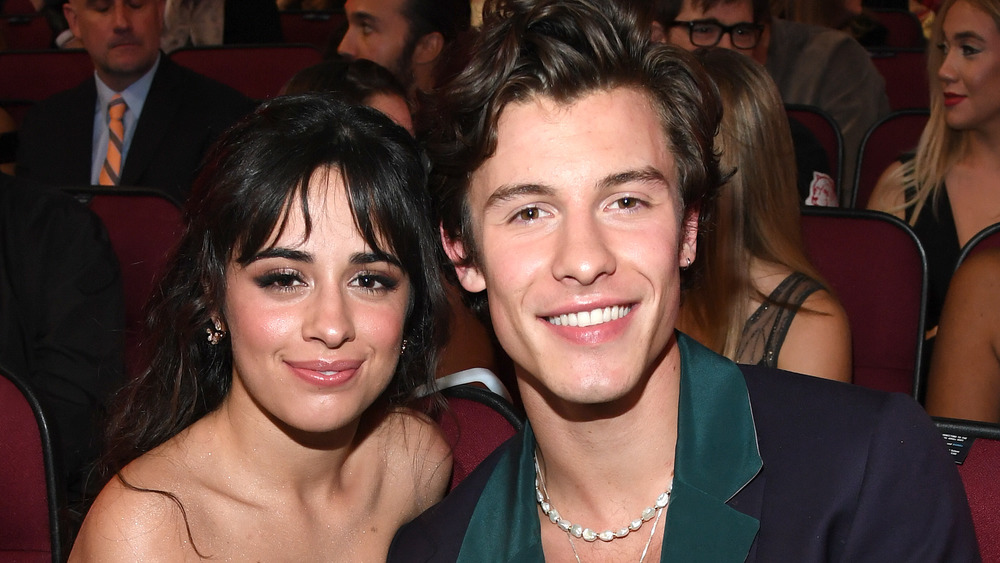 Kevin Mazur/ama2019/Getty Images
What started off as a platonic musical partnership back in 2015 and progressed to a social media flirtation is now a full-fledged (and adorable) relationship between two entertainment powerhouses. Shawn Mendes and Camila Cabello have been showing their love to the world since July 2019 (via Glamour), and it seems to be the real deal. When the two received a Grammy nomination for their duet "Señorita," Cabello posted the news on Instagram, gushing, "nominated for a Grammy with my favorite person !!!!!!!!" 
Per the Chicago Tribune, Cabello also recently told the audience in an intimate Apple Music performance that Mendes made her feel that she didn't have to wear the "mask of perfection" that she feels obligated to put on with others. She also confessed that this new relationship is the inspiration for her new album, Romance, which drops on December 6. 
But even the best relationship has its challenges, and this one is no exception. The couple recently weathered a crisis related to a condition that Mendes has grappled with for years.
Why Mendes wouldn't talk to Cabello
Mendes has always been candid about his struggles with anxiety. At 19, he told The Sun that he'd seen a therapist "a couple of times" to deal with the issue. He wrote an essay for Time this past spring on maintaining mental health during the COVID-19 pandemic by exercising, connecting with family and friends online, practicing deep breathing, and meditating.
But only recently has Mendes acknowledged that his issues threatened his budding romance with Cabello. In an interview with Zane Lowe for Apple Music (as reported by Radio.com), the "Stitches" singer confessed, "I went through a month where I couldn't really even communicate with her because I was struggling with anxiety, and I didn't want her to see me weak. And I was on the verge of ruining our relationship." 
Fortunately, Mendes followed his own advice and opened up to his girlfriend, and says that they came out stronger as a result. Being forced to pull back on his normally packed schedule helped, too. "The pandemic that's happening and the isolation and the quarantine has been terrifying and really hard, but something really beautiful for me came out of it, which was you're not allowed to leave," Mendes said in the interview (via E! News). "Stillness." That sense of deep calm, he added, spurred him to create a new album that will drop in December. "That was the best gift I think I've ever, ever been given in my whole life."