The Foolproof Way To Put On Stick Foundation Perfectly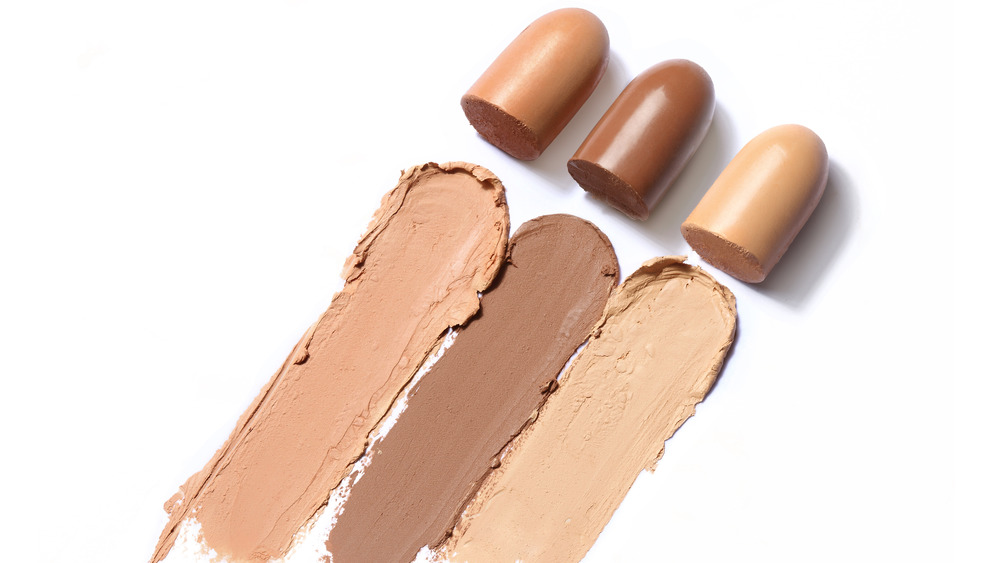 Shutterstock
Stick foundation has many benefits; it's easily portable and lends itself well to being tossed into a purse for touch-ups, it can double as a concealer thanks to its thicker texture, and it can be particularly quick to apply for those who want a no-nonsense morning routine (via Beauty Bay). But making sure you're applying this type of foundation properly can prevent some of the downsides to using this type of makeup. For instance, while it may be tempting to just draw streaks across your face with the stick and blend after, but this can create heavy lines that are difficult to blend thoroughly. It also may put more product on your face than you may need, making the look appear cakey and depleting your supply quicker than necessary.
Instead, use the dot method like you would with concealer. Makeup artist Jenny Patinkin told InStyle the best way is to apply three small dots of the foundation on your forehead, two on your nose, two on each cheek, and the one on your chin. Then blend it outward with either your fingers or a dense brush. She recommends avoiding a makeup sponge for stick foundation because it doesn't create enough friction to emulsify the more solid formula into a spreadable texture. For problem areas, you can apply a second dot or two and blend again, and if you want to use the stick makeup as a concealer, simply use a concealer brush to dab it onto the blemish you're trying to cover.
Other things to know about stick foundation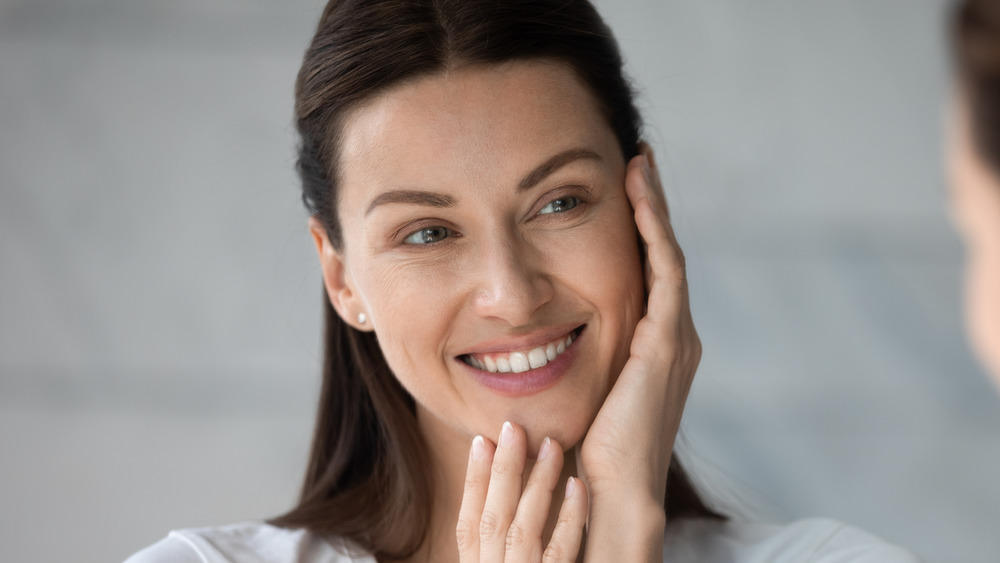 Shutterstock
Another potential concern with stick foundation is the buildup of bacteria in the product since you use the makeup itself as the applicator, directly on your skin. While this can be a legitimate worry for those with sensitive skin, using the makeup only on freshly clean skin and tossing it in the trash by its expiration date should help prevent any issue. If, however, you notice you're breaking out more using a stick foundation, you can use a brush to apply it rather than touching the stick directly to your face (via ispyfabulous.com).
Choosing the right stick foundation for you will also help to ensure you're getting the type of coverage you need. StyleCaster lists its favorite sticks and their individual benefits. For instance, it says Bobbi Brown Skin Foundation Stick really does look like natural skin once its blended out and won't leave you looking like you're wearing a heavy coat of theater makeup. Tom Ford Traceless Stick Foundation also lives up to its name and provides a seamless finish that is hydrating and buildable, so you can get sheer to full coverage from one product. Last, the publication says drugstore brand Maybelline Fit Me Shine Free Foundation Stick is good for light coverage that is also "shine free" and helps to soak up any extra oil.