Katy Perry's 2020 AMAs Performance Meant More Than You Realized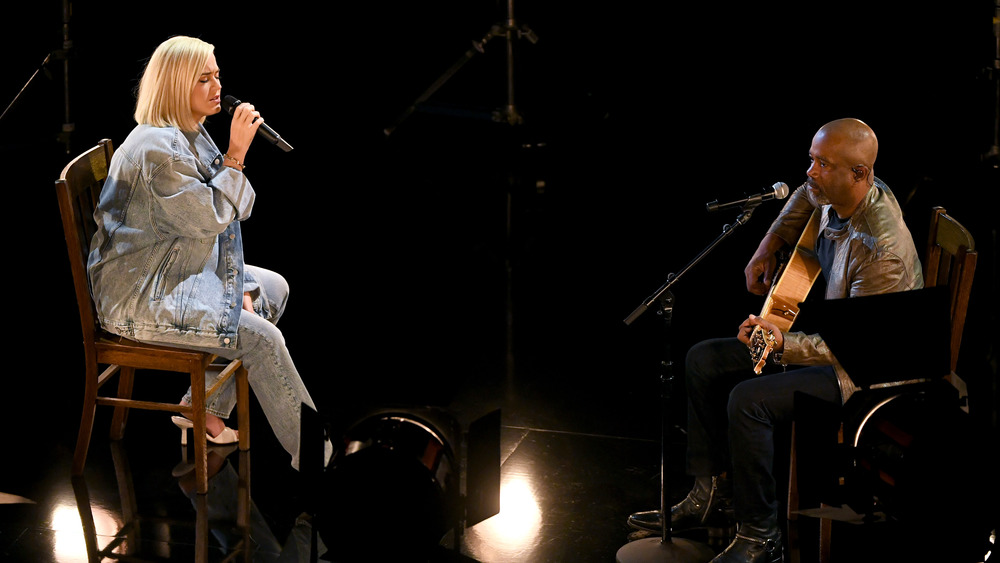 Kevin Winter/ama2020/Getty Images
Pop princess Katy Perry showed a different side of herself during her emotional American Music Awards duet with Darius Rucker. But the touching ballad, "Only Love," off her album Smile, which seemed like a poignant requiem for a world in the midst of the turmoil of a pandemic, was actually much more personal to the new mom.
Earlier this evening Katie Perry shared a throwback photo to Instagram of herself as a baby being cuddled by her father, Keith Hudson. The "Fireworks" singer, who has been vocal about her strict upbringing and her volatile relationship with her parents who are both Pentecostal pastors, captioned the photo, "tonight's @amas performance is for my father."
This dedication comes just after an interview with ET in August where Perry vowed to not raise her daughter Daisy, like she was raised. She revealed, "I am just excited to be able to raise her in a different way than what I was raised and to let her think for herself and have choice and discover and just lean into the magic in life and dress like whatever she wants to dress like for Halloween."
While it's unclear exactly what the touching performance meant for their father and daughter relationship, it's obvious that Perry is sending a message that although she doesn't love everything about her childhood, she does love and respect her parents.
Becoming a mother could have helped Katy Perry understand her parents better
The touching song which features the lyrics, "If I had one day left to live /And if the stars went out on me, / the truth is Yeah, there's so much I'd say and do /If I had nothing to lose, / nah, nothing to lose," in the context of a young woman becoming a mother for the first time and dealing with a fractured relationship with her parents, it makes sense she would dedicate it to her father. As if knowing in that moment of becoming a parent, that although they made mistakes they always loved her.
The idea reflects the ideas she revealed in an interview with Vanity Fair nearly a decade earlier. She told the outlet, "I think sometimes when children grow up, their parents grow up." Further explaining, "Mine grew up with me. We coexist. I don't try to change them anymore, and I don't think they try to change me."
One thing we know for sure, Hudson is excited to become a Grandfather and thinks very highly of his soon to be son-in-law. Gushing to Life and Style Magazine earlier this year, Perry's father revealed that he thinks Orlando Bloom is a "great guy," and that he's "a happy man."