Here's What's Going On With The Weeknd's Face At The 2020 AMAs
If you watched the American Music Awards, you might have noticed something that isn't quite right — and by that we mean The Weeknd's bloodied and bruised face, covered in white bandages. While we saw something similar to this look before at the VMAs, it was more than enough to get Twitter concerned, with users tweeting things like @theFishstache asking: "What does that mean? He got beat up and perhaps thrown in a fire for an album?!" and user @hazzissstar pointedly asking in Spanish: "QUE LE PASO A THE WEEKEND????" (What happened to The Weekend????").
The answer to this unique look goes back to March of this year, and it has nothing to do with particularly slow-healing wounds. Fan @BeccaLodahl took to Twitter to explain the look's first appearance: "For everyone who's wondering, The Weeknd's face looks bloody & messed up on SNL because he's promoting his new short film 'After Hours', which precedes his new album of the same name. He wears the same bloody makeup & bandage in the After Hours clip."
The Weeknd's bloodied look is a warning against drunk driving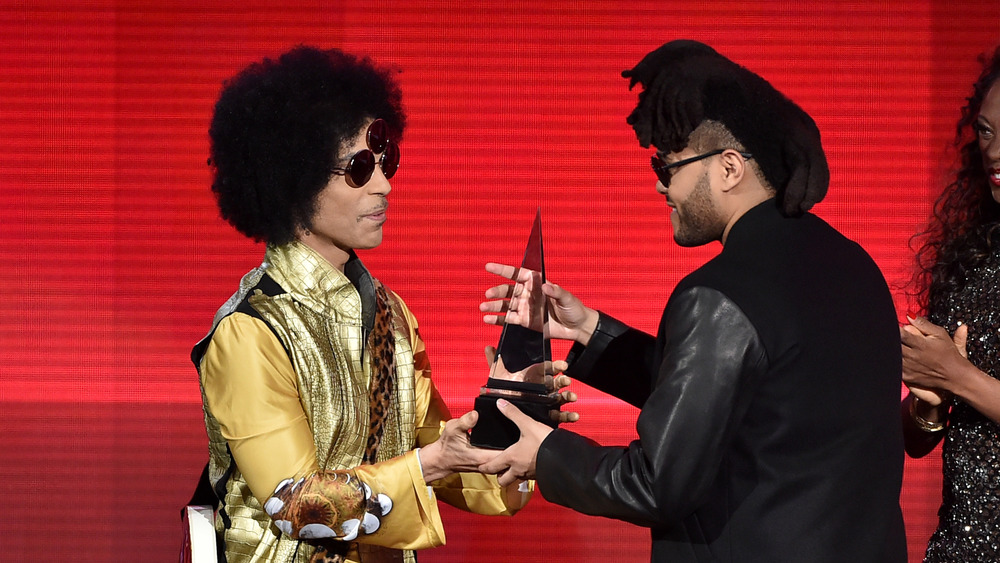 Kevin Winter/Getty Images
This isn't the first time The Weeknd has appeared bruised and bandaged in public. As stated above, the performer did it for the VMAs earlier this year as well. Back then, he was promoting two works, "Blinding Lights" and After Hours — and it was seen as a warning against drunk driving. Elle, who reported on the look, quoted an interview the performer gave to Esquire earlier this year, saying: "'Blinding Lights' [is about] how you want to see someone at night, and you're intoxicated, and you're driving to this person and you're just blinded by streetlights. But nothing could stop you from trying to go see that person, because you're so lonely. I don't want to ever promote drunk driving, but that's what the dark undertone is."
But in his 2020 AMA acceptance speech for Favorite Album — Soul/R&B for After Hours, The Weeknd was less interested in talking about his eye-catching awards look and more in the last time he received the award, saying "Last time I received this award, it was given to me by the late great Prince, and you know, he's the reason I get to constantly challenge the genre of R&B, and I'd like to dedicate this award to him. Thank you."