The Truth About The Weeknd And Prince's Relationship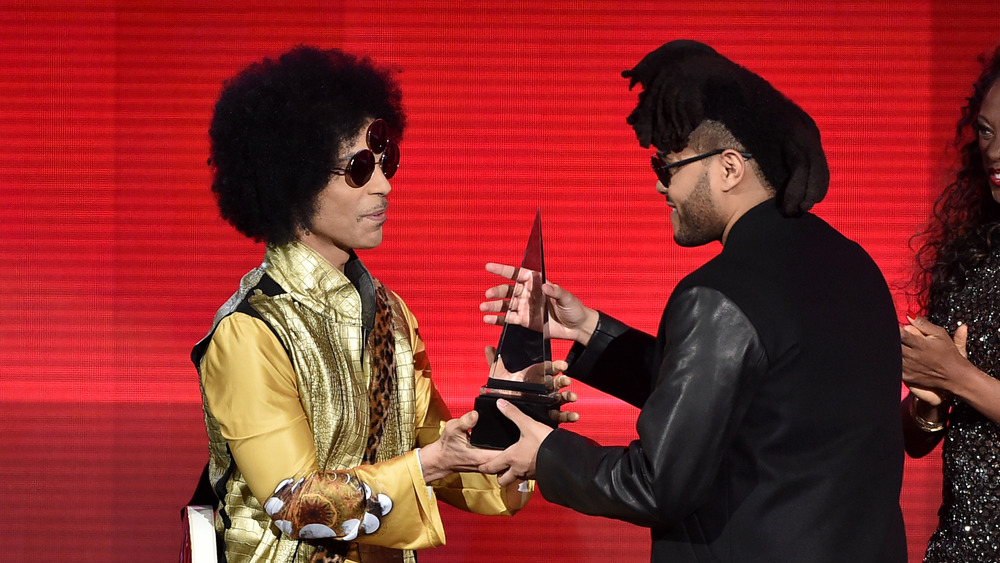 Kevin Winter/Getty Images
True fans of The Weeknd likely already know how influential the work of Prince has been to his music over the years, well before the legend handed him a trophy at the 2015 American Music Awards (via Youtube). Sadly, that was Prince's last television appearance before his death in April of 2016; which The Weeknd called "the greatest experience of my entire life" (via USA Today). It cuts even deeper when you learn that the two were scheduled to collaborate, but never got the chance (via Rolling Stone).
So, it was extra special when he won the award for Best Soul/R&B Album again tonight and made a direct callback to that win five years ago, saying: "Last time I received this award it was given to me by the late, great Prince. He's the reason I get to constantly challenge the genre of R&B and I'd like to dedicate this award to him. Thank you" (via Twitter). 
How Prince directly inspired The Weeknd's After Hours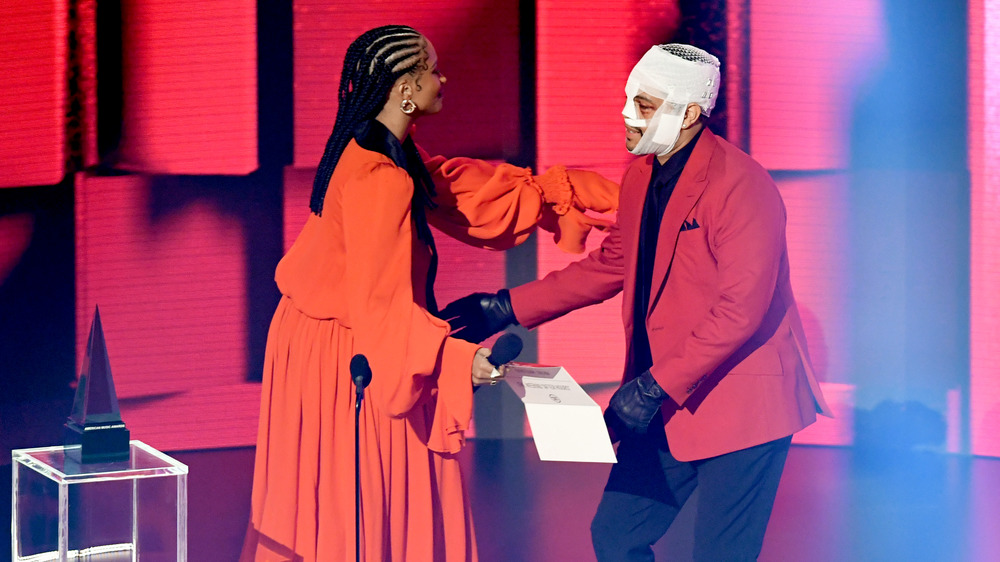 Kevin Winter/Getty Images
When you listen to After Hours, it comes as no surprise that the album was, at least in part, inspired by envelope-pushing Prince. In fact, in a recent interview with Variety, Tesfaye acknowledged that he was nervous he'd been too ambitious with the album, and afraid it might be too different, that "people don't wanna hear what they're not used to hearing."
The interviewer quickly related the success of "Blinding Lights" to Prince's "When Doves Cry," (which was Prince's first Billboard number one, spending 23 weeks on the chart) in the sense that people didn't know they wanted to hear it, which only added to its overwhelming success (via Billboard). Tesfaye replied: "I know, and I agree with you and I want to do that and I'm going to do that whether people like it or not." It's that determination (and thanks to the foundation laid by artists like Prince) that he took home the award for Best Soul/R&B Album at the AMA's tonight.