This Trump Comment From 2018 Is Turning Heads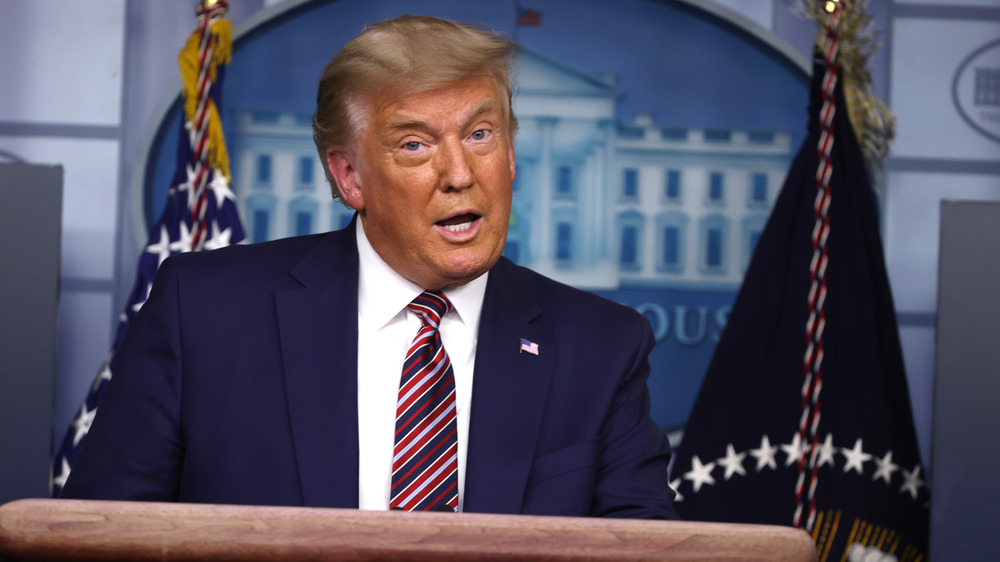 Tasos Katopodis/Getty Images
Around this time two years ago, Donald Trump had some harsh words for a turkey and today, the internet cannot help but tweet and retweet about the irony of it all. According to People, a video is making the rounds on Twitter showing 2018's White House turkey pardon. At the annual event, Trump joked about one stubborn turkey named Carrot's refusal to accept the results of a White House poll which elected an opposing turkey to receive the presidential pardon. Both turkeys were pardoned in real life (per USA Today) but Trump teased, "This was a fair election. Unfortunately, Carrots refused to concede and demanded a recount, and we're still fighting with Carrots." He added, "I will tell you, we've come to a conclusion. Carrots, I'm sorry to tell you the result did not change."
Fast forward to 2020 and Trump is the one refusing to concede following November 3rd's presidential election, claiming widespread voter fraud despite a lack of evidence (via the Associated Press). President-elect Joe Biden cautioned Trump of the dangers of delaying the transition, pointing out that failure to coordinate on a plan for a COVID-19 vaccine distribution will result in more deaths from the virus. On November 23, USA Today reported that the Trump administration has acknowledged Biden's election win and agreed that the transition can begin, although Trump himself still refuses to concede.
Trump skipped the jokes at this year's turkey pardon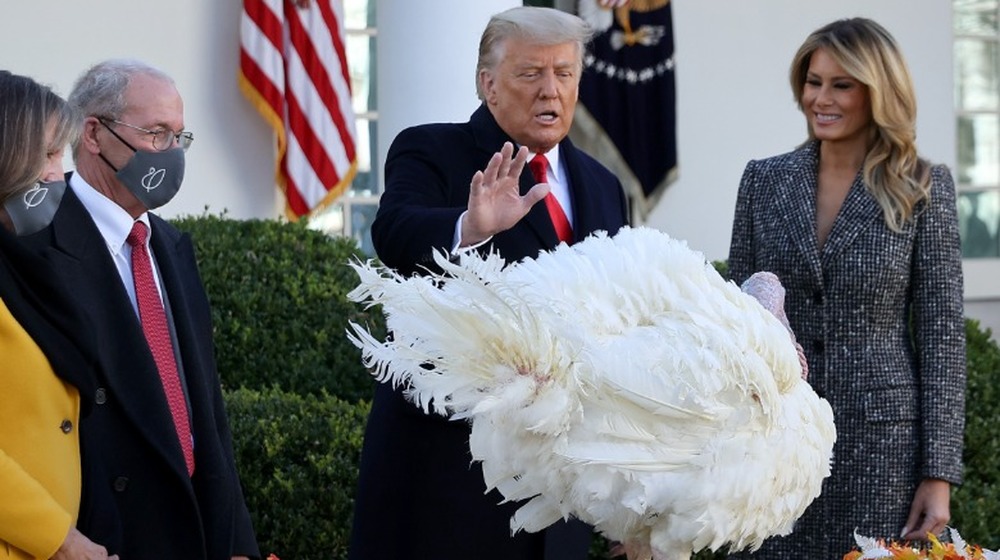 Chip Somodevilla/Getty Images
The video of President Trump jokingly admonishing a turkey for refusing to concede to 2018's turkey pardon election has received over a million views ever since it resurfaced on Twitter 24 hours ago. One user commented, "This "Carrots" video is on a zen level of prophetic projection," while user another asked, "Was Trump talking about himself or the turkey?"
Meanwhile, Trump conducted this year's annual White House turkey pardon and shared the video in a tweet. Trump spoke about the history of the turkey pardon tradition and expressed his love for "the great state of Iowa", where this year's turkeys, Corn and Cob, are from (and where Trump received 53.2 percent of the vote, per The New York Times). In the end, Trump awarded the presidential pardon to Corn and left the White House lawn without any mention of a recount for the turkey or himself.