Inside This Powerful Moment On The Bachelorette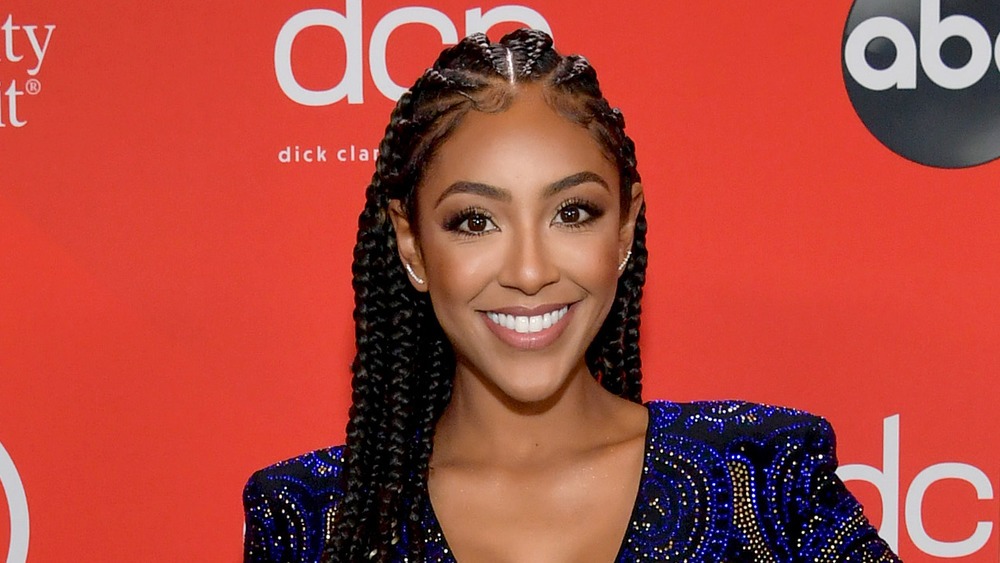 Emma Mcintyre /ama2020/Getty Images
This season of The Bachelorette has had quite a few ups and downs. From Clare Crawley falling in love with Dale Moss at first sight, getting engaged, and leaving the show, to Tayshia Adams taking over as the Bachelorette, fans have been taken on quite a ride.
The season has been filled with memorable moments, but one of the highlights came when Tayshia had a powerful conversation with contestant Ivan Hall about growing up as a person of color and the Black Lives Matter movement. Both Ivan and Tayshia are biracial — ET noted that Tayshia is Black and Mexican while Ivan is Black and Filipino. 
Ivan and Tayshia discussed their families, and Ivan revealed that his younger brother had served four years in prison after struggling with substance abuse. "I was the only person he would really open up to about the stuff that goes on behind there," he said (via The Daily Beast). "It's crazy stuff."
Tayshia Adams and Ivan Hall discussed the Black Lives Matter movement
When George Floyd was killed earlier this year in a horrifying act of police brutality, Ivan said that it "really hit home." He added, "You can only imagine how much wilder it could be in prison, right? And my brother used to tell me stories of how these C.O.'s literally beat him up. I felt so bad because my first question was like, 'Well, Gabe, what did you do?' But it doesn't matter. Like, no matter what George Floyd did either way, or what my brother did, these people have a job to do, and they need to do it right. They can't just be hurting people for no reason, you know? So it made me check myself."
Tayshia opened up about her Orange County, Calif. upbringing and how she was "surrounded by a lot of people that don't look like me." She added, "Being the only person that looks like me, I'm realizing that I've been trying so hard my whole life to blend in. Because I knew I was different, you know?"
Both Ivan and Tayshia agreed that it has been incredible to see so many people unite through the Black Lives Matter movement. "I never thought in my lifetime that so many people would come together for one common cause," said Tayshia. "It was so beautiful."