Chrissy Teigen Reveals Struggles With Grief In Devastatingly Honest Tweet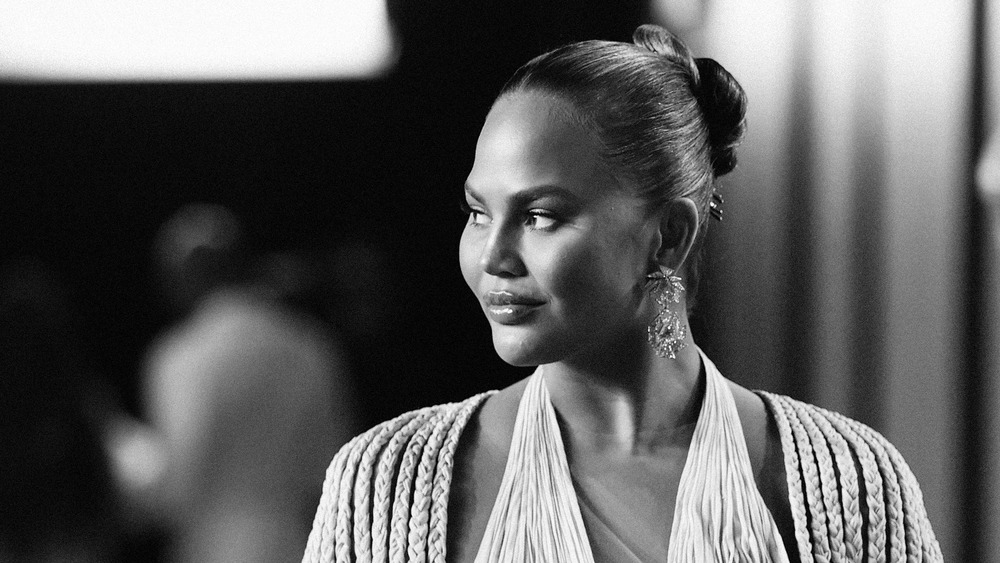 Rich Fury/vf20/Getty Images
The grief goes on. Chrissy Teigen, the model/TV star/cookbook author/influencer who gained additional fame as John Legend's wife, faced one of the greatest heartaches of her life this past fall when she revealed that she had suffered a miscarriage with the baby that would have been her third child. In a series of social media posts and photos, Teigen candidly talked about her pregnancy loss, sharing her painfully raw feelings as well as photos she insisted on having taken in the hospital. As she told her followers on Medium, "I cannot express how little I care that you hate the photos. How little I care that it's something you wouldn't have done. I lived it, I chose to do it, and more than anything, these photos aren't for anyone but the people who have lived this or are curious enough to wonder what something like this is like."
Considering her honesty and desire to end the stigma of miscarriage (which happens in 10 to 15 percent of all pregnancies, according to the March of Dimes), Teigen surely must have been moved by Meghan Markle's recent announcement that she, too, had recently suffered a pregnancy loss. The Duchess of Sussex wrote an essay in The New York Times revealing that she and Prince Harry had been expecting their second child, and that by sharing her experience, she hoped to help other women feel less alone.
But fans who were expecting to see Teigen reaching out to the grieving royal might have been surprised to see that she is still grappling with her own sorrow.
Chrissy Teigen revealed she is getting support for her depression
In a characteristically candid tweet on Wednesday, the model explained, "I'm not tweeting much because I'm honestly in a bit of a grief depression hole but do not worry as I have so much help around me to get better and I'll be fixed soon." She assured fans that they'd be alerted when she was feeling up to interacting again: "they'll call when im better and ready for pickup and u can swing by and grab me ok? thank u and love you!"
This message might actually be more helpful to grieving mothers like Meghan Markle than Teigen's original announcement. Miscarriage is such a taboo subject that most people would rather not hear about it at all — or, if a mother does bare her soul, she's still expected to accept the loss as divine will and to move on as quickly as possible. But Chrissy's loss is less than two months old. If she were (heaven forbid) grieving a parent or her husband, no one would expect her to "get over it" in only eight weeks. 
Teigen deserves all the support she can get, not to mention praise for showing the truth about miscarriage: It's a deep and lasting loss that requires time (and sometimes professional help) to work through. Like any grief, it can come and go in surges; one day, a mother's mood may feel brighter, and the next day, she may sink back into pain and despair. Many thoughts and good wishes are with Chrissy Teigen as she continues to make sense of her unimaginable loss.