This Is Gisele Bündchen's Comfort Food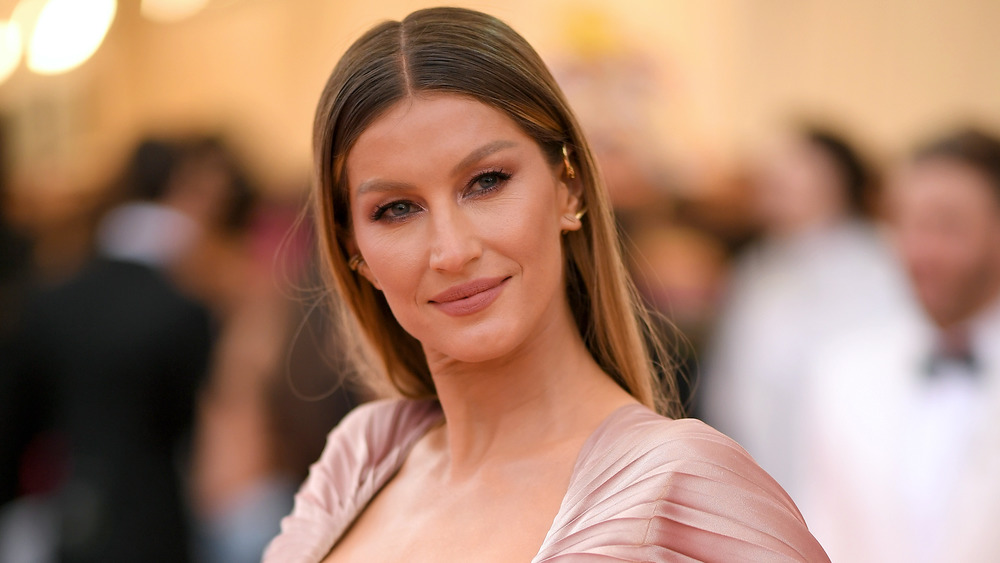 Neilson Barnard/Getty Images
It's hard to imagine supermodel Gisele Bündchen having a comfort food like us — macaroni and cheese, a plate of cheesy eggs, or a big bowl of spaghetti and meatballs. After all, the mom and wife of football legend Tom Brady openly eschews processed food and sips on healthy beverages like green juice and herbal tea. Just consider an Instagram post Bündchen shared in honor of World Food Day, which basically spelled out her philosophy on eating (via Yahoo!).
"Food is one of the most powerful tools we have to help boost our immune system," the star captioned a selfie also featuring a bunch of healthy greens. "I truly believe in the ancient saying, 'Let food be thy medicine,' as I felt a big difference in my life when I started making better food choices." Bündchen added, "When we eat foods that are alive (and not processed), their nutrients and vitamins keep us healthier, and also help our bodies function better. One of my favorite things is bringing home fresh food and herbs from our community garden."
You will be surprised by what Gisele Bündchen eats for comfort food
In addition to her own diet disclosures, the Brady family chef Allen Campbell also revealed about what Bündchen eats — rather what she doesn't eat, saying, "No white sugar. No white flour. No MSG. No coffee. No caffeine. No fungus. No dairy."
So what could this clean eater possibly indulge in as a comfort food? Campbell, who serves the famed couple a diet of mainly organic veggies, said, "I'm all about serving meals in bowls. I just did this quinoa dish with wilted greens. I use kale or Swiss chard or beet greens. I add garlic, toasted in coconut oil. And then some toasted almonds, or this cashew sauce with lime curry, lemongrass, and a little bit of ginger. That's just comfort food for them" (via Delish).
Okay, so quinoa and beet greens is comfort food for Gisele Bündchen. Sounds about right. Don't forget the model enjoys snacking on raw granola chocolate chip cookies, which sound sorta yummy. But don't blame us if we stick with the mac 'n cheese on a rainy day!