Why Homemade Pumpkin Puree Is The Enemy Of Delicious Baked Goods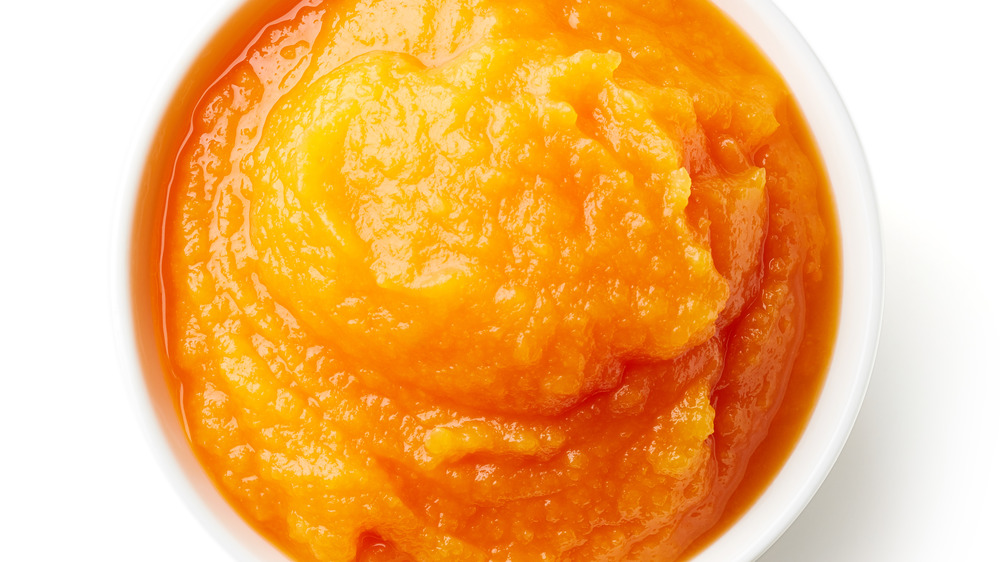 Shutterstock
The holidays just don't feel complete without a little extra indulgence. And nothing feels more right this time of year than indulging in a thick slice of pumpkin pie. Just thinking about the blend of spices like nutmeg, ginger, and cinnamon inside that burnt orange pumpkin puree warms us even quicker than the flannel sheets we've put on our beds. You may be feeling daring this season and attempt to showcase your baking skills by making a homemade pumpkin puree filling for the baked good you're bringing to the family gathering, but take a pause to consider first. Your homemade concoction may be more of a dim dud than the shining star of the holiday meal.
It's okay if you chose to go with a mass produced pie. You definitely wouldn't be the only one. In 2015, between the months of September and December, Costco reported selling an impressive 5.3 million pumpkin pies (via Business Insider). You may also be one of many who choose to skip the scraping and straining the inside of a pumpkin and head to your local bakery instead. We support you, and here's why.
Extra liquid is a travesty in the baking world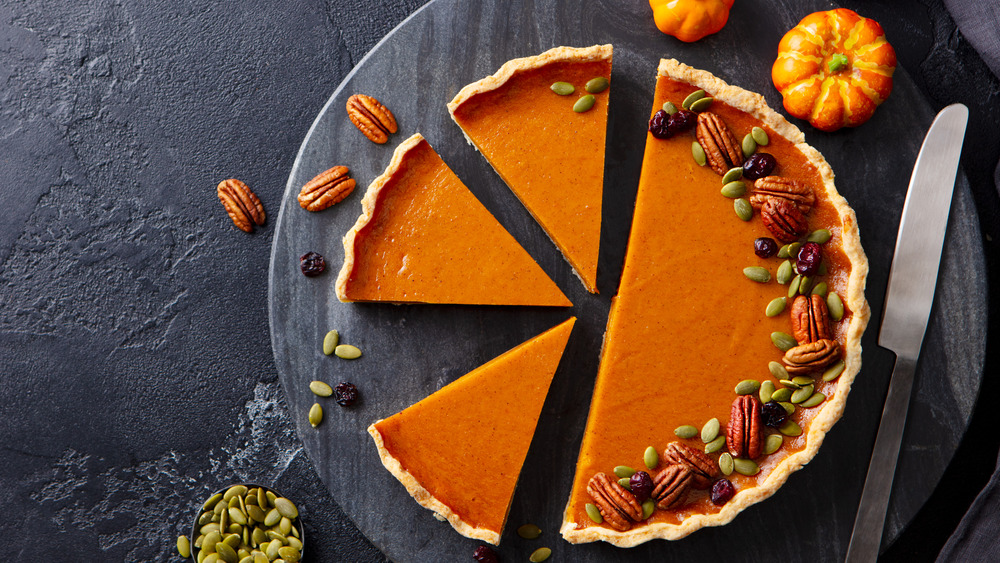 Shutterstock
The problem with starting from scratch, is that fresh pumpkin purees contain too much water. Extra liquid is a travesty in the baking world, and can threaten both the texture and taste of your pie. Taste of Home's kitchen operations manager Beth Jacobsen explains, "The major drawback to making your own pumpkin is inconsistency in moisture content and sweetness," she says. "This is the benefit and curse that comes with all fresh produce. You would be playing a guessing game as to how much water to add to your puree if it's too dry or how much liquid to remove from your recipe if it's very wet."
Guessing games and baking have proven to be more frenemies than friends. So the smartest choice for your taste buds, and for your reputation within your family, may be to just to grab a can, not start your anticipated pumpkin creation from scratch.