Lauren Burnham Shuts Down Critics Of Christmas Tree Shopping Trip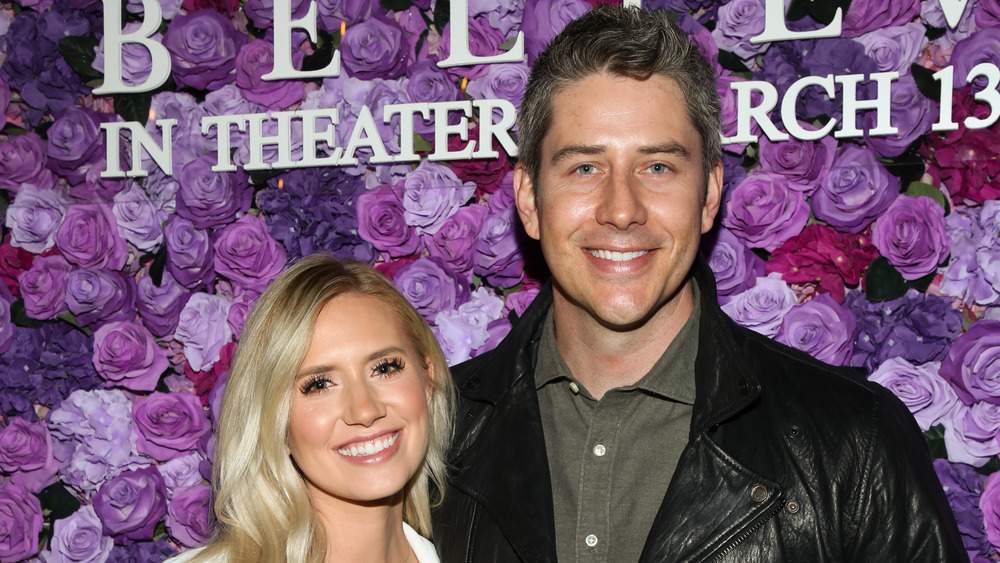 Paul Archuleta/Getty Images
It was only a few days ago that reality star Lauren Burnham took to Instagram to share a selfie featuring her daughter Alessi on Thanksgiving, writing, "thankful for family. @ariejr would be in this pic too, but he has covid so kisses & pics through windows only for now. lol hope you guys are having a great thanksgiving! Xo."
Her husband, former Bachelor, Arie Luyendyk, would also share on his social media, "Many of you have been wondering why we haven't done 'Bachelor Brunch,' why we've been so absent on social media, and why I'm sitting, like, 25 feet away from the girls." The one time ABC staple revealed, "It's actually because I tested positive for COVID" (via Page Six).
Then, on Sunday, the reality family hit the Christmas tree lot, with Burnham captioning an Instagram Story, "1st time Xmas tree shopping," referring to Alessi (via Us Weekly). But wait, was this holiday trip safe given his coronavirus diagnosis?
Lauren Burnham sets the record straight about Arie's COVID status
After sharing many details about their fun family outing via Instagram, the 29-year-old mom then shared a direct message from a follower that said, "Doesn't Arie have COVID? Why are you out and about?" But Burnham wasn't about to be shamed for taking part in a holiday tradition with her husband and child, and immediately responded with a very detailed answer to assuage anyone's fears about Luyendyk still being contagious.
"Arie's quarantine period is over per CDC guidelines and doctor advice," Burnham said, adding, "He even got a negative test before rejoining Alessi and I in the house to make me feel more comfortable even though that's not necessary according to the CDC. He's cleared!"
This is good news for the family — especially since the couple confided to Us Weekly they are trying to conceive after suffering a miscarriage this past spring.