Here's Why Ryan Gallagher Was Forced To Leave The Voice
Ryan Gallagher, a 31-year-old classically trained vocalist from Ada, Michigan wowed fans of The Voice with his recent performance of the Bocelli classic "It's Time to Say Goodbye," (via ET Online). This classically trained opera singer was part of a four-way knockout round including Taryn Papa, Julia Cooper, Larriah Jackson. The knockout provided a last chance to move on to the live rounds for one singer from each coach's team who had earlier been saved from elimination during the Battle Rounds. Gallagher represented coach Kelly Clarkson.
Gallagher's sudden disappearance was announced by host Carson Daly simply as a note that he, "...had to exit the competition," (via ET Online). This announcement was met with confusion and disappointment from Gallagher fans. Says one follower, "I was so sad to hear that you had to leave The Voice. You were my favorite from the moment you walked on stage during the blinds. I could listen to you all day everyday!" (via Instagram). Adds another fan, "Why did you have to leave the voice? Hope mom & grandma are ok ????" referring to recent COVID-positive cases in the singer's family. 
COVID-19 protocols have changed The Voice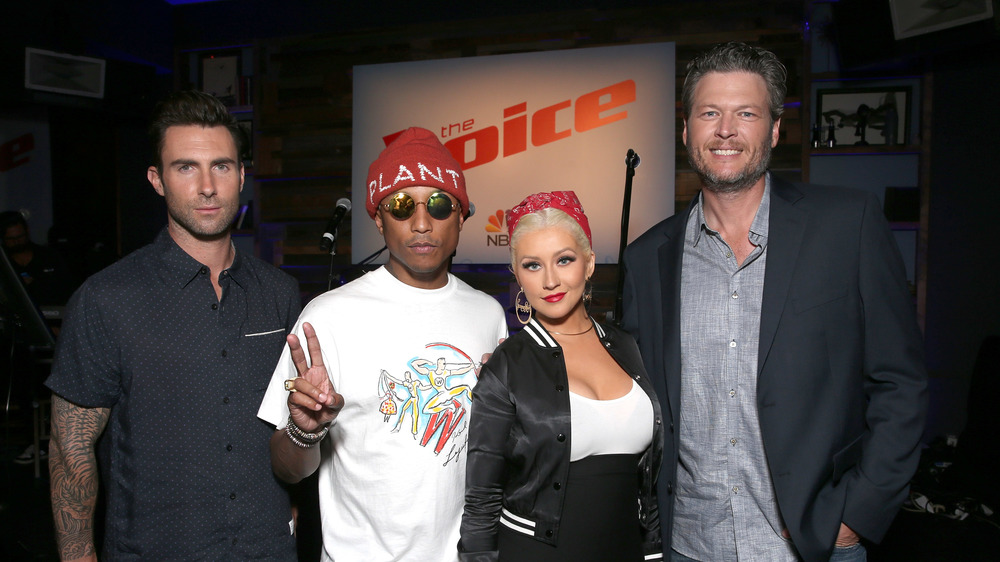 Todd Williamson/Getty Images
Gallagher had previously shared that his mother had been hospitalized with COVID-19 and fans were worried, but the opera singer quickly quashed that concern via Instagram stories as shared by ET Online: "Thanks you everybody for your concern for my family. However everybody's fine, that's not the cause of what happened tonight on The Voice. I didn't drop out of the show. Details are still to come, I'll keep you posted."
Another source shared that, while COVID-19 illness wasn't the cause of Gallagher's departure, the safety protocols for the virus were (via Yahoo!). The singer apparently violated the shows very strict safety rules and was asked to leave out of an abundance of caution. ET Online also confirms the violation of safety rules designed to keep the judges, crew, and contestants safe, although no one seems to have exact details on what rule was broken.
An unfortunate exit for this talented singer, but perhaps he will get other chances based on his loyal fan following and skill. In the year that is 2020, safety is paramount, and we hope the Gallagher family as well as the entire Voice crew stay safe.