Ben Smith Just Revealed His Heartbreaking Past On The Bachelorette
Bachelorette star Ben Smith had viewers across the country in tears this week, opening up to leading lady Tayshia Adams that he struggled with an eating disorder for over 15 years. "The life I've lived is different than what you might assume," Ben revealed to Adams (via ET). "I don't want to lay all this on you, but the reason I'm in fitness and nutrition — I had an eating disorder for 15 years," he continued.
Something few men share, Smith elaborated on his heartbreaking personal battle, explaining, "I found out what girls were when I was 15, I realized they don't like the fat kid. So, I stopped eating, I started working out all the time, lost like, 70 pounds, and had bulimia for like, 10 years when I was in my 20s." Admitting he's more comfortable discussing the issue than he used to be, he confessed, "It's hard to hide something for so long. I kept it from everybody."
Ben Smith battled an eating disorder for over 15 years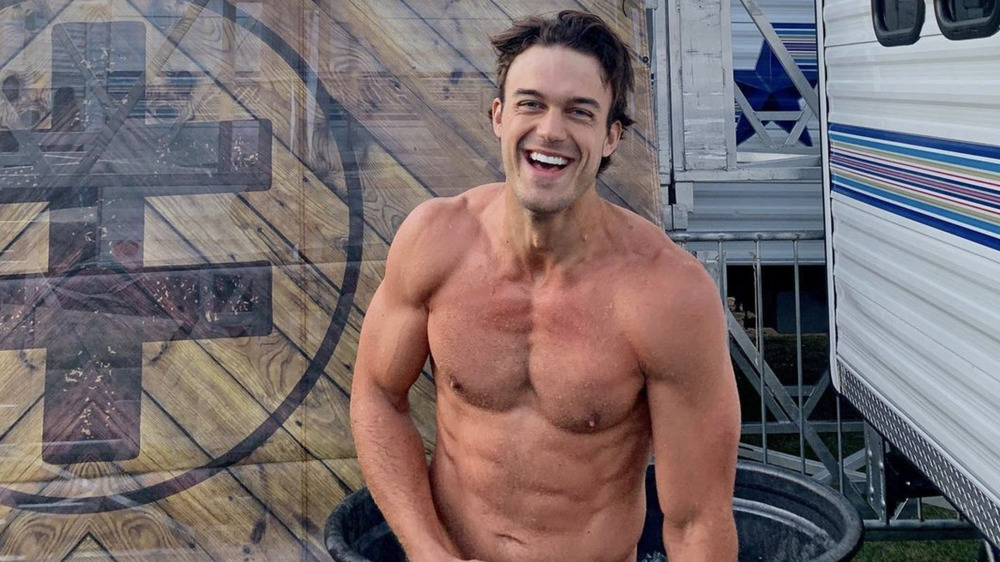 Fans on Twitter were quick to share their compassion for the former army veteran who now works as a fitness trainer, with many championing the need to remove the stigma surrounding men and eating disorders. "Ben's vulnerability about his eating disorder was incredibly powerful & essential," wrote Brett S. Vergara. "I really applaud the courage it took to reveal that so publicly, especially from a man, and we men need to normalize these conversations," he continued. Another user words echoed a similar sentiment, writing, "wow normalize boys talking about body image!!! what ben just did was so brave." 
And we can't help but agree. According to the National Eating Disorders Association, some 10 million American men suffer from an eating disorder of some kind. Unfortunately, they are far less likely to seek treatment than women. By speaking out on national television, Smith may just have helped one of them.
If you are struggling with an eating disorder, or know someone who is, help is available. Visit the National Eating Disorders Association (NEDA) website or contact NEDA's Live Helpline at 1-800-931-2237. You can also receive 24/7 Crisis Support via text (send NEDA to 741-741).