How Leonardo DiCaprio Tries To Live A Normal Lifestyle
Kevin Winter/Getty Images
Stars... they're just like us! Or at least they try to be. 
Leonardo DiCaprio is definitely a beloved figure in the world of cinema, catapulting to stardom with his turn as Jack Dawson in Titanic and starring in numerous movies thereafter. Even with his celebrity status, however, the 46-year-old likes to keep things pretty low-key, opting for a more laid-back, earthly conscious lifestyle. 
Okay so yes, perhaps the handsome movie star is known to lounge around yachts with supermodels, reported People, but he isn't overwhelmingly lavish in the ways you might think. The A-lister has three cars, but they're environmentally conscious vehicles, including one Tesla and one Toyota Prius. The movie star has noted before how he's grateful for having an abundant bank account not for buying tons of expensive things, but rather to have the freedom to choose the projects he wants to do. 
In terms of his projects, DiCaprio is known for his many all-star film roles, but he's also celebrated for his work for the environment, raising nearly $3 million for tiger conservation in Nepal (via World Wildlife Fund in 2013), pledging $3 million to save ocean wildlife, reported Page Six, and the Leonardo DiCaprio Foundation boats having provided "$15 million in grants to organizations implementing innovative and impactful environmental projects around the globe."
Leonardo DiCaprio keeps it real with his pals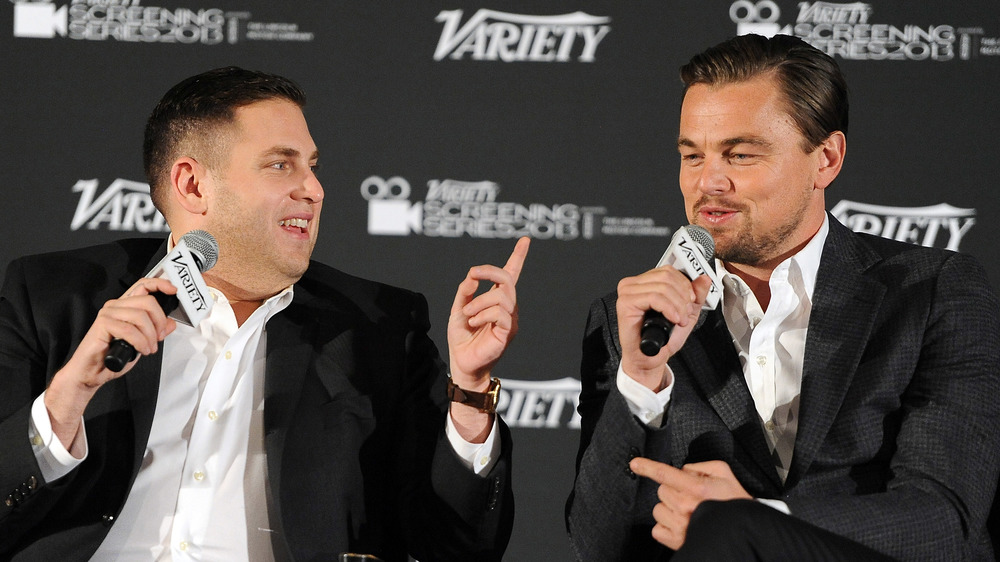 Angela Weiss/Getty Images
In addition to his conservation efforts, DiCaprio also likes to also sport a more laid-back look when going out on the town or hanging out with friends, seemingly unbothered by the numerous paparazzi following him around. Sure, the Oscar-winner knows how to get cleaned up for an awards show or an event, looking as handsome as ever on the world stage, but when it comes to his down time, the Gangs of New York actor is really just like us. 
One of the times fans got a kick out of was back in 2016, when DiCaprio was strolling around New York City in casual shorts and a T-shirt and played a prank on his Wolf of Wall Street co-star, Jonah Hill, acting at first like a crazed fan before laughing with his pal (via Entertainment Tonight). 
DiCaprio was also recently spotted soaking up the sun with friend and fellow actor Emile Hirsch as the two went shirtless by the ocean side (via People). The two may have starred together in the 2019 hit Once Upon a Time in Hollywood, but they were casual and cool on the beach, looking like just two normal guys who couldn't care about their star status.