This Is The Best Oil For Every Hair Type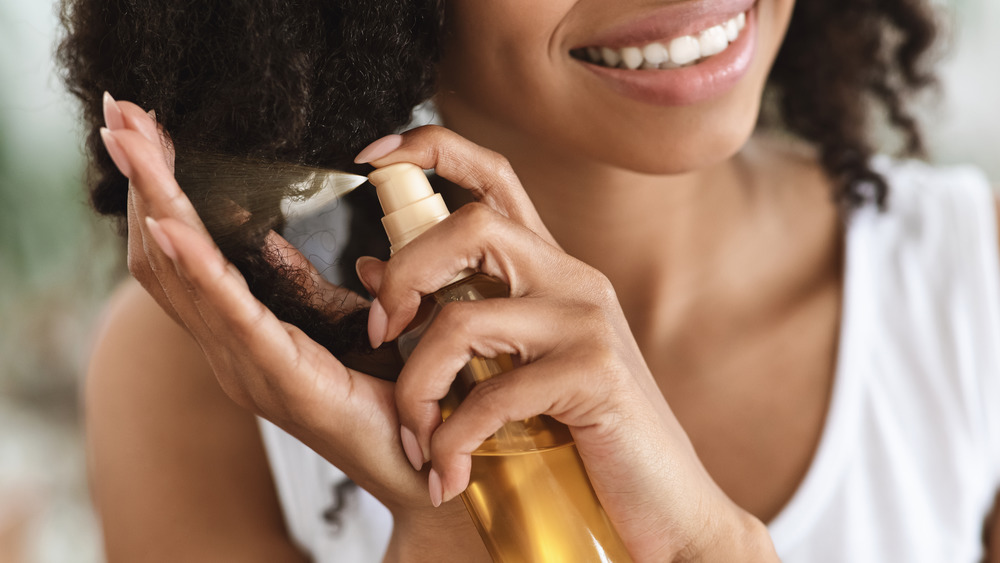 Shutterstock
If you grew up in the era that believed all oil is bad for hair, you may have been shocked when hair oils began to trend, and people willingly began rubbing oil into their strands. Nevertheless, it's true that you can find oils that moisturize, protect, increase shine, and more without weighing your hair down. The various kinds and benefits can get confusing, however, so it's best to find one to fit your needs.
The first option that many hair health enthusiasts swear by is coconut oil. A naturally occurring salve, this type of oil locks in moisture, which can in turn help with split ends and styling damage, according to Verywell Health. Loaded with lauric acid, coconut oil can penetrate deep into your strands to improve your hair's vitality and strength. As it also repairs proteins, coconut oil offers a healthy treatment for color-treated hair as dyes can damage these vital nutrients, the outlet noted. Whether you have thick, thin, or in-between hair, coconut oil can be extremely helpful in keeping it healthy. 
If you're looking for a more in-depth treatment or consider your hair to be frizzy or coarse, opt for argan oil, also known as Moroccan oil. Made from tree kernels, argan oil works as a smoothing, fortifying remedy for dry strands and helps condition even the most damaged of manes (via Verywell Health). The oil's fatty acids and vitamin E offer a deeply hydrating treatment that can smooth parched or colored strands.
Some oils can even help improve scalp health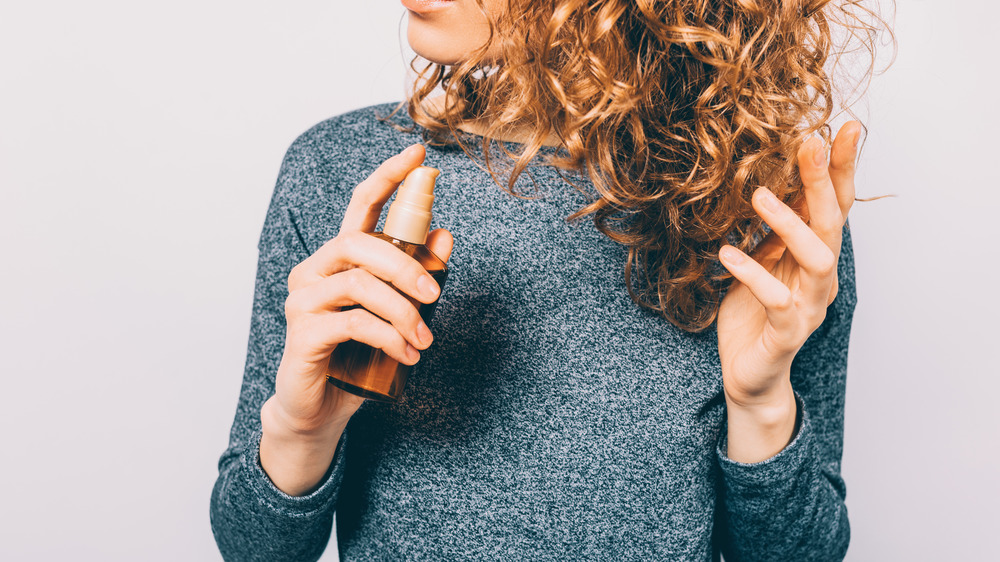 Shutterstock
People struggling with dandruff and other scalp maladies can also benefit from regular use of hair oil. According to Shape, using a clarifying oil such as that of tea tree can offer anti-fungal properties that combat a flaky scalp. But, rather than directly applying to your scalp like you can with other oils, just add a few drops to your shampoo since using tea tree oil directly isn't considered safe for skin, the outlet explained. Plus, if grease and oil are your main hair issues, tea tree provides a valuable way to remove product build up from your scalp. You can DIY this treatment or find ready-made options that work for your unique hair type as well. 
If you have weak strands, head for the castor oil, which provides a high amount of protein that can strengthen your mane by individually fortifying each strand, Elle contends. Furthermore, if you're struggling with a dry and itchy scalp, jojoba oil can provide relief since it contains the same chemical structure as the natural oils our bodies produce, according to the magazine. This type of oil is perfect for those who have dry scalps but still need moisture for their ends.
There's a reason hair oil has taken off so quickly: It works. Just find the one that complements your hair type and use as directed.