The Big Way Authentic Tacos Are Different Than American Ones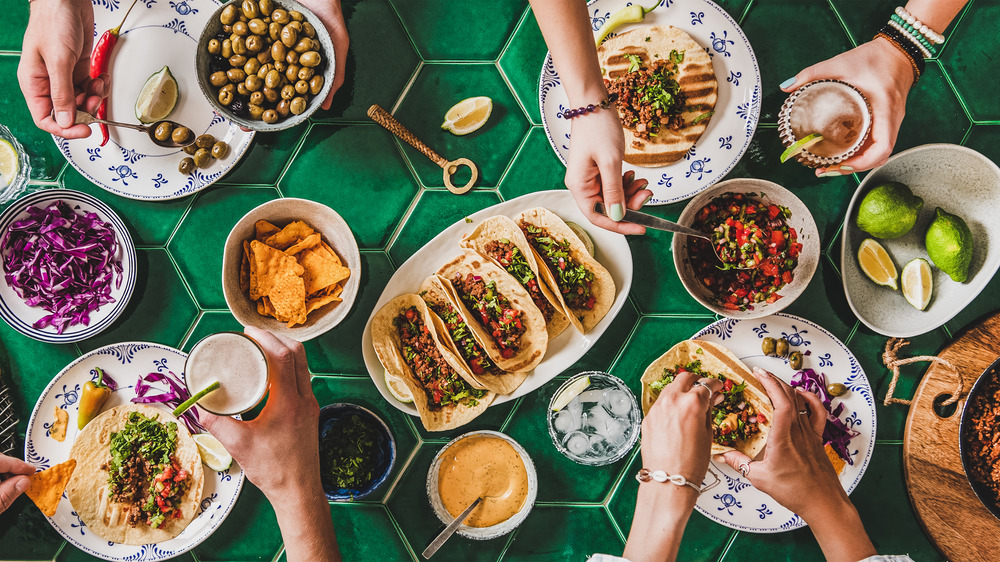 Shutterstock
If the mere mention of the word tacos makes your mouth water, you're definitely not alone. According to Chef's Pencil, Mexican cuisine is the most popular ethnic food in America, and tacos are certainly considered the quintessential Mexican dish.
There's no shortage of delicious taco options in America, but you may be surprised by both the style and taste if you order tacos during a trip to Mexico. In fact, there are so many differences between authentic Mexican tacos and the Americanized version that U.S. tacos wouldn't even be recognized as tacos in Mexico (via YoritaSouthside.com).
So what are the major differences between authentic tacos and the ones we've been eating all our lives? Let's start by talking about Americanized tacos. Unlike the Mexican dish that inspired them, American tacos are typically made with flour tortillas, hard taco shells, and topped with lettuce, tomato, and shredded cheese (via Fix). The salsa in American tacos also tends to be mild rather than spicy and comes from a store instead of being made from scratch.
How are tacos made in Mexico?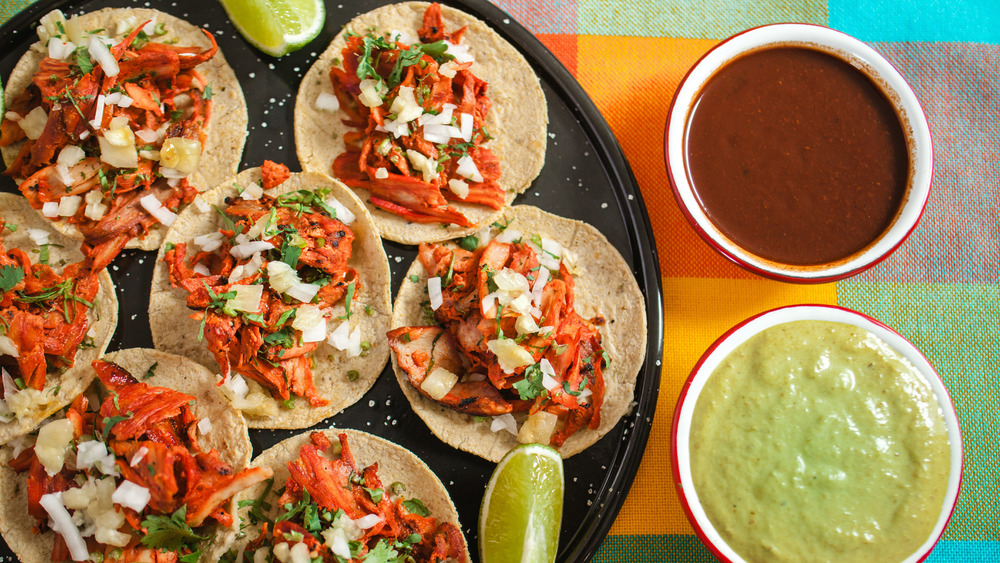 Shutterstock
Before they're stuffed full of delicious ingredients (more on that in a moment), Mexican chefs break out soft corn tortillas to serve as the "wrapper," according to Wide Open Eats.
Then they're filled with stewed, fried, or grilled meat — and, as outlined by Fix, there's a diverse array of options including asador, fish, and even bugs. (Yes, really!) The meats are cooked in a variety of ways, ranging from the griddle, a vertical rotisserie, and a method that involves cooking over charcoal in order to create a smoky flavor.
Next it's time for toppings. In Mexico, tacos are usually topped with cilantro, white onions, and salsa (natch). However, the salsa found in authentic Mexican tacos is quite different from the mild store-bought fare used in America. It's homemade and spicy, so there's definitely more of a kick to the authentic version.
Authentic tacos and American tacos have one major thing in common: They're universally loved. If you want to mix things up and don't happen to have a trip to Mexico in the works, find a recipe for traditional Mexican tacos and give it a try. You just might find that you prefer the authentic version — or, if you're feeling adventurous in the kitchen, you can combine your favorite elements of Mexican and American taco recipes to create the meal of your dreams.