The Creative Activities That Could Ease Your Anxiety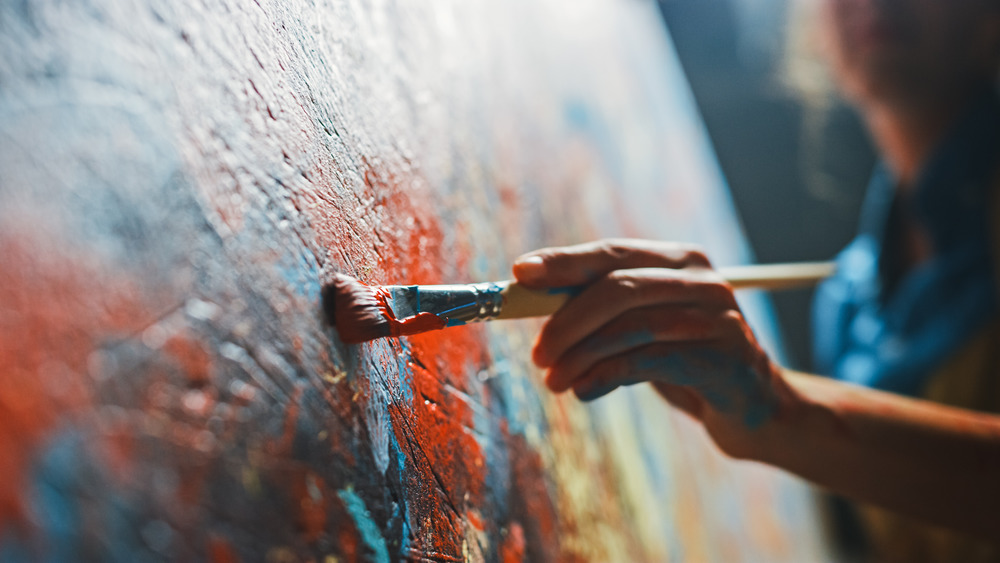 Shutterstock
It's no secret that an anxious mind needs a place to focus. So, instead of having it focused on what's out of your control, using your creativity can offer a healthy outlet for ruminating thoughts. Per Insider, a Journal of Positive Psychology study found that daily creative activities could foster an increased sense of well-being. The reason behind this phenomenon comes as a result of getting out of your head and back into your body. Your project is taking place in the moment, not in the future. As such, your mind will slowly follow your hands' lead.
For instance, baking has long been a pastime of the anxious-minded. As Instagram becomes riddled with delicious-looking posts captioned with the term, "stress baking," it appears that these social media accounts are on to something. Measuring out the ingredients and mixing them together provides a tactile experience that requires full presence. The Atlantic attributes the activity's relaxation effects to the "calming" sense of creating, but Professor Philip Muskin, who's also the secretary of the American Psychiatry Association, feels that the mindfulness properties are the impetus for its anti-anxiety benefits. "Baking is mindful," he tells the outlet. "Mindfulness means paying attention to yourself in the moment and not being in the past or the future, but really being there."
If baking isn't your thing, try adding a longer, more comprehensive process to daily routines like making your coffee. Insider suggests trying a slow-steep method for your brew by using a French press or pour-over apparatus for a relaxing twist. 
Work on your handwriting to help ease your anxiety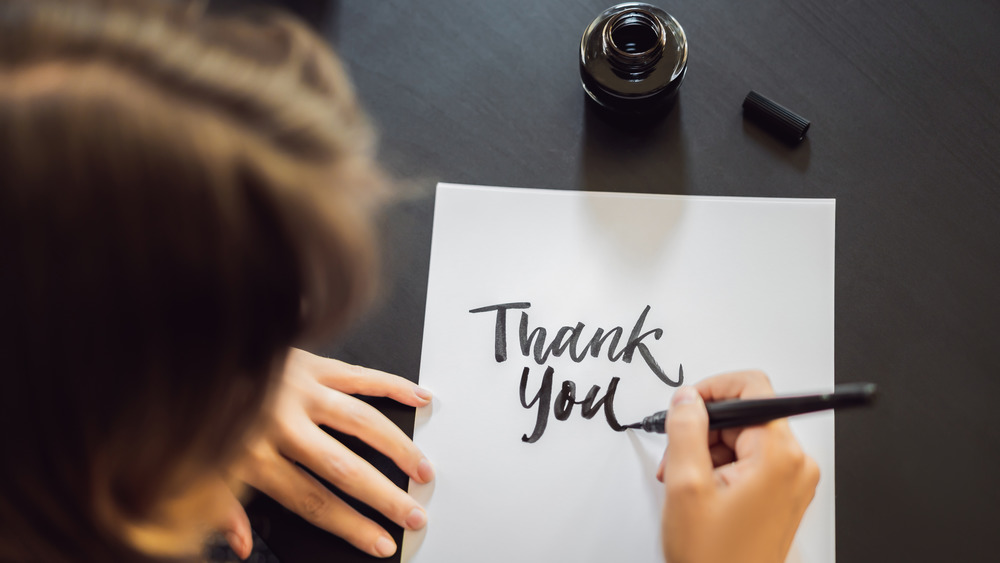 Shutterstock
Even if you don't consider yourself quite an artist, getting your creative juices flowing can bring on a sense of exhilaration. The Daily Mail reports that 76 percent of survey respondents to a University College London study called calligraphy a "distraction tool" that helped alleviate symptoms of nervousness. Using various pens, strokes, and colors can take up more of your headspace than you think, and nailing the perfect fancy "U" never felt so calming. Plus, you can put your new skill to the test and write out any holiday cards or invitations you need!
In a similar vein, tapping into your childlike state through activities such as coloring are known to bring about feelings of tranquility. Insider reports that a Creativity Research Journal study found that subjects who colored daily exhibited "significantly lower levels of depressive symptoms and anxiety after the intervention" than those who didn't color. There are tons of coloring books available that are created for adults — so, find your coloring utensil of choice and get down to having fun! Bonus points if you find a mindfulness-based book.
When it comes to slowing your racing thoughts, give your new hobby time. It may take a few minutes or tries to feel the full effects. Everyone is different, so have fun finding a hands-on outlet and see how it impacts your mental health.