The Real Reason Donald Trump's Hollywood Walk Of Fame Star Is Barricaded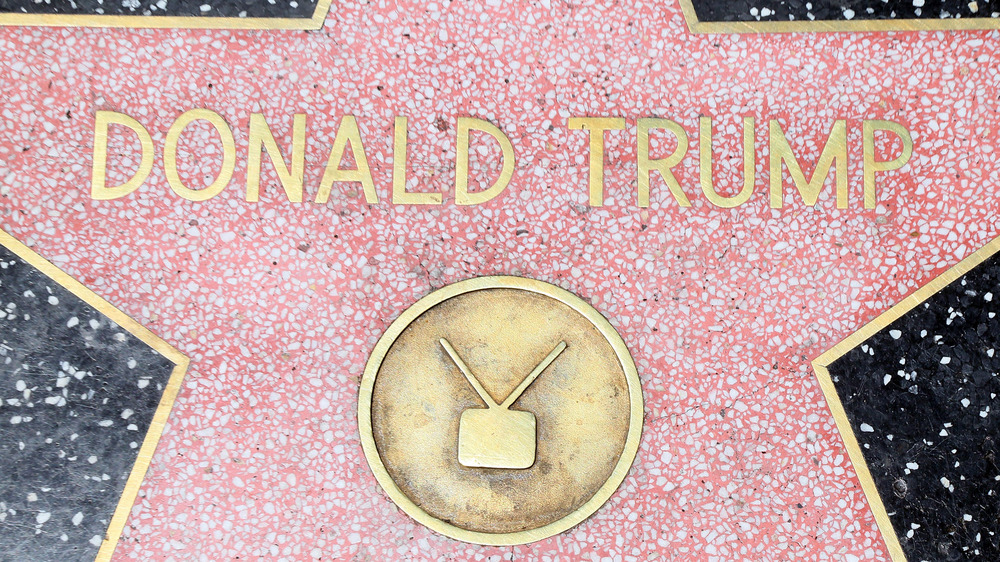 David Livingston/Getty Images
Donald Trump first received his Hollywood star back in 2007 for his work in television; not for The Apprentice, but for producing beauty pageants, according to Variety. But since he became president, the star has become a magnet for both critics and fans of the president.
While Trump may still be on television, he is on for a different reason, and his star is still a highly visible part of the Hollywood Walk of Fame, but it currently stands out for a different reason. Not only is hidden under a sheet of plywood, but it's also been barricaded. The Hollywood Chamber of Commerce has told TMZ that the barricades were planted around the star to keep people from tripping on the plywood, but the optics of a boarded-up Trump star behind bars tell a different story. Like a piece of performance art, TMZ suggests one way of looking at it would be as a symbol of separating migrant children and caging them.
Trump's star has been vandalized several times in the past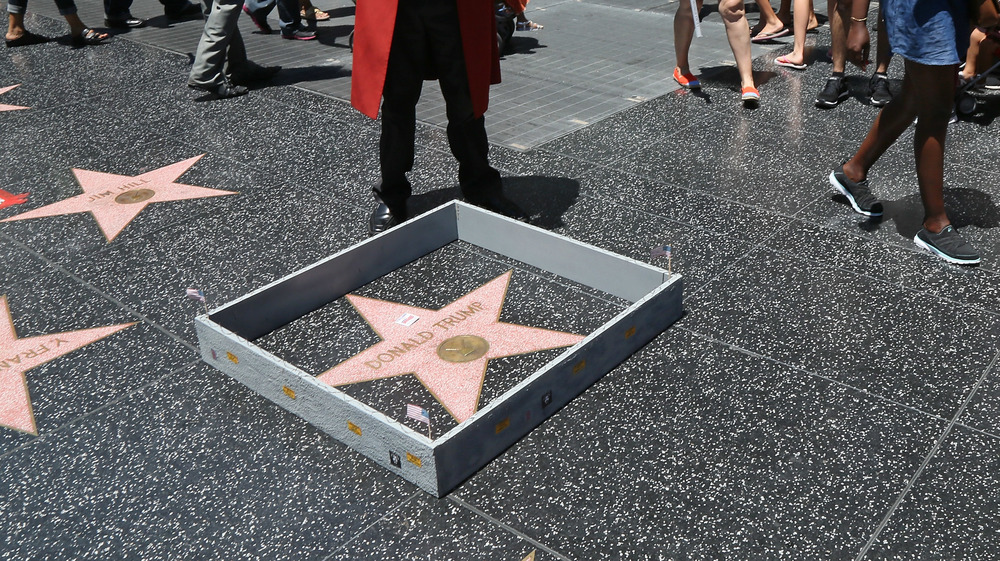 David Livingston/Getty Images
Donald Trump's star has been walled off before. In 2016, according to Us Weekly, an artist put a wall around it, invoking comparisons to the wall Trump promised to build at the southern border of the U.S. And in the run-up to the November 3 election day, Variety says the Hollywood Chamber of Commerce opted to cover the star just as businesses were doing the same across the country as a precaution against possible acts of vandalism, particularly since it's been defaced and destroyed at least four times since he was elected president. It was last trashed in October by a man named James Otis, who has a history of wrecking Trump's star, and who went at it again with a pickaxe.
In 2018, the West Hollywood City Council, where the city's Walk of Fame resides, voted unanimously for the Trump star to be removed — unfortunately it isn't that simple. The chamber's then-president Leon Gubler told The Guardian, "Once a star has been added to the Walk, it is considered a part of the historic fabric of the Hollywood Walk of Fame." The Chamber of Commerce has refused to budge on controversial stars including those belonging to Bill Cosby, Kevin Spacey, and Brett Rattner. Given the amount of times it has been defaced or destroyed, it looks like the board and bars around the Trump star may be needed for some time to come.