Why You Should Never Leave Your Rings On All The Time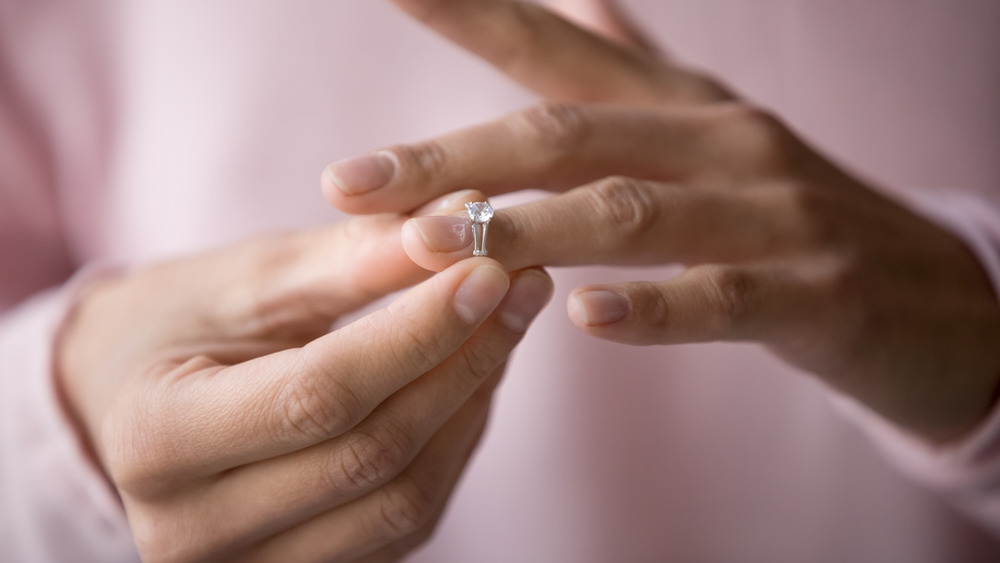 Shutterstock
After you've spent months saving to buy yourself some new bling, you'll want to take care of it. There are a few moments when you should be wary of your jewelry and make sure to take it off to avoid damaging the metal or the stones. Yes, diamonds are hard stones that can hold up with wear and tear, but they're not indestructible. 
"Prong mountings are very secure and it takes a pretty aggressive knock [to damage them], but it happens. I've seen a month-old ring with a big chip in it," Christie's international jewelry director, Tom Burstein, tells Vogue. Even if you don't have a massive stone on your ring, be careful with the various mounts and beds that your gems sit in. That means that anytime you're doing the dishes or moving things with your hands, it's time to put your rings off to the side. 
But taking your gems off every time you wash your hands may be overkill, the outlet contends. "It takes a while to get used to having this beautiful ring, and you want to protect it as much as you can, but so many brides end up washing their hands in a restaurant and leaving the ring behind," the director for De Beers in New York, Daniela Balzano-Hull, says. If your ring is made from a precious metal like silver or gold, you can keep it on while you lather your hands — just make sure to buy a gentler soap for your home, The Knot suggests.
Too many chemicals can cloud your ring's stone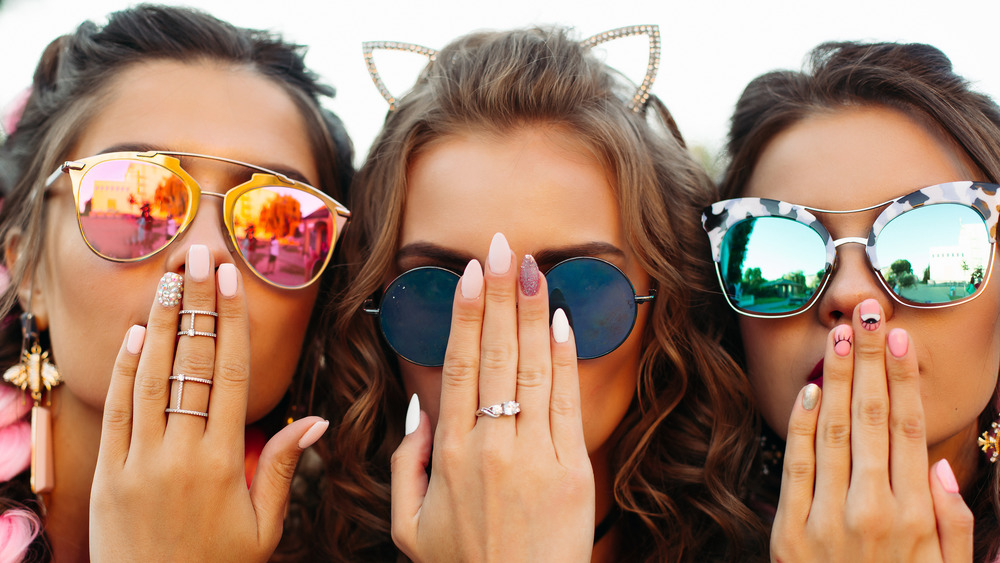 Shutterstock
That said, not all washes are created equal. When washing your body in the shower, leave your ring on the counter. The Knot explains that scented beauty and self-care products can damage your stone and the metal it sits on. These creams and washes may leave build-up over time, making cleaning your jewels more difficult — especially if the build-up accumulates underneath the gem.
Furthermore, certain areas of the gym may be best avoided when you're donning your rings. Running and other cardio movements shouldn't be an issue if your jewel is fitted correctly, but weight-lifting poses a problem, the outlet notes. The added pressure on the band of your ring from the dumbbells or other weights can warp the metal over time. Full pavé rings should sit safe in the car for these exercises, as well, since the little side-diamonds can get knocked loose from the lifting equipment.
Lastly, when you're sunning yourself at the beach or the pool, it's time for the rings to come off. Vogue notes that swimming can drastically alter your body's temperature, leading to a change in finger size. If your finger shrinks enough, your rings can fall right off. Plus, sand can get trapped in small areas, and chlorine can "dull" the shine of your band, according to The Knot.
As always, taking off your ring runs the risk of leaving it behind. So, have a friend remind you when you've set any jewelry items aside, so you don't take off without them!