Are Meal Replacement Bars Actually Good For You?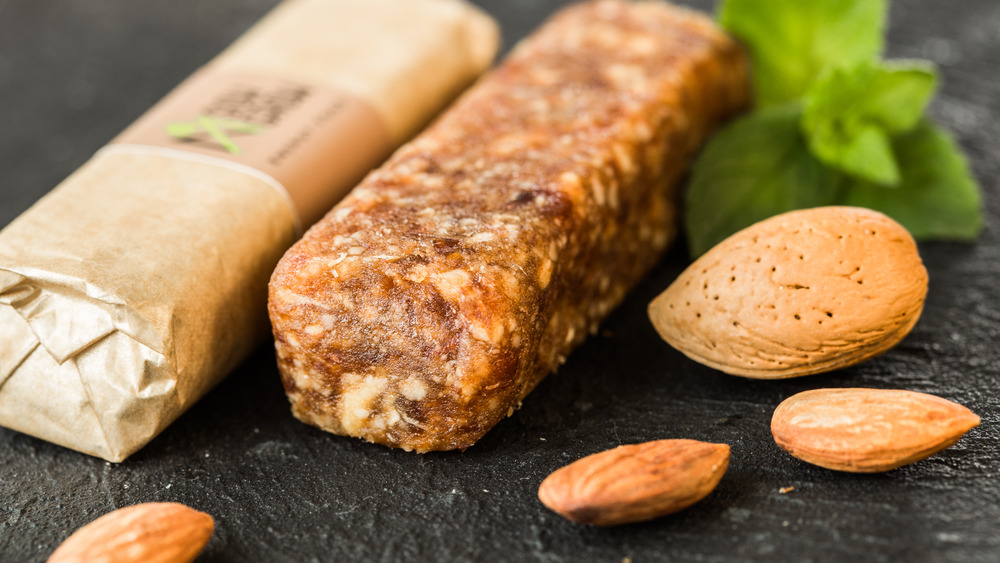 Shutterstock
We're all trying to be healthier and eat better, but sometimes there isn't enough time to prepare a full meal. When running out the door or trying to recover from a workout as quickly as possible, meal replacement bars can be really handy. For those who are really good in the kitchen, you can even make your own so there's no guessing about what kind of weird, unpronounceable ingredients are in them. For everybody else, picking some up at the store is as much effort as we're willing to put in.
As with anything else that seems too good to be true, though, there are certain concerns about these bars. First and foremost, they were originally created for athletes looking to build up muscle over time, rather than as a nutritional supplement for regular gym-goers (via Repeller). On another, more pressing note, many of the most mainstream options on the market now are loaded with sugar so they're the equivalent of eating a Mars bar for dinner. When it comes to meal replacement bars, are we eating badly without realizing it?
Be careful when choosing your meal replacement bars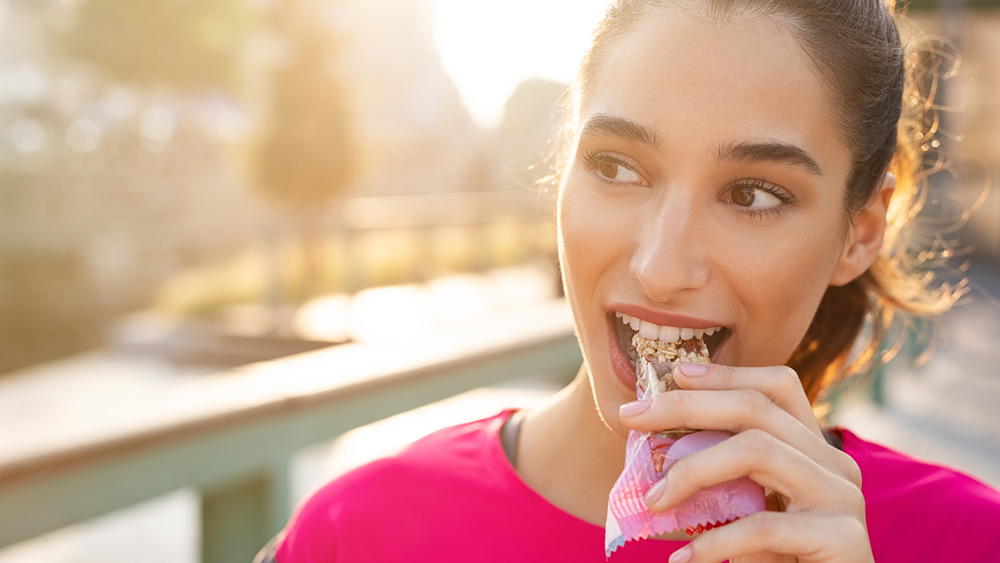 Shutterstock
As The Daily Meal advises, always check the label to ensure you're aware of how much fat, protein, and carbs your choice of bars contains. The likes of Larabars and KIND bars are ideal for a healthy snack but neither contains the requisite amounts of protein to replace a proper meal. Aloha protein bars, on the other hand, boast a whopping 18g of protein while Quest bars have 20g, so both are ideal for meal replacement.
Web MD makes it clear that you need to select a bar that is nutritious, fills you up, and won't sabotage your weight-loss efforts so always plan ahead. Ideally, you're looking for 220-230 calories per serving with less than 5g of fat. Bars should contain 3-5g of fiber, 10-15g of protein, and should be fortified with a third of your RDA of vitamins and nutrients. You should only be utilizing meal replacement bars once or twice a week, or once a day at most. 
More natural meal replacements include fruit, low-fat cheese and crackers, yogurt, peanut butter, and nuts, all of which provide quick energy boosts, are nutritious, and won't break the bank. Always remember that no supplement or bar can accurately replace a meal, however, so stick to proper meals as much as possible and only opt for bars when you're on the go and are really pushed.