Madonna Got Her First Tattoo. Here's What It Means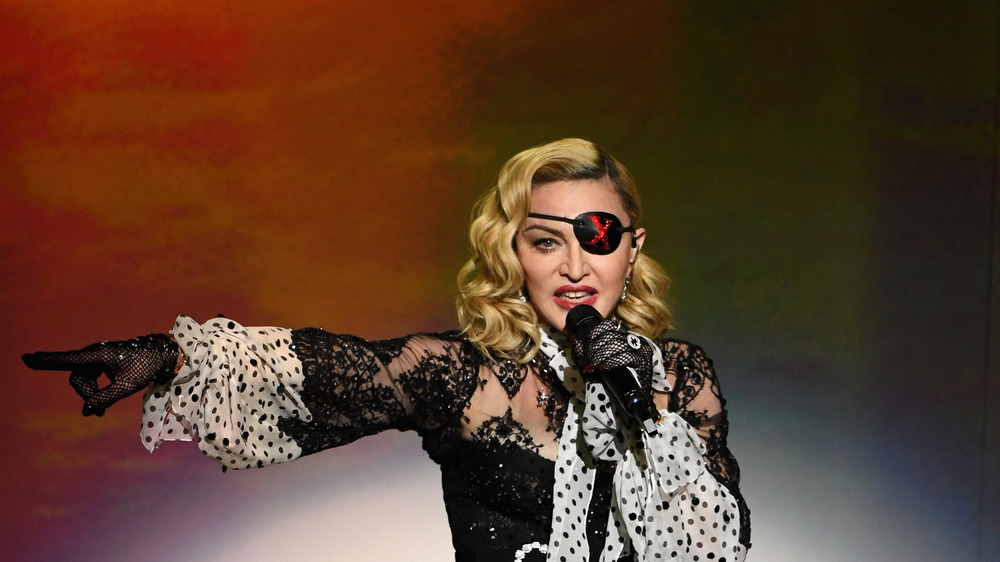 Ethan Miller/Getty Images
Style icon Madonna has always had a bit of a rebellious edge. At times, her fashion has been downright scandalous. Barnebys cited the "punked-up bridal ensemble" she wore when performing the song "Like a Virgin" on stage in 1984 as one of the envelope-pushing looks that have shocked people over the years.
Given her history, it's a bit surprising that Madonna has only just gotten her first tattoo. Why didn't the Queen of Pop get inked sooner? It seems like she was waiting to get a tattoo that had significant meaning for her. Madonna revealed her new ink on Instagram, writing "Inked for The Very First Time" in the caption.
The tattoo is simple; the singer chose to have "LRDMSE" inked on her wrist. As noted by E! News, the initials she had tattooed on her wrist are those of her children: Lourdes, Rocco, David, Mercy, Stella, and Estere.
Madonna is a doting mother to her six kids
The simple but elegant tattoo is obviously one that Madonna will cherish for the rest of her life. The singer is a proud mother who has been open about how much her children mean to her, so it's not surprising that she'd choose such a meaningful design for her first tattoo.
"It's reminded me how precious time is and... how each child requires attention and vigilance and guidance in a different way and really you have to be ready for anything," she told Today in 2019 of being the mother of six children. "Children teach you, obviously. Everyone says that. First and foremost, they teach you to stop being obsessed with yourself because they're always there to throw a wrench into the works. Self-obsession [is] not allowed with children."
Madonna may need to add one letter to her tattoo in the future. When asked if she planned on having more kids, she answered, "Not right this second, but never say never. Seven is a lucky number. And a psychic did tell me once that I'm going to have seven children. So, who knows?"