Here's How You Can Make Your Own Dolly Parton Christmas Card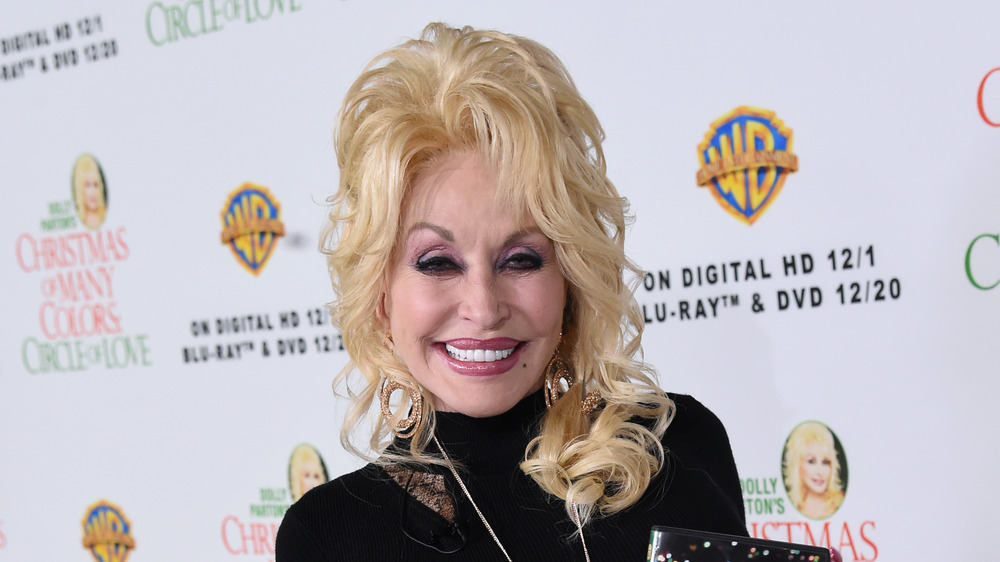 Rick Diamond/Getty Images
What does a 60-year-old deer hunter from Kentucky have in common with a 19-year-old fashion blogger living in L.A?. If we had to guess, it would most likely be a shared love for Dolly Parton. This iconic country singer is holding on to her original fans and picking up new ones as the decades pass. Her music is timeless, her image is um, authentic, and she appears to be not slowing down anytime soon. Recently, Parton looks to be focused on conquering Christmas. She has returned with a brand new festive album, A Holly Dolly Christmas, which includes duets with Michael Bublé and Miley Cyrus. She can also be seen on Netflix starring in a new holiday movie titled, Christmas on the Square (via Smooth Radio).
For most, a new holiday album and starring in a festive Netflix movie would be enough. But not for Parton. If you just can't seem to get enough of her around the holidays, then we have news that will fill you with a little extra Christmas glee. Parton wants to be on your Christmas card (via Twitter).
A Christmas card with Dolly on it can be done in four steps
Parton has recently launched her own website, mydollycard, that allows you to make a personalized postcard in four simple steps. First, select the backdrop you wish to have. Second, upload your picture (selfies are claimed to work the best). After, you can edit your newly uploaded photo, followed by downloading the finished product, and voila!  You are ready to share your new personalized Christmas card with Parton on the front.
Fans of Parton are bubbling away on social media expressing their joy over the holiday card announcement. User Fred Simpson writes, "I sure would if I could afford it and the first person I would send a card to would be...YOU!!! LOL I just wish I could have taken the picture with a real live you then some virtual you for sure" (via Twitter). Another fan, Onyebe Francis shares her devotion saying, "My love for Dolly is from here to the moon and back! I love and adore you Dolly Parton. Merry Christmas" (per Facebook).
Parton may not be the first celebrity to try and capitalize on the holiday season, but the idea of allowing her fans to personalize their own Christmas cards with her face on it is very original. And original is just what Dolly is.