It's Time For You To Try These Vintage Cocktails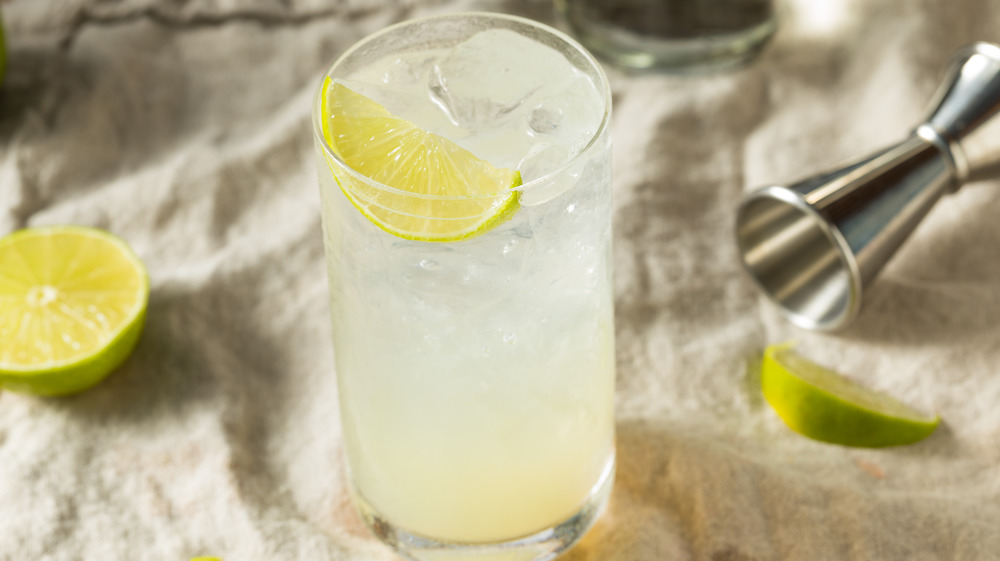 Shutterstock
When it comes to your bar order, it's often a tried and true favorite of yours, a Bloody Mary perhaps or a glass of wine. But what about branching out and ordering a tried and true cocktail that sadly has fallen out of favor over the years? The "big six" base liquors, brandy, gin, rum, tequila, vodka, and whiskey, are mixed and remixed by bartenders trying for the next best thing, but here are two old classics that deserve some love (via Mashed).
The Rickey. According to Imbibe Magazine, a Democratic lobbyist in Washington DC during the late 19th century named Joe Rickey told a bartender at Shoomaker's bar to add some lime to his Bourbon and carbonated water and with that order, he invented the Bourbon Rickey. While the Bourbon Rickey is still a thing, the most popular version of the drink is a Gin Rickey (shown above).
F. Scott Fitzgerald was a fan of the drink, and he included mention of it in The Great Gatsby, according to Town & Country, which also cites Aviator Gin owner Ryan Reynolds as having claimed, "I love just a little bit of soda water and a little bit of old-fashioned lime with gin." To make it yourself, pour 2 oz. of gin into a Collins glass full of ice, squeeze in the juice of half a lime, and then top it off with club soda.
The sidecar has disputed origins but undisputed flavor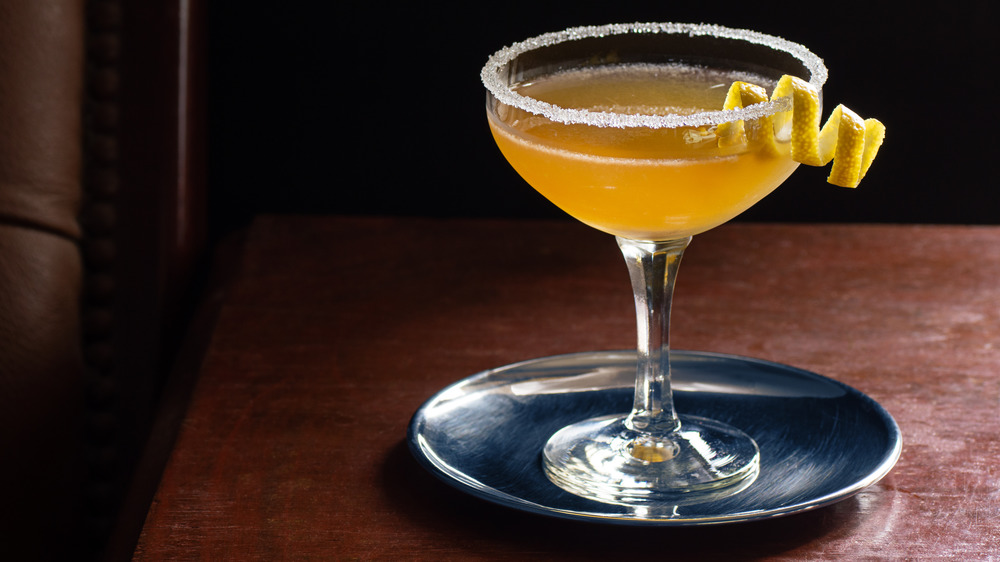 Shutterstock
The Sidecar. According to Mashed, it was in 1919 that the first sidecar recipe was published in a book called Harry's ABC of Mixing Cocktails. However, the origins of the drink are debated. From Make Me A Cocktail, some believe that it was first mixed in Harry's New York Bar in Paris, the same Harry that wrote the cocktail mix book, thanks to an American Army Captain would who frequently arrived at the watering hole "in the sidecar of his friend's motorbike." Others say that Pat MacGarry, a bartender in London, is the drink's creator.
And the debate also extends to how it's made. Make Me A Cocktail explains that while the drink is confirmed to be a mix of cognac, Cointreau, and lemon juice with a sugared rim, the French version is equal parts of all ingredients and the English version is two parts brandy, one part Cointreau, one part lemon.
Gin Rickey or Sidecar and whether in a bar or at home; it will be a little taste of cocktail history.