Meghan Trainor's Festive Pic Of Her Baby Bump Has The Internet Talking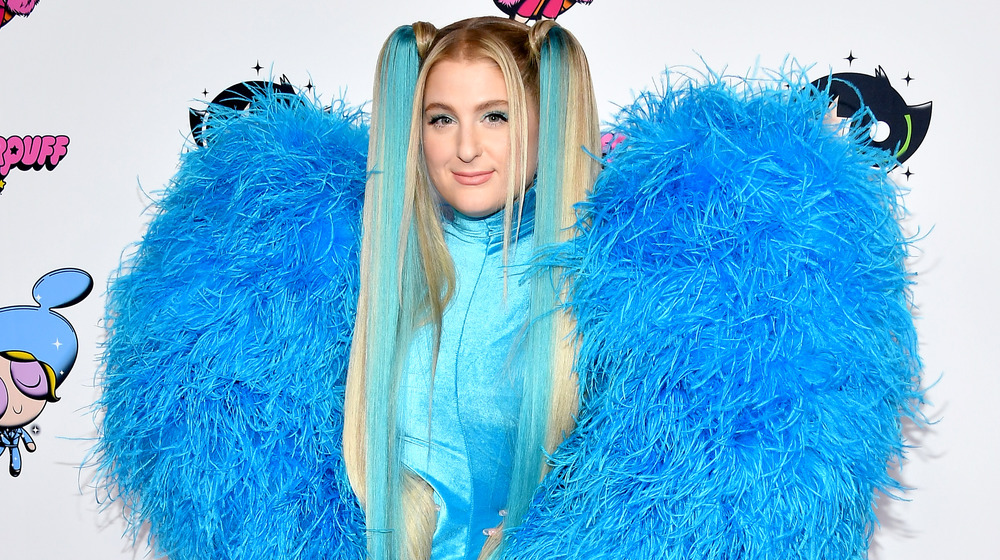 Amy Sussman/Getty Images
With only 10 weeks left to go before her due date, pop star Meghan Trainor has taken to Instagram to show off her adorable, and festive, baby bump. The singer starts a video clip lifting up her ugly Christmas sweater to reveal a burgeoning belly, but then covers it back up with the Christmas tree-adorned top. "How would they know?" she asks, likely referring to how she doesn't even look pregnant once she pulls down the distracting sweater to cover her tummy.
Trainor's sweet share is full of holiday cheer. Behind her is a sparkly Christmas tree and various other festive props. What a fun time of year to be counting down to such an exciting event, as this will be the first baby for the 26-year-old and her husband Daryl Sabara (via Good Morning America).
Meanwhile, the star and soon-to-be first time mom revealed that people hadn't guessed she was expecting at first, in part due to COVID-19 keeping her out of the spotlight, and as she explained, it was nothing new to be questioned about her midsection. "I guess because I'm a bigger gal ... I always got asked, 'Is that a baby bump?' And I'm like, 'No, that's just me.'"
Star friends and fans react to Meghan Trainor's bump updates
Singer Sam Smith was quick to respond to the Grammy winner's Instagram post, simply writing, "Ahhhhhhhhh." And via over 304,000 likes and comments of congratulations, it is clear Trainor's followers are excitedly following her pregnancy journey.
The singer first revealed she was pregnant on the Today show in October. She also shared via Instagram, "You all know how long I've wanted this!!!! @darylsabara and I are so beyond happy and excited to meet this little cutie early next year! WE'RE PREGNANTTTTT!!"
Trainor has also since updated fans she and Sabara are expecting a baby boy, and that she is dealing with a diagnosis of gestational diabetes (via ET Online). "I just watch what I eat now. I write everything now. I check my blood. And we're good now. I've been crushing it. It's like a game for me and I'm winning. It's nice to know we're both healthy" she explained.