Joe Biden's Dark Comments In His Address To The Nation Turn Heads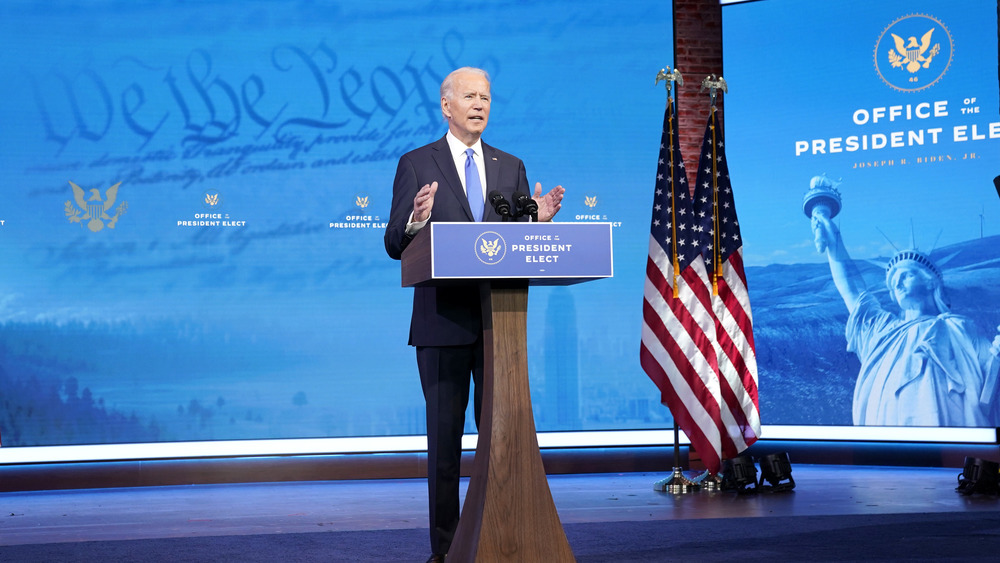 Drew Angerer/Getty Images
There should have been many reasons for President-elect Joe Biden to celebrate today. After what can only be described as a long and painful wait, the Electoral College — which included fellow Democratic Party members Bill and Hillary Clinton, Andrew Cuomo, and Stacy Abrams (via People) — certified him as the winner of the November 3 presidential election.
And while he addressed the fact that "the rule of law, our Constitution and the will of the people prevailed," he also took time to address the devastating impact of the coronavirus pandemic over the country. As he did during the debate, Biden referenced the sacrifices the people needed to make as the pandemic wore on, calling this a "dark winter," as he pointed to the rising numbers of deaths arising from COVID-19. The President-elect continued, shining a light on the dire reality we face as a nation, saying, "Today the nation passed a grim milestone. 300,000 deaths through this COVID virus. My heart goes out to each of you in this dark winter of the pandemic about to spend the holidays and new year with a black hole in your hearts, without the ones you love at your side" (via NBC).
Joe Biden promised, 'We'll get through this one together'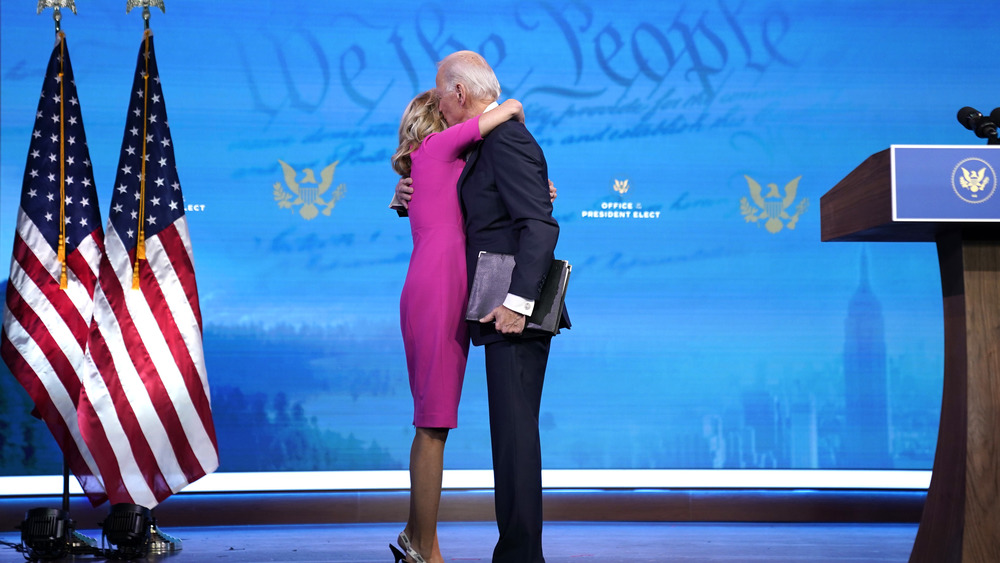 Drew Angerer/Getty Images
He also expressed empathy for those who have been hurt by the loss of jobs, and called for unity to overcome difficulties which had been triggered by the pandemic. "My heart goes out to all of you who have fallen on hard times through no fault of your own, unable to sleep at night, staring at the ceiling, weighed down by the worry of what tomorrow will bring for you, and equally important, for your family. But we faced difficult times before in our history. I know we'll get through this one, but together. That's how we get through it, together," he said (via NBC).
Biden first warned about a "dark winter" during his final debate against President Donald Trump back in October. Even then, public health experts had predicted that the number of coronavirus cases would spike within a six to 12-week time frame. Infectious diseases expert Michael Osterholm, director for the University of Minnesota's Center for Infectious Disease Research and Policy had predicted that between October and the holidays, the number of COVID-19 cases in the country would "blow through" a daily tally of 70,000 new cases per day (via HuffPost). And on the day that the Pfizer-BioNTech vaccine made its debut in the country, The New York Times reported 184,000 positive cases with a 30 percent uptick in the 14 day average, and, as Biden said, more than 300,000 deaths.