Brilliant Hack For Tape-Free Holiday Wrapping Goes Viral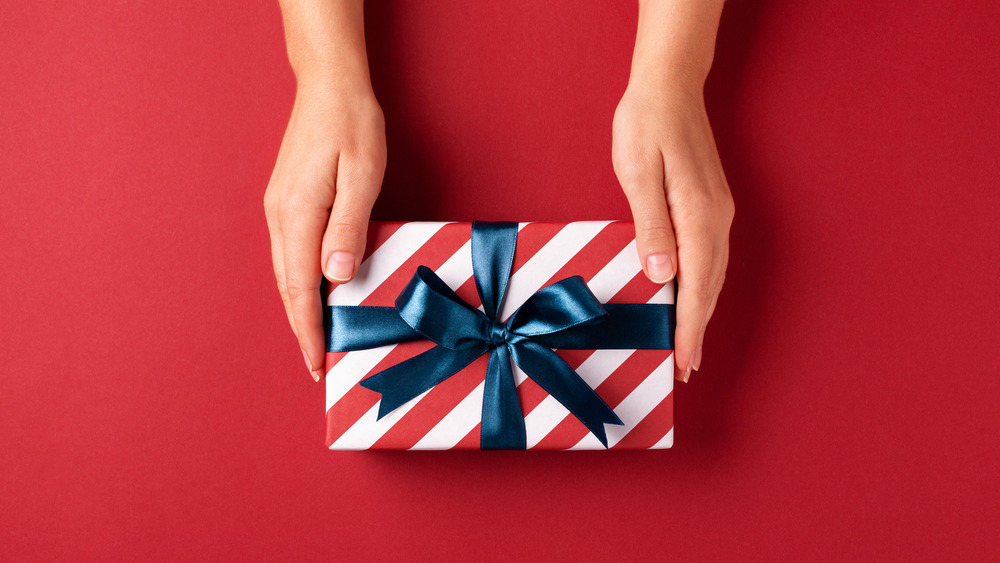 Shutterstock
Wrapping gifts at the holidays is the bane of many people's existence. Just us? We didn't think so. Perhaps most annoying is how many supplies one needs to have on hand for a successful wrap: wrapping paper, obviously, scissors, and yes, tape, which always seems to be running out or missing.
Well one woman, Tracie Garrett, who creates content for TikTok under the name beeandblooms, has the solution we all need this holiday season (via Yahoo!). Her video of how to wrap a present without tape has gone viral with 5.5 million "likes." And surprisingly, the hack doesn't seem impossible to replicate.
The idea for tape-free wrapping actually started with a challenge to Garrett to try her hand at such a task. And we are pretty thankful the wrapping-guru, who shares multiple hacks for the holidays on her page, accepted since this will no doubt come in handy for so many folks who can't seem to locate their tape in time for Christmas.
How to wrap a gift sans tape
In Garrett's brilliant video demo, she shows that the size of your wrapping paper matters. In other words, you don't want a lot of extra overhang. The trick to making her method work for you is in the folding. Watch her steps closely, and you'll see exactly how she folds the paper just so.
Ultimately, you are wondering, as we did, how you'll secure the package without a shred of tape. That is the most magical part of Garrett's demo. Basically she ends up tucking a triangular piece of paper into a fold she created while wrapping and closes the box like it's a three-dimensional envelope. We know — our minds were blown, too.
Viewers were blown away too, with one commenter noting their wrapping jobs don't look that good, even with tape. Yeah, we hear you. Um, beeandblooms, can you just come over and wrap all of our holiday gifts?