Royal Family Hidden Gems On Netflix You Need To Watch
This content was paid for by Netflix and created by The List.
There's nothing quite like palace intrigue. Royals might still just be people, with the same kind of human imperfections and shortcomings as everyone else. But unlike most of us, their moments of drama unfold within the gilded walls of a palace and, often, in front of the whole world. Their wealth, privilege, and power assures that there will certainly be a rapt audience when their private lives become public spectacle.
Some of the most enduringly captivating stories in all of history involve those who have occupied a throne. There are the almost mythological accounts of ancient queens like Nefertiti and Cleopatra, the storied declines of familial empires like the Caesars and the Romanovs, and the more contemporary complications of succession and scandal facing the living monarchs in Great Britain. Overall, there really is no shortage of royal family drama to memorialize on-screen. For those who have a fascination with all-things-regal, here's a look at some hidden gems available to stream on Netflix.
Diana: In Her Own Words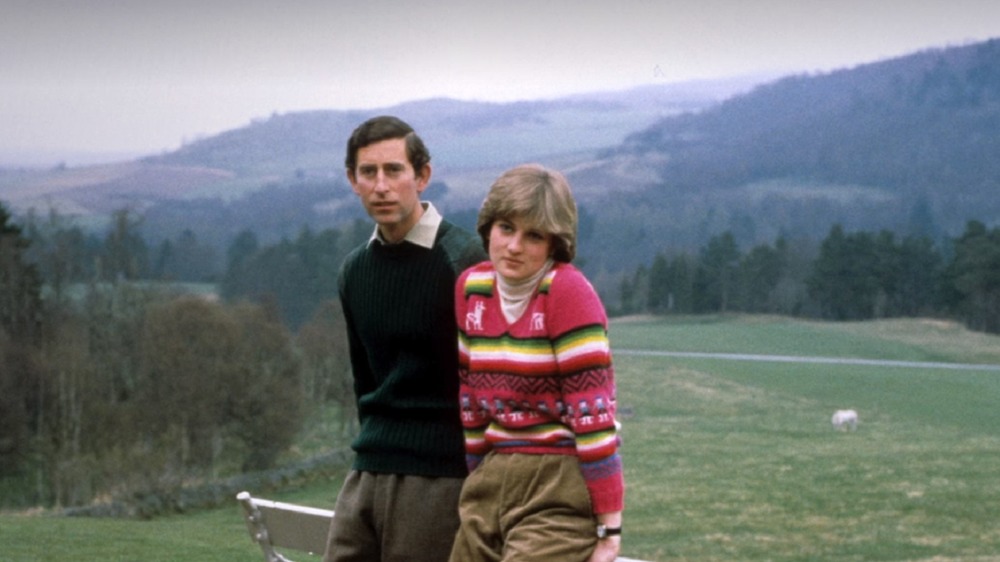 Channel 4/Netflix
Few modern royals have ever captured as much attention and adoration as Diana, Princess of Wales. The former wife of Prince Charles became an instant icon and was lovingly dubbed the people's princess by the loyal subjects of the Commonwealth. Of course, popularity was just part of the story of Diana, whose life was tragically cut short as a direct result of the paparazzi frenzy that followed her after her marriage to Charles came to a bitter end.
Diana's life and legacy has been a subject of much media exploration over the decades since she was first introduced as Charles' love interest, and the 2017 documentary Diana: In Her Own Words offers a very unique perspective on Princess Diana's experience under the microscope of Buckingham Palace. As the title indicates, the film features footage and soundbites of Lady Di discussing many details of the rise and fall of her marriage, alongside memorable images and news clippings that provide endlessly helpful context for the significance of her story.
W.E.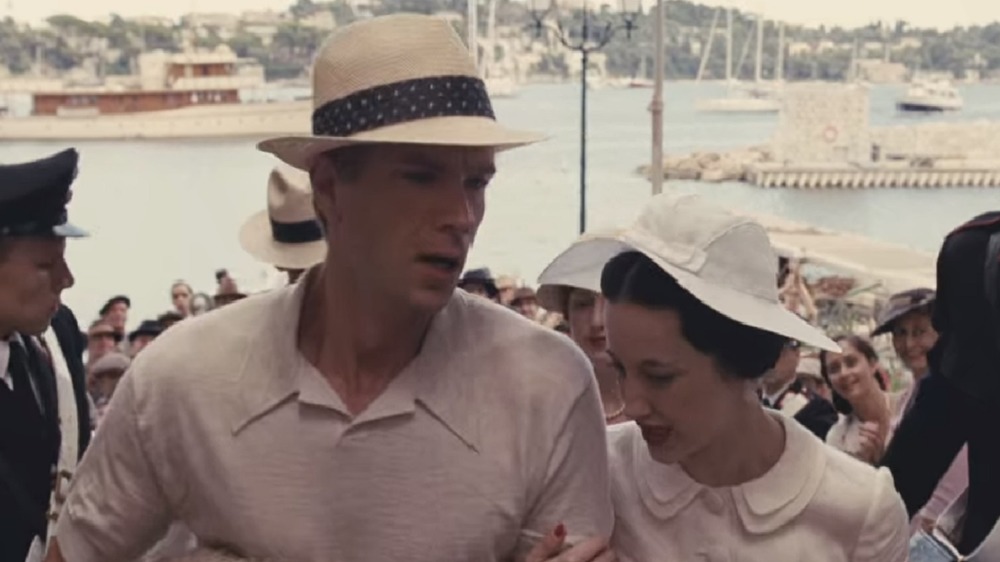 The Weinstein Company/Netflix
Queen Elizabeth II might not have ever worn the crown if not for the stunning abdication of her uncle, King Edward VIII, who decided to abandon his throne so that he could marry American socialite Wallis Simpson. It turned out to be one of the craziest romances in British royal family history. The 2011 film W.E., which was written and directed by Madonna, offers a new perspective on the romance that changed the course of the British monarchy forevermore. The film centers on a modern woman named Wally (Abbie Cornish), who copes with her own abusive marriage by obsessing over the historical details of the relationship between Edward and Wallis (James D'Arcy and Andrea Riseborough).
The film takes place across two separate time periods: the late 1990s as Wally studies the past and avoids her own present, and the mid-1930s, as Edward and Wallis' consequential romance takes shape. Despite these very different settings and circumstances, though, Wally finds some surprising commonality with Wallis that ultimately helps her to look toward her own future. Similarly, the semi-fictional narrative structure in W.E. offers a fresh lens on the story of the real-life forbidden romance that has intrigued so many royal watchers over the last few decades.
Outlaw King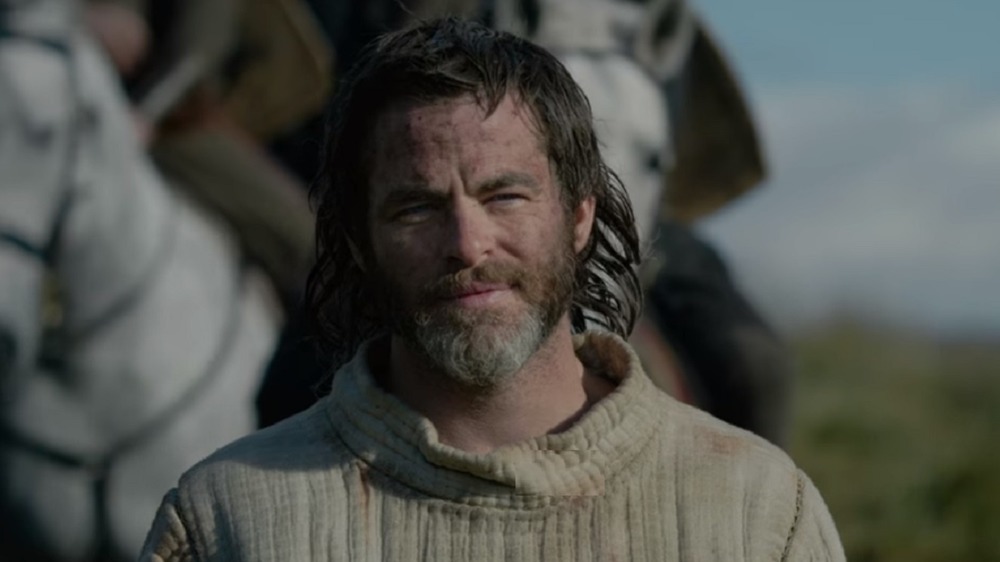 Netflix
Long before the Kingdom of England united with Scotland to become Great Britain, the island was the center of many bloody turf wars, and Outlaw King encapsulates one of the costly conflicts that erupted in the 14th century between Scotland's Robert the Bruce (Chris Pine) and England's King Edward I (Stephen Dillane) and his son, the Prince of Wales (Billy Howle). The 2018 historical drama takes place over the course of three years of unrest that followed the death of Sir William Wallace, who fought for the independence of Scotland but was publicly executed by King Edward I for that resistance.
Though Bruce and his fellow Scottish nobles have formally surrendered to Edward when the story picks up, Bruce soon seizes upon an opportunity to stage a new revolt against England and is crowned King of Scots. Facing a much larger and more equipped army of English knights, Bruce must make tactical decisions that might give him the advantage on the battlefield. While many monarchs over the course of history simply inherited their right to rule, some, like Robert the Bruce, only gained their power through sheer might and sacrifice, and Outlaw King provides a nice, action-packed window into this mighty sliver of Scottish royal history.
The Iron Lady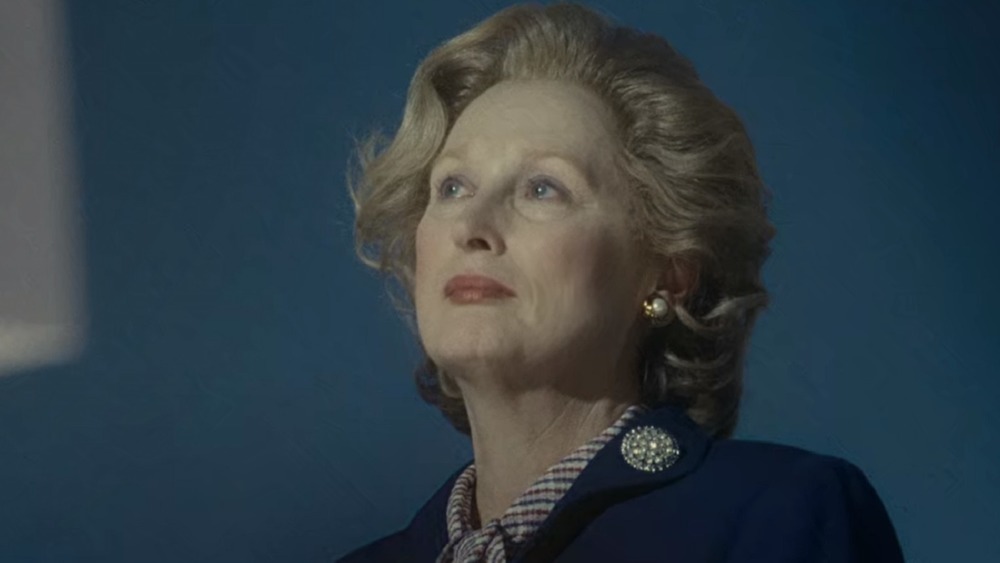 20th Century Fox
The royal family is just part of the puzzle of leadership of Great Britain. Ever since the late 17th Century, the Sovereign's political power has been severely limited by Parliament, and over time it became the Prime Minister of the United Kingdom who oversaw the formation of government. The relationship between each Prime Minister and the respective reigning monarchs of Britain has always been a fascinating dynamic to document, and that was especially true when it came to Britain's first female Prime Minister Margaret Thatcher. Thatcher's 11-year-term on its own is also a subject of fascination and was dramatized in the 2011 biopic The Iron Lady.
In the film, Thatcher is portrayed in an Academy Award-winning performance by Meryl Streep, who looks back on her rise and fall as the face of Britain's government.  Thatcher's career is filled with noteworthy and — for many — controversial moments and decisions, and The Iron Lady reveals that it's not only the head that wears the crown that is heavy.
The King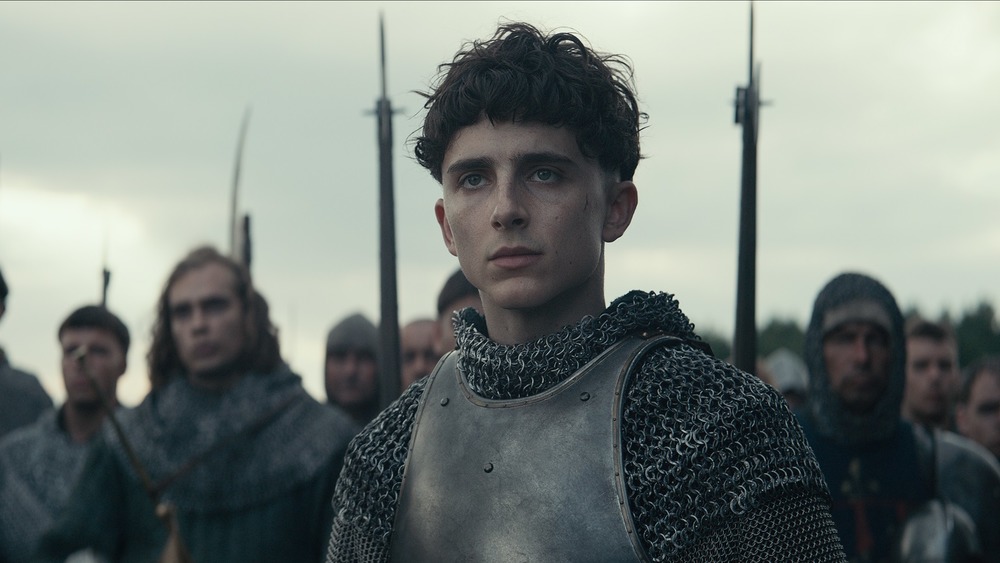 Netflix
Based on William Shakespeare's Henriad, David Michod's 2019 war epic The King depicts the very brief reign of King Henry V (Timothee Chalamet). Henry reluctantly accepts the crown after the death of his brother and father, and he soon becomes known for his military prowess. The film chronicles his half-hearted ascension to the throne of England and his eventual decision to wage war on France at the Battle of Agincourt after an apparent assassination attempt.
Henry V, who is also known as Hal, does not come into power brimming with monarchical ambitions, and he even attempts to quell some of the conflicts that existed during his father's reign. However, he is unable to avoid an adversarial relationship with the Dauphin of France (Robert Pattinson), and their conflict escalates onto the battlefield. Alongside his trusted friend Sir John Falstaff (Joel Edgerton), Hal rises to the occasion and proves to be a more competent leader than even he may have expected. His sure-footed — albeit not eager — reign is captured nicely in The King, and royal history fans should especially enjoy the film's depiction of his bravery and competent maneuvering in battle.
The Black Prince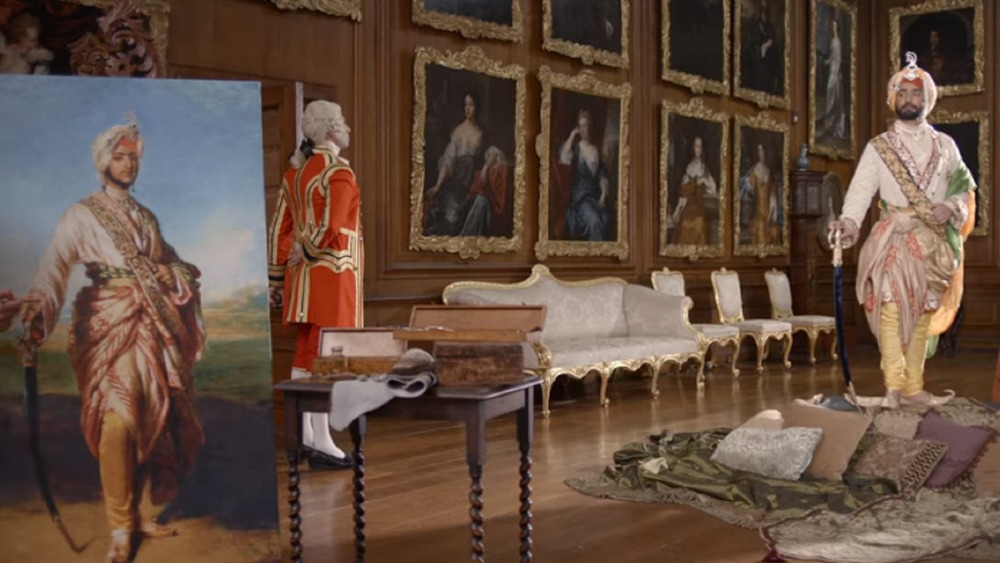 Netflix
The history of the colonial relationship between the British Commonwealth and India could make for a great many feature films, but The Black Prince chronicles a very specific and interesting piece of it. The 2017 film centers on the story of Duleep Singh (Satinder Sartaaj), the last Maharajah of the Sikh Empire.
At five years old, Duleep is put on the throne following the death of his father, but he is soon removed from power at a young age once British India annexes the Punjab region of India. Duleep is then taken in by a British surgeon and even forms a close friendship with Queen Victoria (Amanda Root) after being introduced at court. However, when he eventually attempts to return back to his homestead and reclaim his kingdom, he finds that his own cultural bifurcation presents some very unique challenges. For those who were previously unfamiliar with this fascinating piece of British monarchical history, this film does well to remind royal watchers of yet another way the monarchy's influence has been far-reaching for centuries.
Secrets of the Saqqara Tomb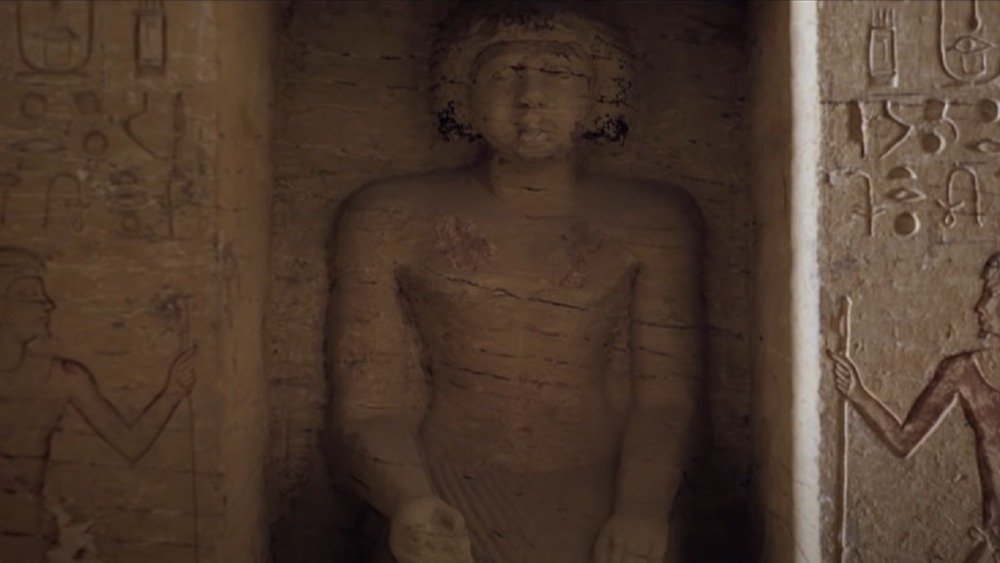 Netflix
Recorded human history can only tell us so much about the millennia of civilization that precedes us, so it's up to archaeologists to uncover new clues about the people and leaders who predate what we already know about our species. In the fascinating documentary Secrets of the Saqqara Tomb, audiences get to follow along for the actual 2018 discovery of an amazingly well-preserved tomb belonging to a mysterious Egyptian high priest called Wahtye.
The film follows the scientists as they dig into what they perceive to be more valuable than a goldmine, discovering untold treasures that date back 4,400 years, to a time when theology and kingdoms were inextricably intertwined. Wahtye himself appears to have been an important priest who directly served King Neferirkare Kaki during Egypt's Fifth Dynasty, and the information that is derived from his elaborate tomb — about both the kingdom and this ancient era of history — is invaluable.