Here's Why Trump Isn't Getting A COVID-19 Vaccine Right Away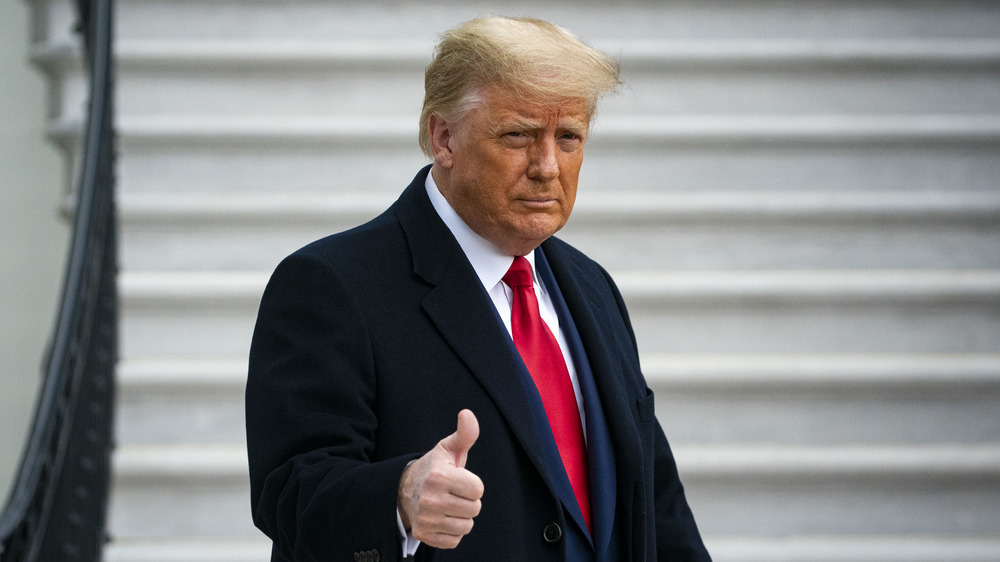 Al Drago/Getty Images
As the COVID vaccine rollout continues, Vice President Mike Pence got his vaccine on live TV on Friday, Dec. 18. Meanwhile, Speaker of the House Nancy Pelosi and Senate Majority Leader Mitch McConnell announced separately on social media that they, too, had received the vaccine (via CNN).
"Today, with confidence in science & at the direction of the Office of the Attending Physician, I received the COVID-19 vaccine," Pelosi wrote in a tweet, accompanied by a photo of Capitol Attending Physician Dr. Brian Monahan administering the shot.
Conspicuously absent from the publicized first round of vaccinations was Donald Trump, leaving many wondering why the president didn't receive the vaccine that he's repeatedly taken credit for despite his lack of involvement in its development (via Forbes).
As reported by The Star Tribune, White House deputy press secretary Brian Morgenstern said that Trump is waiting for doctors to determine whether or not he should get the vaccine because he's already had COVID. "When the time is right, I'm sure he will remain willing to take it," Morgenstern told reporters.
Trump and multiple White House officials have already contracted COVID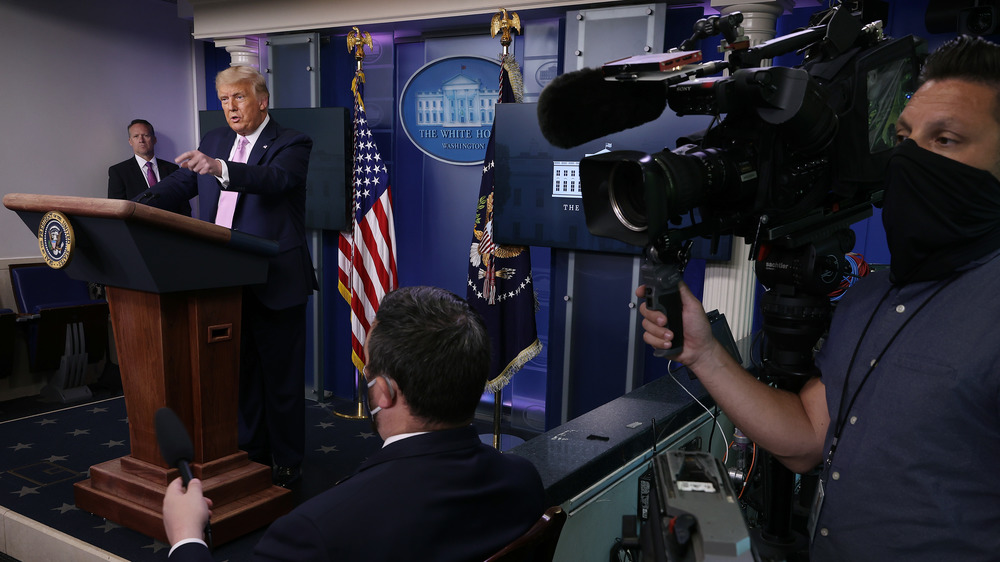 Chip Somodevilla/Getty Images
These comments are a reversal of previous statements from the White House. On Sunday, NPR reported that a spokesperson told the media top officials in all three branches of government would be in the first round of vaccinations. But later that night Trump contradicted the White House spokesperson by saying "most" of his staffers would have to wait.
Part of the reason Trump and White House staffers may not receive the vaccine right away is because of the sheer number of COVID cases in the administration (via New York Magazine) — including, of course, Trump himself.
A White House official told CNN that Trump is still receiving benefits from a strong COVID medication he was given in the fall. The official added that Trump will "likely" get the vaccine once the appropriate timing arrives.
According to the Centers For Disease Control & Prevention (CDC), people who have previously had COVID may still benefit from the vaccine. It's unclear how long natural immunity lasts, and there have already been multiple reports of people contracting COVID twice (via Science).