The Deleted Scene Love Actually Fans Need To See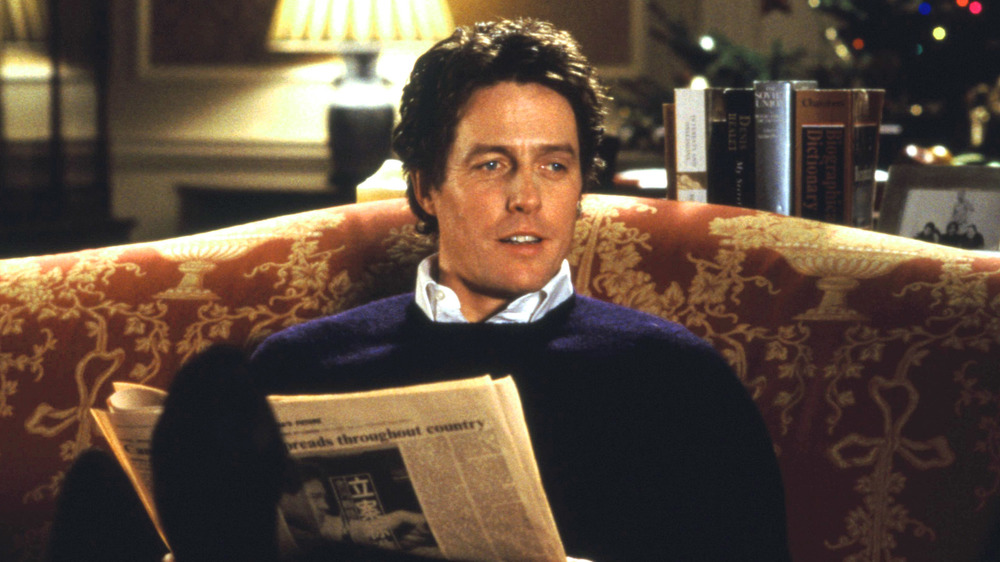 Universal Pictures
If you can feel it in your fingers and in your toes that Christmas is all around, then you're probably watching Love Actually for the kajillionth time. The 2003 British movie, which follows the complicated lives of eight interrelated stories in the weeks leading up to Christmas, was a box office hit (per Digital Spy). It's since gone on to join It's a Wonderful Life and A Christmas Carol as must-see viewing for millions during the holiday season. 
That's not to say that it's everyone's cup of English Breakfast tea. Like the Hallmark Channel movies that play nonstop from November through January, Love Actually has as many haters as devotees. Critics point out the many questionable aspects of the film, such as the two inappropriate workplace romances, the fat-shaming ("thighs like tree trunks," "Plumpy," and "Miss Dunkin' Donut" are insults played for laughs), and the incredibly creepy storyline of Mark, who not only falls for Juliet, the bride of his best friend, but he also shows up on their doorstep on Christmas Eve to silently confess his love for her. 
But even the naysayers might have been won over if a certain deleted scene featuring a same-sex couple had been kept in the final cut. 
A heartwrenching storyline didn't make it to the final film
The script originally included a storyline featuring Anne Reid as the principal of the school that Karen's (Emma Thompson) children attend. Viewable here on POPSUGAR, the clip shows the headmistress coming home to her partner, Geraldine (at the time, same-sex marriage wouldn't have been legal in the UK, per The Sun). Though bedridden and clearly ill, Geraldine jokes with her partner about having "fancy" sausages with leeks and apples, and laughs heartily at an anecdote about a student whose Christmas wish was to see people's farts ("Bravo! That's my Christmas wish, too!").
But it's clear that the couple's time together is limited; Anne's face tells a story as she holds Geraldine close in bed that night. Later, we see Karen making a speech before the school Christmas pageant, praising the headmistress's bravery in coming to the show "in light of her recent loss. Geraldine was a wonderful and wicked woman, and sorrow is particularly hard at Christmas."
Director Richard Curtis lamented that he was "really sorry" to lose the scene, in an interview in the DVD bonus footage. "The idea was meant to be that you just casually meet this very stern headmistress, but later on in the film we suddenly fell in with her and you realize that, no matter how unlikely it seems, any character you come across in life has their own complicated tale of love."
Perhaps he should have kept this scene in and cut out the whole dweeby-guy-meets-American-supermodels bit.