Why This Duggar Family Holiday Tradition Has People Seeing Red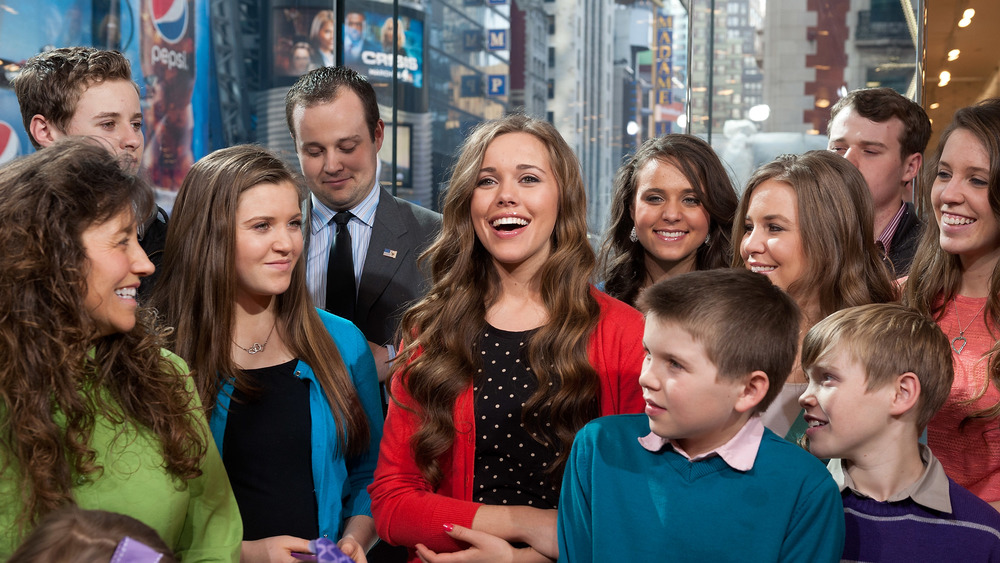 D Dipasupil/Getty Images
The Duggar family attracts equal amounts of attention, admiration, and disdain. They first drew public notice as the stars of TLC's megahit 19 Kids and Counting (formerly 17 Kids and Counting) for being an unusually huge household, made even bigger now that many of Jim Bob and Michelle's older children have married and added grandchildren to the total. They're admired by viewers who respect their clean-cut lifestyle, deep Christian faith, and emphasis on self-reliant living, but they're also criticized for their ultraconservative, patriarchal beliefs, and the fact that the show has continued (as Counting On) despite the scandal involving son Josh that tarnished their rep.
Undaunted, the Duggars have pressed on with their show, along with side projects such as their books and Happy Heart, a new Christian CD recorded by the younger Duggar girls. They're also determined to keep this holiday season both traditional and joyous — but not everyone is on board with their methods.
The Duggar family had a huge maskless gathering
Followers of the Duggar family members' Instagram accounts were recently treated to pictures showing two large holiday events. In one, chronicled by Jana Duggar, the women of the family gathered together to craft homemade wreaths. Jana captioned her gallery, "'Tis the season for... wreath making, Christmas music, and eating way too many cookies!" Another gallery, from the family's official Insta account, shows the antics of the third annual "Duggar Family Ugly Sweater Party." The day featured family members trying to outdo each other in wardrobe tackiness, plus a baking contest and white elephant gift exchange. 
But followers quickly noticed that all the shared photos showed the large family interacting in close proximity to one another, with no masks to be found anywhere. This contradicts the recommendations offered by Dr. Anthony Fauci and others that Christmas celebrations should be small and limited to members of the same household. "This cannot be business as usual this Christmas because we're already in a very difficult situation, and we're going to make it worse, if we don't do something about it," Fauci said (as reported by People). 
Fans either praised the Duggars' fearlessness or slammed their risk-taking
Although the photos showed a joyous gathering that looked like it could have come straight from a Hallmark Christmas movie, some viewers saw it as a needlessly reckless gathering in light of the ongoing COVID-19 pandemic. Comments included: "Cute yes. Smart no." "Wow! Great example of what not to do!" "Looks a bit COVIDy to me." One commenter added, "Y'all are acting like they care. They don't care, or they wouldn't get together."
Supporters of the Duggars pointed out that immediate family gatherings have been deemed okay, so a large party like the Duggars' could be considered safe despite its size. Others applauded them for making a personal decision, even if it opposed medical advice: "Way to do what you want in this FREE country!!" "Life is too short to be locked up and scared to death forever. All the haters can go continue to bathe in hand sanitizer and live in fear." "I think it's a true testament to family." "Maybe they all got tested before the party. None of our business." and "Faith over fear!"
Thus far, no one in the Duggar clan has offered an explanation of the lack of mask-wearing. It may be, as one commenter suggested, that the gatherings were filmed for Counting On and that everyone was tested beforehand. But with so many people in attendance, including several pregnant women (and some viewers speculate daughter Jessa may be expecting again, per Daily Mail), it's hard not to worry that this family togetherness might have an unexpectedly unhappy result.