This Is How The Biden Family Celebrates Christmas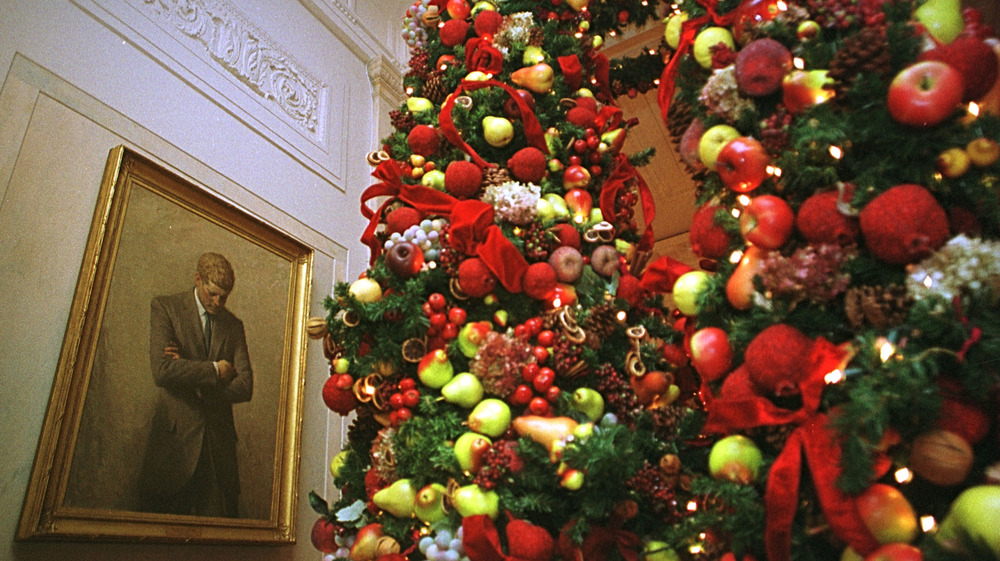 Michael Smith/Getty Images
Whether it's stringing together popcorn and hanging it up on a tree, putting up decorations together, or even arguing over the direction lights should be strung (top to bottom vs. bottom to top), family traditions are a cornerstone of any Christmas celebration — even at the White House.
Back in 2007, daughter of the late President John F. Kennedy, Caroline Kennedy, revealed that one family tradition involved giving oranges and walnuts as Christmas gifts — something a child who wants to receive toys may not be too keen on, but we digress. While speaking with NPR, Kennedy explained that this was something she continued to do for her own children. "I think the continuity ... of the traditions is really what makes Christmas so special," she said. "And for me, seeing my children do the same kinds of thing that I did when I was young and even that my mother did for her mother — all that is just so powerful when you have kids and when you see that continuing forward."
We couldn't agree more. But how does President-elect Joe Biden and his family celebrate the holidays?
Ivory Snow detergent is an important part of the Biden family's Christmas tradition
It probably goes without saying that the incoming first family has Christmas celebrations and traditions, too — but these are practices they may not be able to take with them to the White House come Christmas 2021. In a joint appearance on The Late Show with Stephen Colbert in December 2020, Dr. Jill Biden (a.k.a. the first lady-to-be) and her husband, President-elect Joe Biden, revealed the particular way their Christmas tree is decorated — which is guaranteed to look like a winter wonderland of sorts. 
"My dad used to do it — and, in the Biden tradition, my grandfather [did it too]. I swear to God, it looks like snow is falling on the tree," Joe told the late-show host. For her part, Jill explained that her politician husband mixes Ivory Snow powder laundry detergent with water using her hand mixer to make the special blend of Biden snow. 
However, laying it all out on the tree is a big project for the future president. "I get to bed, not a joke, at three in the morning, because Santa Clause puts the snow on," Joe told Colbert, adding, "Even though they're grown children, we have a tradition ... based on youngest to oldest, including our grown children, you come down the stairs [to see the tree]." Aww.
The Biden family uses tinsel in a different way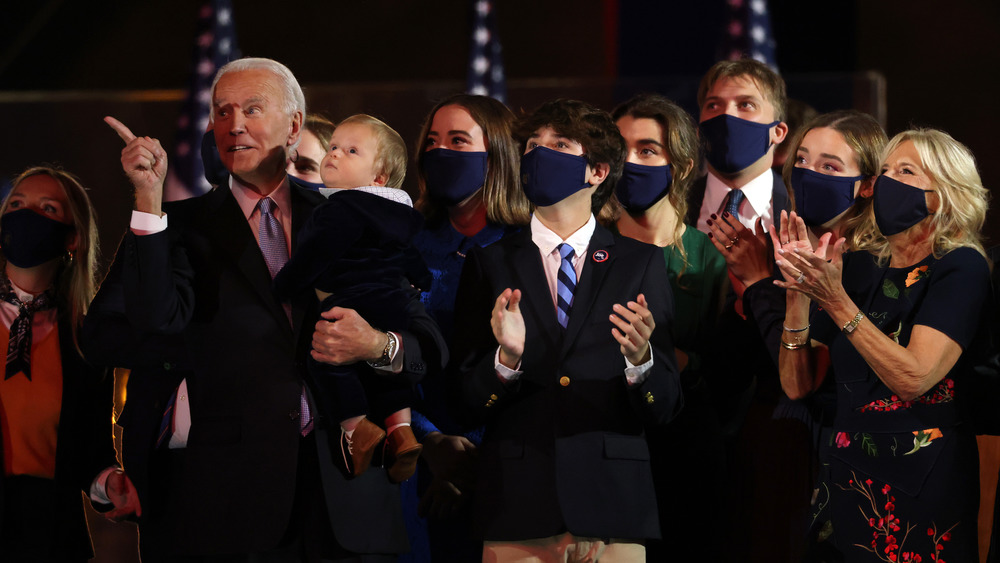 Win Mcnamee/Getty Images
The Bidens also happen to be big fans of tinsel — but just like the president-elect's snow effect policy, they don't throw the tinsel on the tree in clumps (the way Stephen Colbert admitted his family does). "You can't throw it on there!" Joe Biden insisted on The Late Show, joking, "We have elfdom, junior elves get to put it on one strand at a time." He also responded to ribbing about recycling tinsel, by telling Colbert that the tinsel doesn't get saved and reused, it's simply thrown away at the end of the holiday season.
As how for the Biden family will celebrate Christmas this year? Joe and his wife, Dr. Jill Biden, usually host dinner for more than 20 people over Christmas, but thanks to the pandemic, those numbers have been greatly reduced. Instead, the Bidens expect to maybe have their daughter, Ashley, and her husband over — along with a full complement of Secret Service agents. Like all of us, the Biden family is hoping the COVID-19 vaccine will give the world the chance to celebrate a proper holiday season in 2021.
Of course, don't expect the future POTUS to decorate all the trees at the White House himself next year. First ladies are traditionally in charge of Christmas decorations, leaving Joe to quip, "I'm not doing all those trees, just Santa's tree."