The Only Times It's Okay To Wear Glitter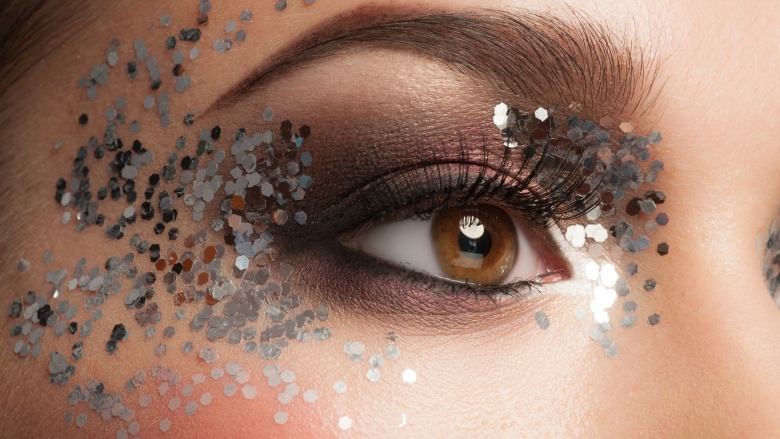 Shutterstock
Glitter can be tricky, especially for women over a certain age. Glitter particles can call attention to fine lines or can make you look like you are trying too hard — but that's only if you are not following the proper glitter protocol and guidelines. Yes, those actually exist. Most experts agree that you can wear glitter at pretty much any age, as long as you consider the time and the place, invest in the right product, and place it on the right features and in the appropriate volume. If you stick to that glitter template, you can be a member of the glitterati, no matter the year of your birth. These are all the times when wearing glitter is totally fine and dandy.
The holidays are an acceptable time for glitter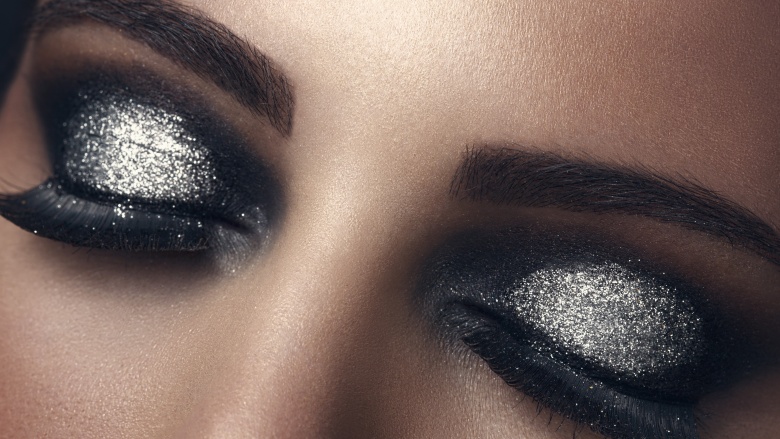 Shutterstock
Glitter is festive, and that makes it wholly appropriate for the holidays, since it augments the happy mood surrounding the season. "I'm a big fan of glitter and definitely believe you can wear it throughout the year, depending on how glittery of a look you're going for," says Blushington Makeup & Beauty Lounge founder Stephi Maron. But the trick is making sure the glitter is applied in a sexy, stylish, and sophisticated way. You don't want your eyelids or face to end up looking messy, like your niece's kindergarten arts and crafts project.
Maron furthers, "The holiday and Christmas party seasons are the times it makes the most sense to really pack on the glitter, like [famed makeup artist] Pat McGrath, and go all out. Think bright red, dark berry red, gold, or silver glitter for holiday." Go bold, opting for rich and dramatic shades. Glitter is not meant to be subtle during this season.
Lips can be glittery in the summer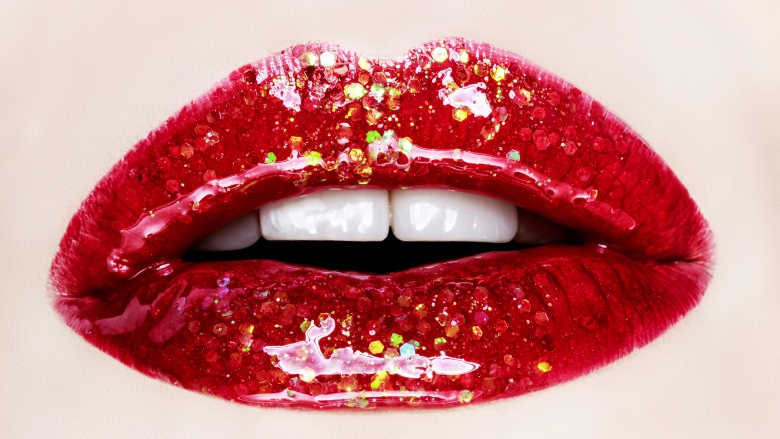 Shutterstock
Glitter isn't relegated to the cold temps of the holiday season. It can totally be right for summer celebrations, like Memorial Day or Fourth of July — as long as it's worn in moderation and on the right features, like lips. Since glitter can settle into the fine lines of your face and make you look older, and since "I want to look older" is a statement said by no one ever, you are best served incorporating the sparkle into your lip look. Just be sure to prep and prime lips with liner in order to prevent loose glitter from migrating into any of the aforementioned fine lines.
"For spring and summer, I would recommend using a lipstick that has a little shimmer or glitter in it so it's more of a subtle glitter lip look," Maron says. "Think pinks, mauve, or neutral tones during this season. I love mixing B.Lovely lipstick, which is Blushington's exclusive lipstick in collaboration with Julie Hewett, with a little Jouer Lip Essential on top. I then pat any of the Girlactik sparkles right on top with my pinky finger. I love how subtle and wearable this glitter look is."
Go for glitter lips as long as your pucker isn't chapped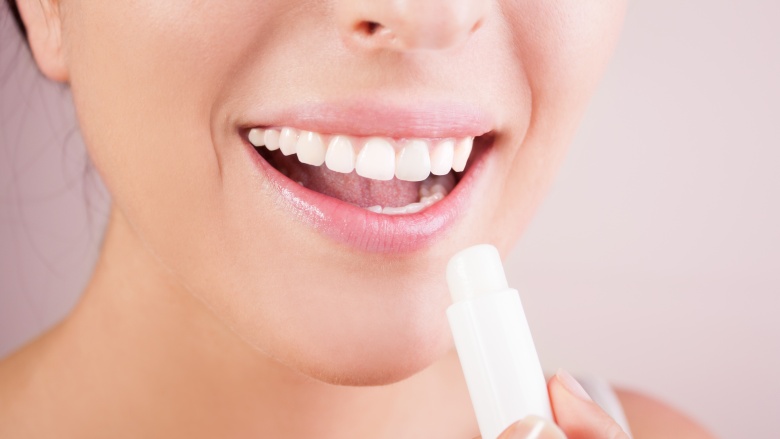 Shutterstock
A pro summer glitter tip to adhere to: make sure lips are smooth and exfoliated when adding a little sparkle. The grit of glitter can be a desirable texture, whereas the grit of flaky skin is certainly not. Maron says, "Make sure your lips are really moisturized because glitter can stick to any fine lines. I love Ilia's lip scrub in Balmy Nights to exfoliate my lips and then use Ilia's Balmy Days to prep and moisturize my lips first before I put on any lipstick, lip liner, or glitter."
Halloween and costume parties are prime times for glitter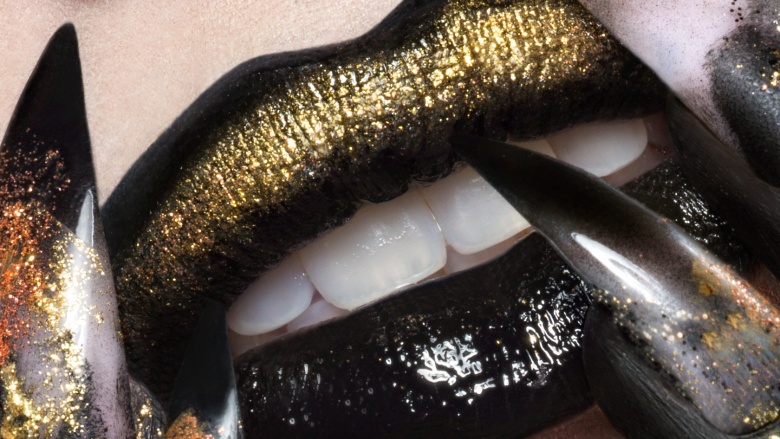 Shutterstock
Halloween is probably the one holiday during which anyone can get away with any amount of glitter and in any shade. Sebastien Tardif, a renowned makeup artist and co-founder of Veil Cosmetics, says, "Glitter makeup is a fantasy we are all attracted to because of the sheer joy and pretty feeling we get from staring at such a concentration of brilliance and glow. The times to indulge is during Halloween, since it's fun and there are so many thematic parties. The only rule is no longer being sensible and meeting certain acceptable beauty standards, but rather to have fun!" Preach.
Lower eyelids are prime real estate for glitter placement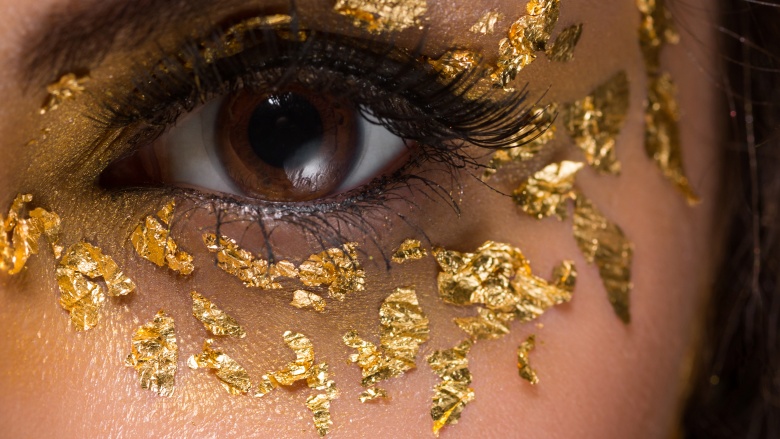 Shutterstock
As Tardif notes, "Glitter is strongly associated with youth, fun, and glamour. Therefore, its usage can often be misinterpreted as [a] 'mutton dressed like lamb' type of scenario and denote a certain immaturity." Basically, if you wear too much glitter and in the wrong spot, you will look like you are trying to find the fountain of youth but failing epically. Tardif strongly advises against putting glitter on your cheeks, since it "looks terribly tacky and, in certain light, can appear almost like dirt or debris on skin, since glitter specks are much larger than shimmer."
Therefore, instead of a glittery blush, pop some glitter along your lower lashline, especially for nighttime activities, such as a date or dinner with friends or a club excursion. It will bring out those eyes and essentially provides built-in lighting. "Glitter tends to render more effectively in the absence of bright lights and gives way to a magical aura," Tardif says.
You can wear glitter when it's the right brand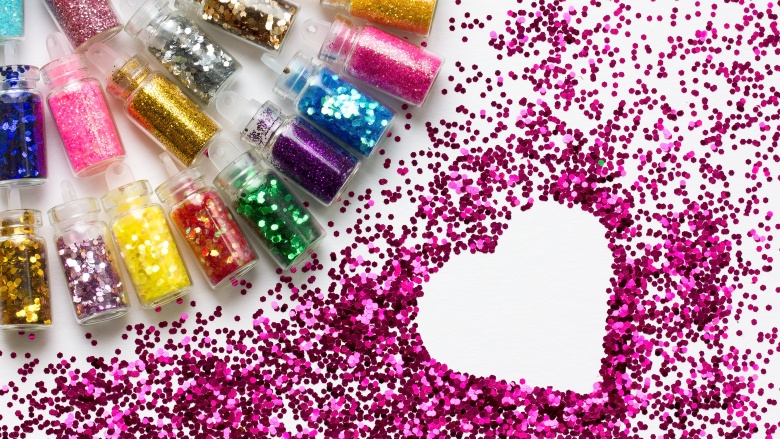 Shutterstock
Cheap glitter will look like... cheap glitter. As Ardency Inn's director of product development Erin McCarthy claims, "The trick is to apply the right product and in good taste." There are sophisticated glitters on the market, with primo ingredients. That can make all the difference when it comes to the end result. McCarthy says, "Some prestige makeup brands make a glitter alternative that uses high quality pearls. Ardency Inn Modster Light Catching Eye Powder in Friendly Fire is great because it uses the highest quality borosilicate pearls that reflect different tones, so you get even more sparkle than traditional glitter. But the result is much more classy and modern." Classy and modern glitter? Where's the signup sheet for that?
Black eyeliner and glitter is a total "do"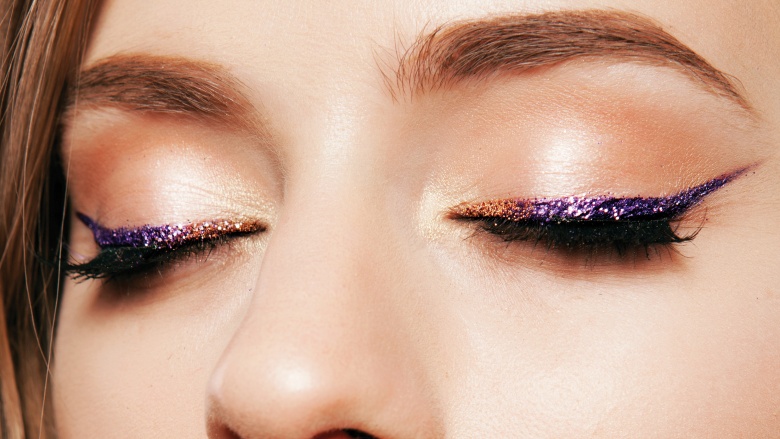 Shutterstock
McCarthy reminds us that less is way, way more with glitter. In her opinion, "you can't go wrong with a black liquid liner topped with glitter, or a splash of glitter at the inner tear duct."
However, if it's drama you seek but want to avoid "looking like you belong in the circus," McCarthy offers this tip: "You can do a great dramatic smoky eye with black eye shadow, then go back in and highlight the eyelid, using a solid application of glitter. When the shadow is well smoked out, whatever you put in the center of the lid will look great."
McCarthy also encourages letting your natural complexion stand out by doing "a bold, solid glitter lip in a dark shade, which always looks killer." A solid glitter pucker will pop against a fresh, bare face.
Finer is better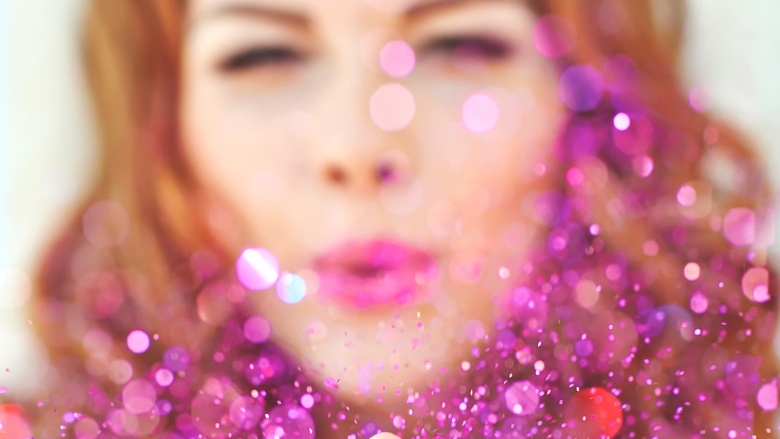 Shutterstock
Sparkle can be fine at any age. But glam glitter requires that you check yourself. Paris Manning, founder of Velvet 59 Cosmetics, notes that "glitter can be a challenge when you are over a certain age because you don't want to seem like a middle schooler who just discovered makeup." But there are ways to circumvent that conundrum. "The best way to avoid that is to make sure the glitter is cleanly and properly placed on the face, which is usually the eyelids, and always use a very fine sparkle," Manning says. "Make sure the rest of your makeup is age-appropriate." That is, don't do a full face of glitter. Rather, use it to enhance.
Glitter-izing your lotion is totally acceptable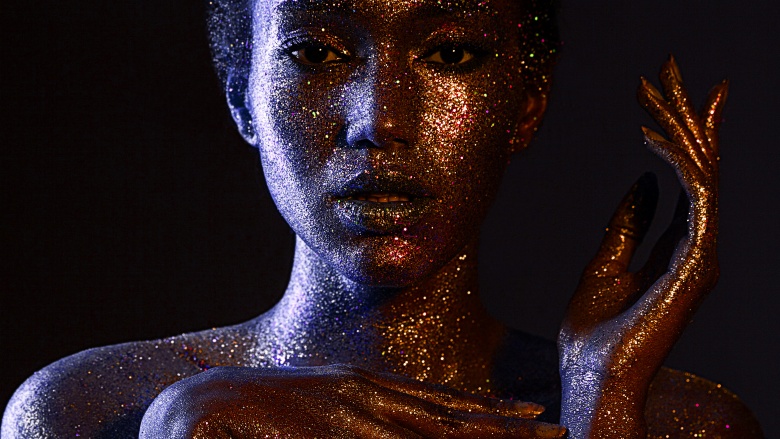 Shutterstock
Want to add some shimmer to your body, like your arms and legs, for an all-day music festival, block party, or BBQ? You can mix some microfine glitter pigments into your body lotion or body oil for an added glimmer and glow. You can let go and just glow in this situation.
Sparkle, glow, repeat. Glitter has many iterations and applications, all of them fun. Let go and let glow!