Here's How Interior Design Will Change After The Pandemic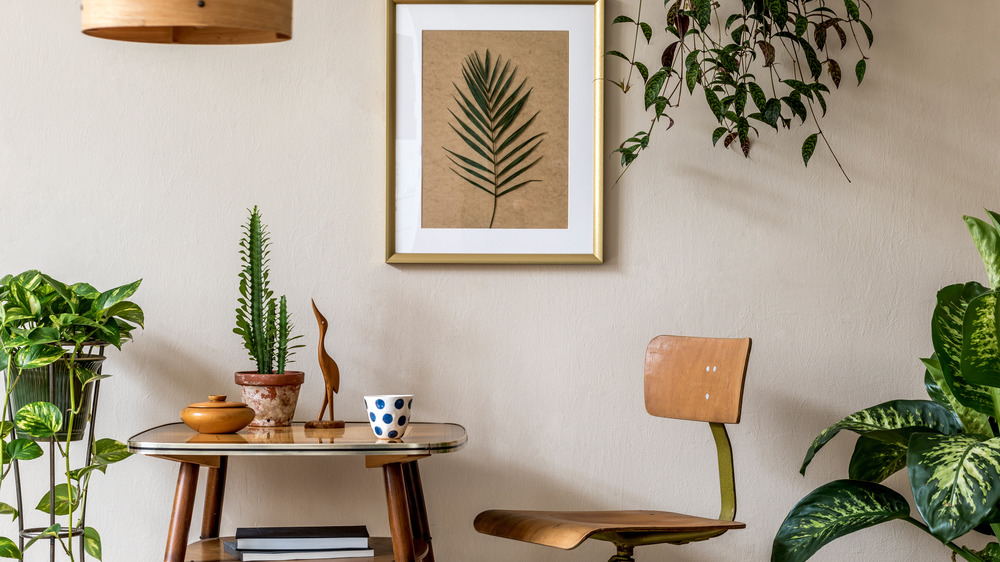 Shutterstock
When 2020 began, perhaps our home-improvement dreams included an updated kitchen with marble counters and energy efficient fridge, or maybe we were swooning over a claw-foot tub or new window treatments. But with so many of us suddenly turning our homes into an impossible combination of our offices, schools for our children, entertainment centers, relaxing sanctuaries, and base-camps for health wellness, it's no surprise our decorating dreams have shifted. Experts of all things home-and-garden, HGTV, says our home-decor goals today are geared toward creating both functional home offices and relaxing havens, in perfect balance.
One way we're seeking to add coziness to our living spaces is with "Grandmillenial" style. Also called "Granny Chic," this style is essentially an homage to old-fashioned things we might have found in our grandmothers' houses. Florals, pleated lampshades, chintzy kitchen decor, wicker, frilly pillows and curtains, and similar items help to remind us of a simpler time in our lives and fill us with the warm-and-snuggly-feelings of a retro country cottage (via OneKingsLane.com).
Another trend that's been picking up major steam over this past year is an abundance of house plants. Not only do house plants bring the peace and beauty of the outdoors indoors, but taking care of the plants can be a soothing hobby, and the plants themselves even provide oxygen as HGTV notes. Zen gardens are another way folks are bringing the outside in, and using it for stress relief. Building them can be fun and being near them is soothing.
More home decor trends for 2021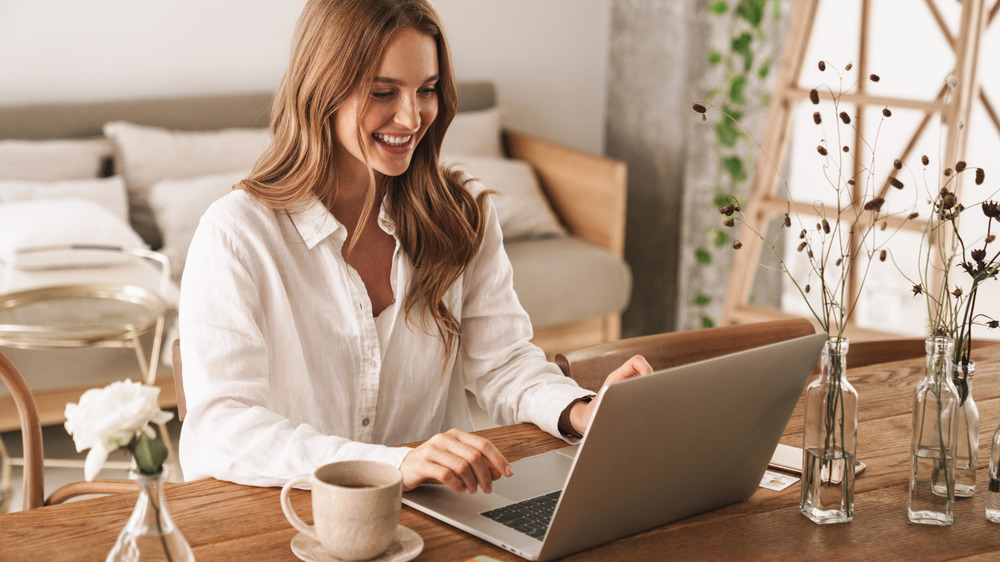 Shutterstock
Letting natural light into the home is another way people are attempting to create more uplifting living spaces. If you can't actually add more windows or skylights to your home, a simple way to brighten things up is to adjust your window treatments. Choosing opaque or semi-opaque curtains in neutral colors can let more light in while still giving you the flowing style and privacy of window treatments (via HGTV). This can benefit both relaxation spaces and work spaces.
Speaking of work spaces, because not everyone has the space for a home office, demand for multi-functional spaces is at an all-time high right now, as most of us would like a better setup than plopping our laptop on the dining room table and then having to clear all the work off to eat. As MYMOVE suggests, consider any unused spaces in your home that could be repurposed, like a corner counter in your kitchen or a cupboard under the stairs (if Harry Potter could sleep in one, you could probably fit a small desk in there!). If no such thing is possible, even something as hanging storage can help keep a multi-use space organized and functional for all of its purposes.
If you are lucky enough to have a dedicated home office space, keeping it clean and organized (and therefore less stressful) is priority one, so minimalist setups and smart storage are the two trends helping people to create an uncluttered and streamlined workspace, as per HGTV.