Here's Why A Microwedding Is Right For You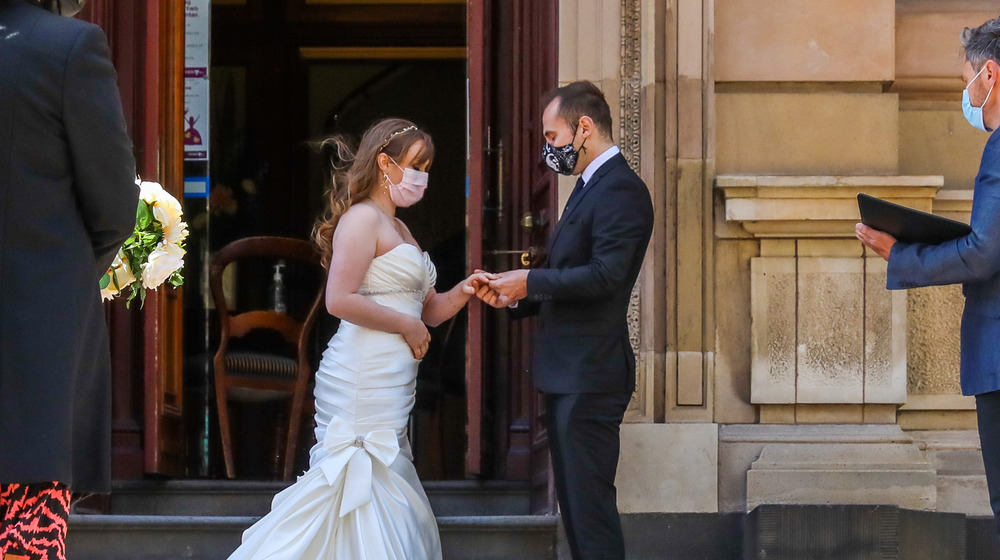 Asanka Ratnayake/Getty Images
This year has had us rethinking how we do everything from grocery shopping, to working, to making time for each other — and major life events like weddings need a rethink, too. If the thought of throwing a big bash makes you feel overwhelmed, even in the future when it's medically safe to do so, a microwedding might be just right.
The microwedding, defined by The Knot as a wedding with 50 guests or fewer, started to gain steam about 10 years ago with millennials, many of whom had graduated into a recession. Many haven't been able to meet the same financial markers as their parents at similar ages, and so they sought to pare down the lavishness of weddings to a manageable size.
With the average American wedding costing $35,000, with Offbeat Bride noting that in urban areas like New York, LA, and Chicago, it can be significantly more, it's no wonder that folks are looking for simpler options. Though it may seem like the Pinterest-perfect wedding is worthwhile as a once in a lifetime extravaganza, many are finding that they'd rather spend the money on being married than on getting married. 
Microweddings are more than a budget-friendly option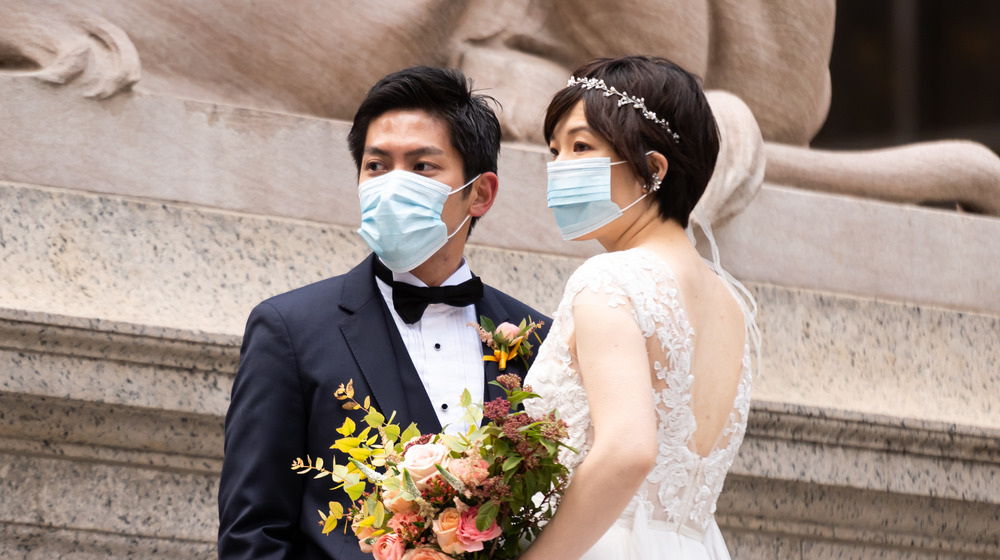 Noam Galai/Getty Images
Weddings haven't always been the ballroom blowouts that became so common recent years. For many, they were simple affairs. Per Vogue, this was especially true during the Depression and wartime when cake and punch receptions on church lawns or a quick trip to the Justice of the Peace were common celebrations.
But microweddings don't have to be about what's not there — they can actually give you the opportunity to focus on who is there. Brides advises couples to focus on the personal connections that can be made with a curated guest list. Rather than the common "drive-by" hello and congrats from your dad's boss's daughter, you can spend real time with your nearest and dearest.
As actress Elizabeth Gillies told Vogue of her recent microwedding, "It was everything that it needed to be and nothing that it didn't ... At the end of the day, it's about you and the person you love. The rest doesn't matter."
Microweddings not only save time and money, but in the pandemic, they save lives as well. No one's nuptial daydreams include becoming the next superspreader headline and endangering the people you care about most (via Healthline). There's something resilient and charming about the recent surge of Zoom and balcony weddings that remind us that joy finds a way. And besides, you can always throw a truly epic sequel wedding later, or even better, an anniversary party for the ages.