Here's What You Should Know To Keep Your Jewelry Organized Once And For All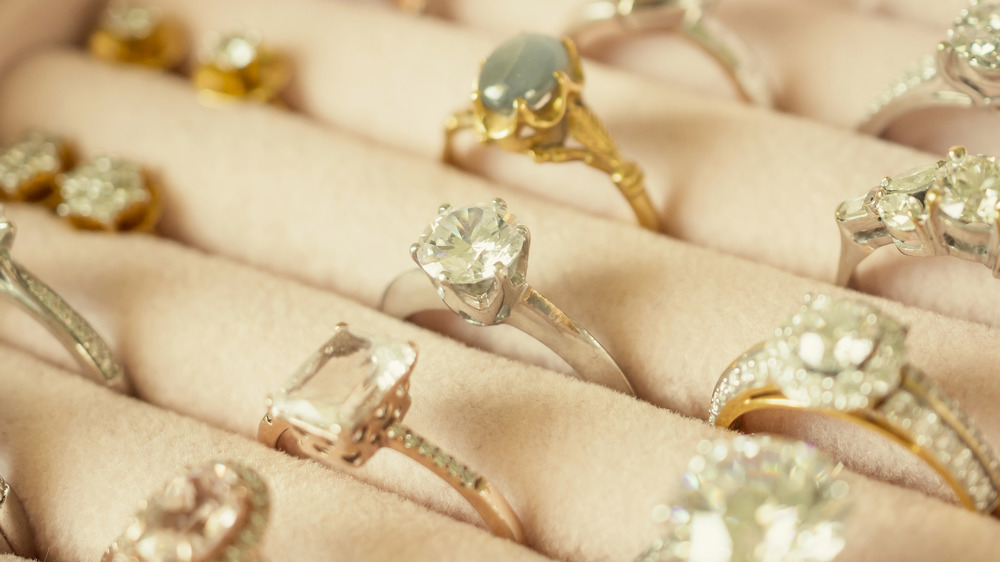 Shutterstock
You've done it — finally created the tangle-free necklace rack of your dreams, with perfectly paired earrings and rings to match. Then, months go by, you reach for various pieces, leave them here and there, and things go right back to the way they started. Anyone who owns jewelry has been there. Now with the gifting season here, it's the perfect time to again tackle a jewelry organization plan.
To combat the issue of jewelry clutter, InStyle recommends the capsule collection — having a section where you keep your most-worn items to avoid overcrowding. So, this should include the earrings you wear on a daily basis with necklaces and rings of the same caliber. The outlet notes that many who start their capsule collection begin with items like these, along with pieces they love or can't find anywhere else. For the rest? InStyle suggests donating or gifting any other items that don't fall into these categories.
Organization begins with hallmark jewelry pieces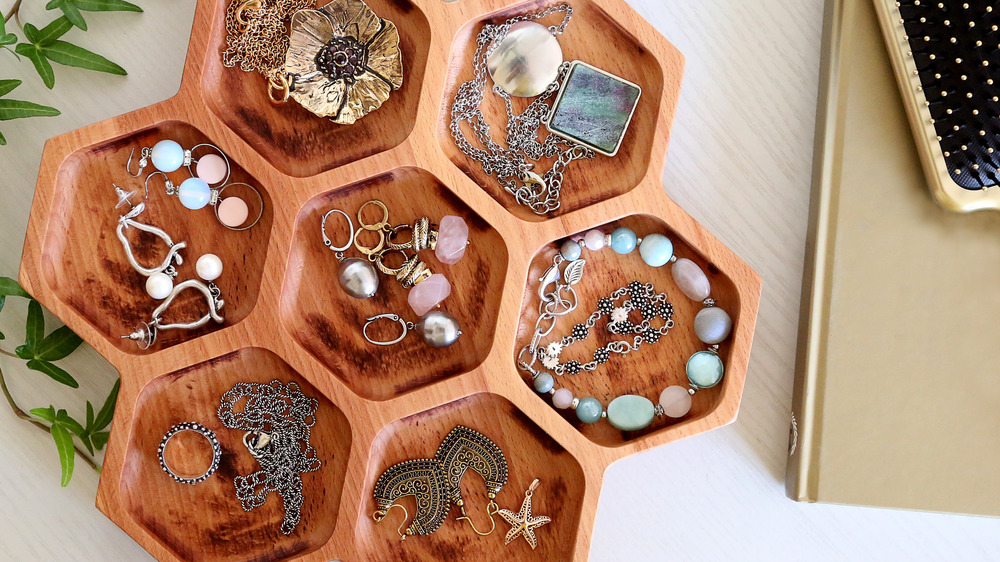 Shutterstock
Keeping high-traffic items in an easy-to-reach spot can make a huge difference in the state of your collection and your sanity. Perhaps the most important guideline to follow when making an organized jewelry collection is to find staple pieces you wear all the time. Instead of tossing multiple necklaces onto your rack and only wearing one, focus on the pieces that you consider hallmarks of your wardrobe (via InStyle).
As for where to keep your quality-over-quantity jewelry, there are a few chic ways to keep everything grouped together nicely. Clever recommends picking up some velvet trays for a classic storage option. The velvet keeps your gems in place while making a classy addition to your vanity or dresser top. Another option the outlet recommends is opting for a tiered storage solution — making sure items that can tangle stay separated from one another.
Perhaps the most unique idea to keep one's jewelry organized though comes from the meditation room. Crystals can keep necklaces, bracelets, and earrings safe while they rest on the gem. Options include flat-top crystals or even a rugged rock that has grooves to hold and separate items for an aesthetically pleasing display.