Katy Perry Shares The Funny Reason She Pretended To Be Zooey Deschanel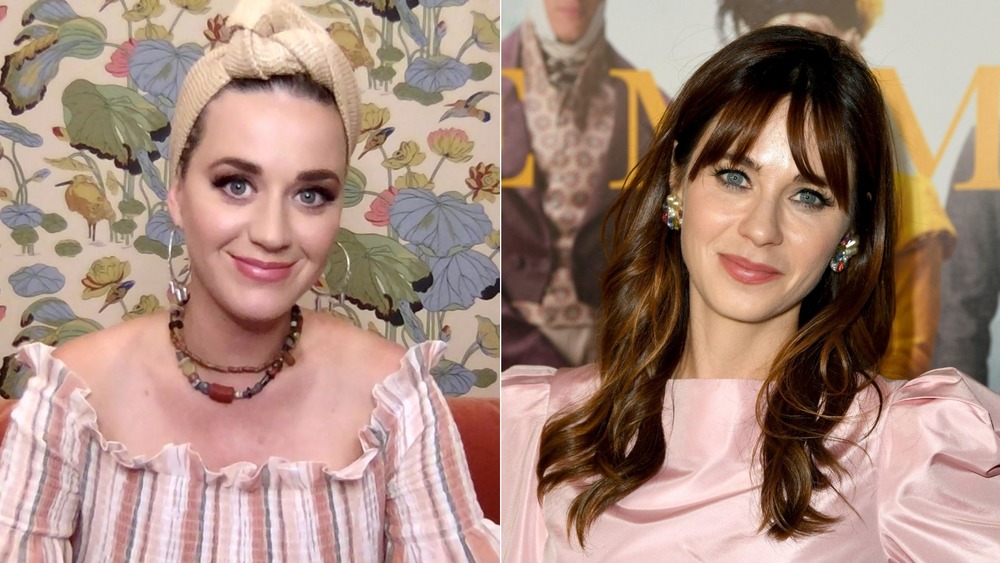 Getty Images, Kevin Winter/Getty Images
In the world of celebrity doppelgangers, Katy Perry and Zooey Deschanel are up there. Well, it seems the fact that the two stars look alike isn't just a funny coincidence — it's something Perry has used to her advantage in the past. While we find it hard to image there was a time the singer had trouble getting into, well, anywhere cool, she admitted during a recent Instagram Live session that she used to pretend she was the famous actress to gain admission to nightclubs (via ET Online).
According to EW, the chat session came on the heels of Perry dropping her new video for the song "Not the End of the World," in which aliens even mistake the two stars for one another. So, if intelligent life forms who have mastered interplanetary travel aren't even sure who is who, well, then can you blame a bouncer for not knowing the difference once in a while? 
Meanwhile, Perry's explanation of how she used to pretend to be Deschanel was highly entertaining, and what the actress admitted about the situation was even more interesting!
Katy Perry and Zooey Deschanel knew about one another before meeting
As Perry recounted in the Instagram Live session, "When I moved to L.A. maybe 18 years ago... I was pretty much a nobody, and you were like just getting so huge at that time, it was like Zooey Deschanel ran the world. In that moment, I was so complimented to look like you." She went on to share, "But I have to admit something to you. When I first got to L.A., I went to the club. A lot. And I wanted to get into the club, but I had no money, I had no clout, I had nothing, and sometimes I would pose as you to get into the club."
Hilariously, Deschanel was aware that this had been going on, telling a shocked Perry, "Well, I know this." It turns out people would tell the star, "I saw you." She added, "Then everybody kept telling me about you, 'This girl Katy, she looks just like you,' and I'm like, 'Who is this Katy?'" Eventually the women would meet, and Deschanel said she was relieved the singer was "so pretty."
In the end, clearly there is no bad blood between the two lookalikes — or else why would the New Girl actress star in Perry's video? Exactly.