What You Don't Know About Queen Elizabeth's Breathtaking Wedding Dress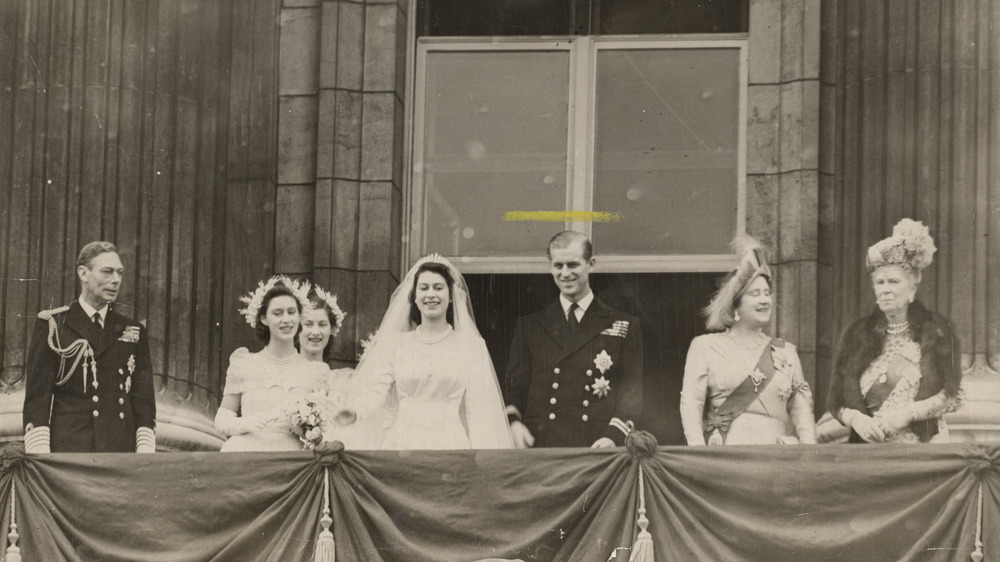 Evening Standard/Getty Images
The most talked-about elements of royal weddings tends to be, not surprisingly, the brides' dresses. Who can forget the classic silhouette of Kate Middleton's wedding gown, or the mile-long train on Princess Diana's? However, it was the queen herself who started off the modern royal wedding gown frenzy with a gorgeous dress of her own. 
In 1947, Princess Elizabeth walked down the aisle to marry Phillip Mountbatten, only two years after the Second World War. The subject of exhibits, fiction books and more, the future queen's dress came from British dress maker Norman Hartnell's office, Good HouseKeeping notes. Employing 350 women over the span of seven weeks, making the dress was no small feat of design. In fact, Hartnell called the result "the most beautiful dress I ever made."
Hartnell's drew his inspiration from a classic renaissance painting: Botticelli's masterpiece, Primavera provided the foundation on which the design team fashioned the gown's decals, the outlet notes. Covered with embroidered, star-shaped flowers, pieces of wheat, and roses, the Queen's wedding dress was meant to bring a breath of fresh air to the establishment, and the war-weary country.
Queen Elizabeth's tiara broke on the morning of her wedding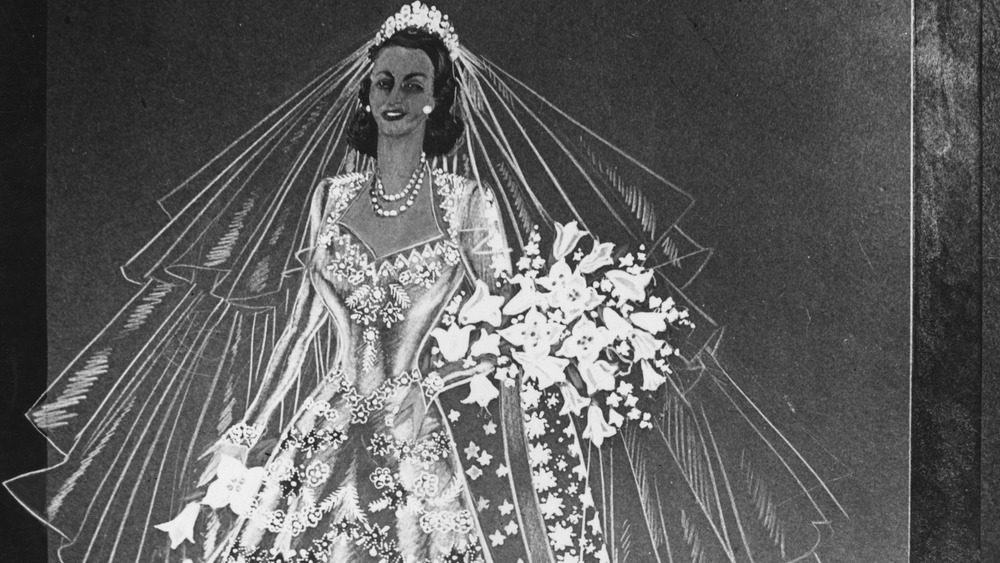 Central Press/Getty Images
As with most weddings, not everything went as planned. Good HouseKeeping notes that before the Princess walked down the aisle, her fringe tiara actually broke in half. A jeweler rushed to the scene and was able to glue the piece back together, but discerning eyes could still notice a gap between gems throughout the day.
Diamonds aside, the 1940s were a difficult time, following some of the greatest economic losses the country had ever seen. Rations on clothing didn't exclude the future queen. According to People, Princess Elizabeth collected clothing coupons to pay for her dress — with the government granting her 200 extra coupons to foot the bill. In fact, the British people were so excited for a glamorous wedding, that many sent in their own coupons to help pay for the dress. Every single one was sent back. 
The gown featured a 15-foot train, 1,000 seed pearls, and an embroidered, sweet-heart neckline that would be broadcast around the nation, People notes. After spending countless hours on such a masterpiece, a seamstress who worked on the dress shared that each woman who worked at Hartnell's atelier got to place a single stitch, "just so that they could say they had worked on the wedding dress."