2020 Fashion Trends That Aren't Going Anywhere In The New Year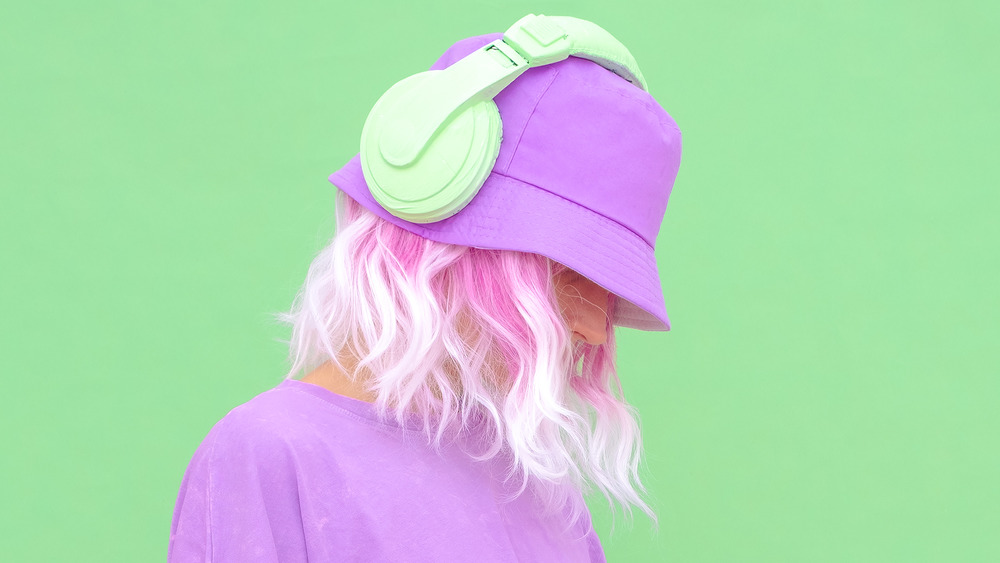 Shutterstock
When style forecasters predicted what trends would be dominating 2020, they had no idea that a global pandemic would alter the very fabric (quite literally) of our lives.
As a large portion of the world stayed home rather than venturing out to work or late-night drinks, many projected trends were thrown aside to accommodate a new routine that involved more time at home and (much) less time showing off your latest fashion finds in public. This new way of life paved the way for trends that involved comfort and safety (hello printed face masks and stylish sweatpants!)
As 2020 draws to a close, the future of fashion, as well as the future of our daily reality as we know it, is still riddled with uncertainty. Despite this uncertainty, there are a few fashion trends from 2020 that are nearly guaranteed to turn heads (perhaps virtually, at first) in 2021 and beyond. These are the 2020 fashion trends that aren't going anywhere in the new year.
Comfortable chic outfits and second-skin tops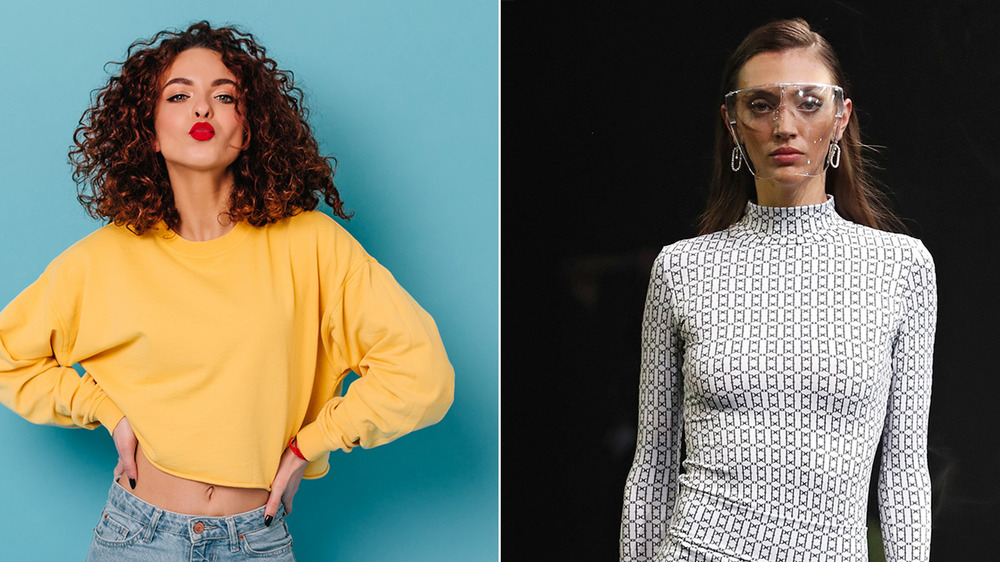 Shutterstock / Estrop/Getty Images
Apart from daily Zoom meetings with your coworkers and infrequent trips to the grocery store for supplies, the chances to show off your latest fashionable threads were likely minimal in 2020. This is why, for many, comfort reigned supreme. In 2021, experts predict that we'll be seeing more examples of comfortable chic in the form of matching sweatshirts and sweatpants in coordinating fleece, cashmere, and other luxuriously soft materials (per PureWow). Oversized cropped sweatshirts are also projected to be all the rage in 2021.
The one good thing to come out of 2020? Virtual meetings with coworkers. Long gone are the days of dressing to the nines for every work meeting. Now, slipping on a cute top and brushing your hair is completely acceptable protocol before logging in to a morning meeting. This might explain why second-skin tops, or form-fitting long-sleeved tops, are projected to be even more popular in the new year. This trend made its way to runways last year, with designers like Miu Miu, Givenchy, and Marine Serre showcasing the trend in a number of different prints and colors (via Who What Wear).
Mask chains and sorbet colors add style and pop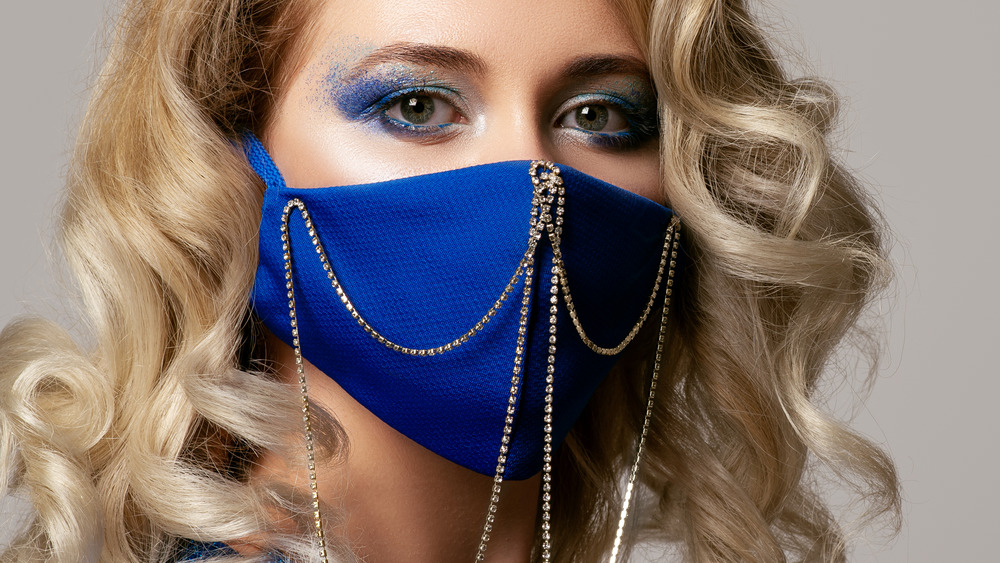 Shutterstock
Perhaps the most unexpected fashion trend of 2020 was the face mask — practical in design, but lacking in any kind of style when they first became an essential accessory at the beginning of the year. Fast-forward to December of 2020, and masks of all varieties are adorning the faces of the masses. Though it isn't clear whether or not the world will be donning masks throughout the entirety of 2021, one thing is clear: mask chains will be one of the most prominent trends of the New Year. From the chunky to the dainty, mask chains transform the practical to the magical (per StyleCaster).
Though neon colors had a moment of popularity in 2020, stylists doubt that this loud statement will retain any power in the New Year. In fact, the fashion-obsessed are more likely to ditch their neon colors for more muted, sorbet shades that have the ability to create a statement without being reminiscent of the chaos of 2020 (via Refinery29). This new sorbet-inspired color scheme will be represented in hues of mint, lilac, and light yellow. Sorbet colors can either be mixed and matched together to create an entire look, or added as just a pop of color in a darker ensemble.