These Are The Secrets Of Yum Yum Sauce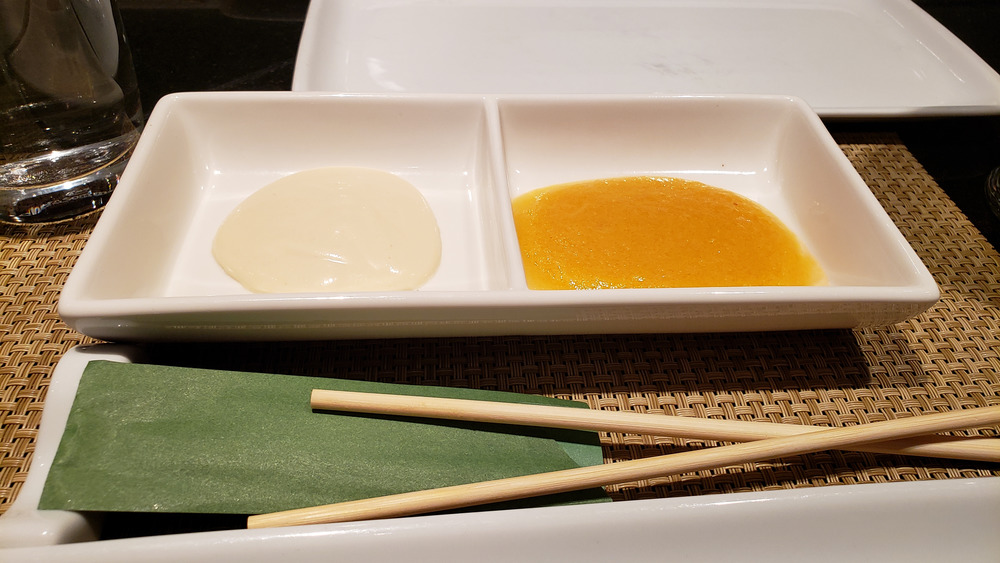 Shutterstock
It can be pink or white, but we know it as a mainstay at Japanese hibachi-themed steakhouses. But despite where it's served, there is nothing Japanese about yum yum sauce. The all-purpose dip goes by a range of different names that include "white" sauce, shrimp sauce, and yummy sauce, because as it turns out, the sauce is as American as crab rangoon, egg foo yung, and the fortune cookie.
NPR spoke to several culinary experts for an in-depth look at yum yum sauce, including one person who admitted that the sauce's origins are "fuzzy." Even while Japan has a love affair with mayonnaise, she's not certain that one gave rise to the other. "Which came first: an affection for mayo or a mayo-enriched dish? [It's] one of those questions we may never be able to answer," Polly Adema, College of the Pacific's food studies program director said. 
But Elizabeth Andoh, who also spoke to NPR, categorically denies Japanese cuisine would come up with, nevermind serve, yum yum sauce. "I don't know of any white sauce or shrimp sauce that is served with Japanese steak. This sort of mayo-based ... tomato sauce is not part of any Japanese steakhouse repertoire I know of," she said.
Regardless of its questionable origins, you can make tasty yum yum sauce at home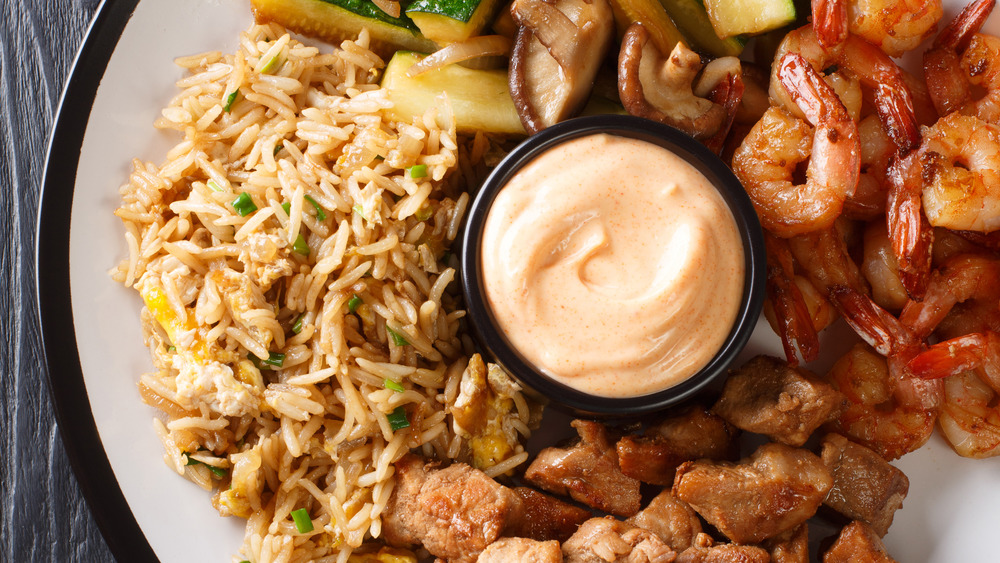 Shutterstock
Until Terry Ho came along, yum yum sauce was a condiment you couldn't enjoy at home. Ho, who was born into a family of restauranteurs, decided to open a fast casual Japanese restaurant named Hibachi Express, and it was there that Terry Ho's Yum Yum sauce was born. Diners would come and leave with extra containers of sauce, and it was such a success that he decided it was worth bottling it to sell commercially. Today, the Albany Herald says Terry Ho's Yum Yum Sauce, along with its sister condiment, the Japanese Ginger Dressing, can be found in stores across the country.
But the real magic of yum yum sauce is the fact that you can make it at home with ingredients you might already have in your pantry. On his site Japanese-Steakhouse-White-Sauce.com, one man chronicled his obsession with yum yum sauce and how he tried to track it down for ten years with no success — that was until "someone" decided to bottle it (and by "someone" we think he means Ho). The yum yum sauce-obsessed fan worked out it was made with mayonnaise, water, tomato paste, butter, garlic powder, sugar, paprika, and cayenne pepper, which you can tweak according to your preferences. But make it according to his recipe first, before you opt to veer away and adapt according to your preferences.