The Easiest Ways To Organize And Store Your Holiday Decorations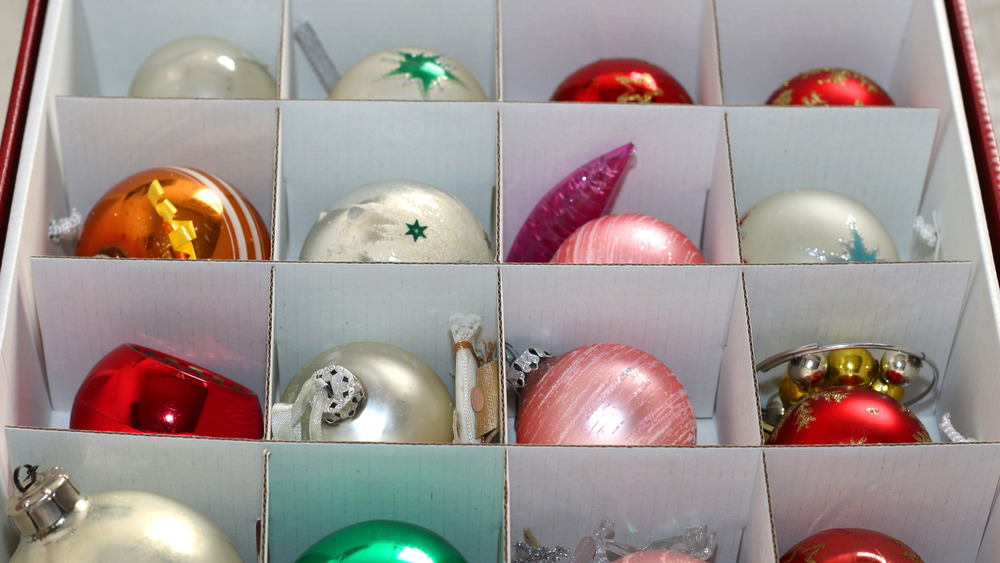 Shutterstock
The end-of-the-year rush gets to all of us, often at the expense of our organization tactics. If you've ever dumped your decorations into boxes to get the clean-up job done fast, you're certainly not alone. The good news is that a few simple hacks will have your decorations packed, untangled and secure in the same amount of time. All you have to do is follow a few steps.
First of all, ornament boxes are a must. Instead of quickly wrapping your delicate tree hangings in bubble wrap or paper towel, getting a cheap divider box can make the cleaning process much quicker and safer for your ornaments, Martha Stewart explains. The best part? This container involves few frills and a small budget — it's a box with cardboard dividers. For more delicate ornaments, you can use a chest with a similar grid lay out, just add paper towel or another buffer to make sure they don't shatter. "Use an ornament container designed with layers and fill empty space around the ornament with tissue paper to prevent movement," Lea Schneider, author of Growing Up Organized and a member of The National Association of Professional Organizers, tells This Old House.
For small, miscellaneous items, grab a small organizing case to put ornament hooks, ribbons or other hanging tools. You can use a similar box for your gift-wrapping nick knacks like bows, confetti and name tags, the outlet notes.
Organizing your gift wrap is easy with the right tools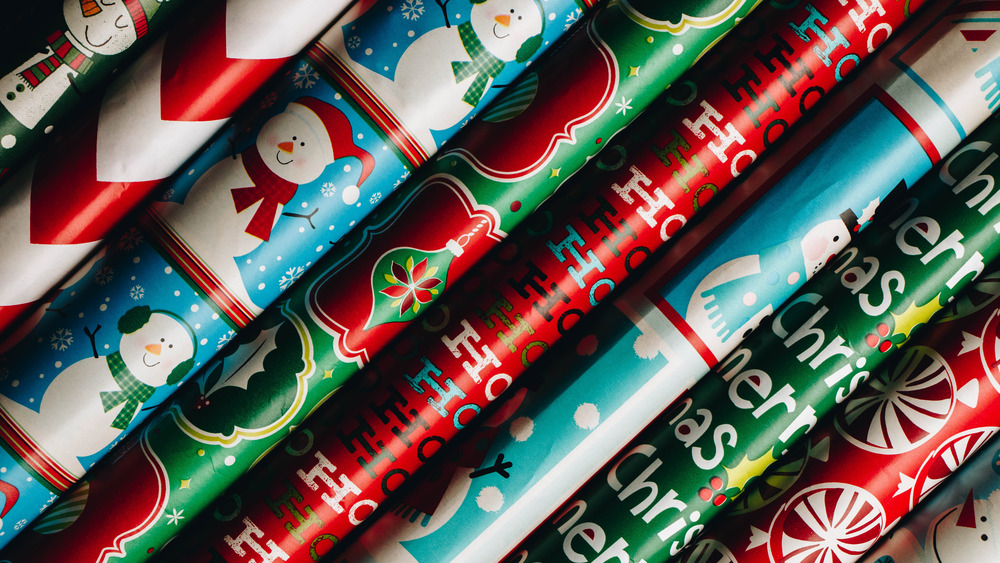 Shutterstock
Say goodbye to your box filled with crinkled wrapping paper pieces — it's time to make things much easier. Grab a clear storage bin long enough to hold wrapping paper rolls, then add tools like tape or bows on the other side of the container, MakeSpace suggests. The key here is the clear lid; this makes it easy to see what's inside and you can more effectively organize all of your gift-wrapping supplies. For even easier organizing, use a clear garment bag to zip up all of your wrapping paper rolls. Just store, hang and leave it.
As for lights, you'll need old pieces of cardboard. For each string, wrap the lights in a circle around the piece, tying it off at the end, or taping the ends to the board. The outlet also notes that you can cut little divots in the cardboard to secure the lights into place. Just like for the rest of your decorations, these should have their own clear-lidded storage bin as well. Simply layer them on top of one another.
For other miscellaneous items like wreaths, you can find storage containers made for their unique shapes. This Old House notes that crush-proof wreath cases can be your new best friend, just be sure to order one in time for taking down the decor.
Having different size bins and everyday items like garment bags at your disposal can make your life so much easier this year and next!