Jennifer Aniston's Pandemic Ornament Has The Internet Divided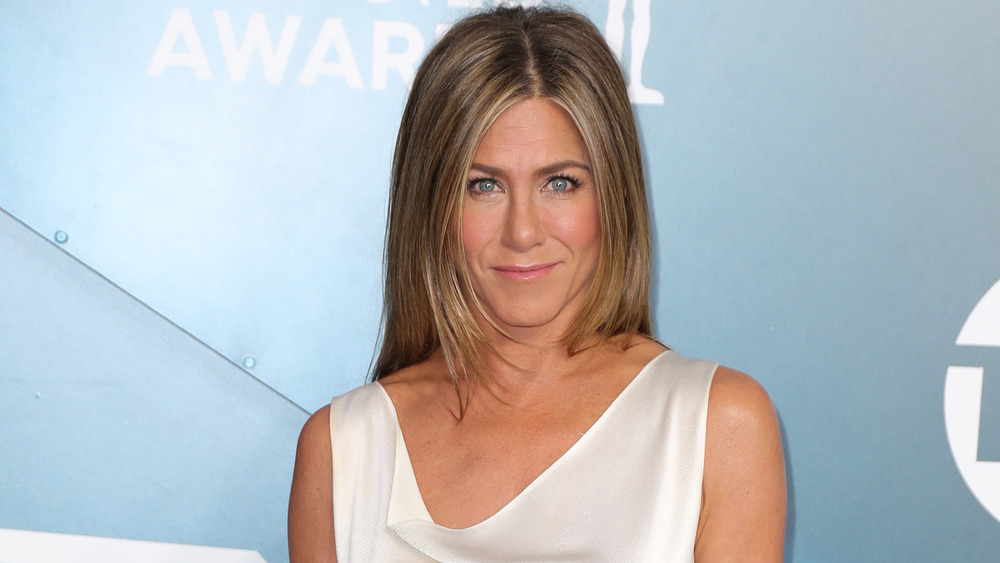 Leon Bennett/Getty Images
It seems even Jennifer Aniston, who can usually do no wrong, is facing backlash this year. The star shared a photo of a Christmas ornament over the holiday weekend that is dividing fans and followers (via Us Weekly). The round, wooden tree decor simply reads, "Our first pandemic 2020." But apparently that was enough to ignite an online feud about whether the sentiment was funny, or infuriating.
Social media lit up with opinions right away, with one defender tweeting, "There are all kinds of unfunny IMO coronavirus ornaments etc. Out there – leave #JenniferAniston alone." Meanwhile, another poster shared this point of view: "We have to have a sense of humor about all of the chaos that #2020 brought or we're going to go nuts!"
On the flipside, some were very upset by her ornament, like this Twitter user who commented, "Jennifer Aniston is ignorant Tone-deaf women [sic]. Why is she celebrating Covid 'Our First Pandemic 2020,' Really PEOPLE LOST LIVES & LIVELIHOOD, yet here she is CELEBRATING as it's something to boast about. Shame on you #jenniferaniston."
More backlash hits the internet following Jennifer Aniston's ornament pic
Unfortunately for the A-list actress, some social media users have even called for her to be canceled for what they see as an insensitive ornament. "You should know better, not the place nor the time," tweeted one non-fan of the star's post. Another commenter shared a very personal reason why Aniston had offended with her share, tweeting, "Oblivious disconnected self absorbed. I've lost 2 very special people to covid. Worldwide deaths is at 1,763,995. You f*****g IDIOT!!"
At time of writing, Aniston had not responded to the backlash to her Christmas ornament photo, but it's worth noting she has advocated for mask wearing in the face of the pandemic, sharing a few images of herself wearing one — notably when she went to vote. The actress also shared a graphic picture of a friend suffering from COVID-19, noting in her post, "This is real."
Jennifer Aniston is a noted face mask advocate
Earlier this year, the Friends star also posted a selfie of her own masked-up face along with a lengthy message that read in part, "I understand masks are inconvenient and uncomfortable. But don't you feel that it's worse that businesses are shutting down... jobs are being lost... health care workers are hitting absolute exhaustion. And so many lives have been taken by this virus because we aren't doing enough."
The star went on to caption her selfie, "I really do believe in the basic goodness of people so I know we can all do this. BUT still, there are many people in our country refusing to take the necessary steps to flatten the curve, and keep each other safe. People seem worried about their 'rights being taken away' by being asked to wear a mask. This simple and effective recommendation is being politicized at the expense of peoples' lives. And it really shouldn't be a debate."
Will her stance on mask wearing and show of support for a friend who battled the virus be enough to convince people she is not insensitive to the pandemic, despite her Christmas ornament's sentiment? Only time will tell.