Harry And Meghan's Request To Extend Megxit Deal Isn't Sitting Right With Fans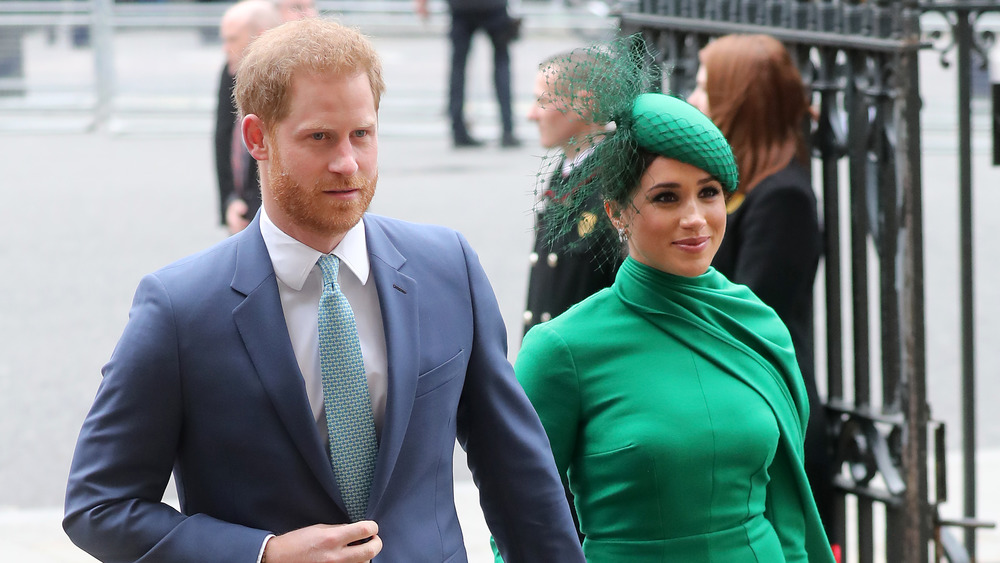 Chris Jackson/Getty Images
It's been nine months since Prince Harry and Meghan Markle made their exit, or as it's been dubbed in the media, "Megxit", from official royal life. Although they still maintain their titles, their status as non-working members of the royal family will be reviewed at the end of March, and according to recent reports, the sort-of still royal couple is looking to extend their semi-monarch status for another 12 months.
In a story broken by The Sun, Prince Harry will be making a number of Zoom calls to senior royals in January in an effort to lay the groundwork for extending the couple's royal exit deal for another 12 months before actually traveling to Britain to finalize the plan.
Not surprisingly, the request to maintain their royal status and all the financial and social benefits that go along with it isn't quite sitting well with critics or fans, considering the Sussexes have not only secured a new Montecito mansion in the same neighborhood as Oprah Winfrey, but they have landed quite a few lucrative business deals including a multi-year Netflix deal that would be a huge money maker for their newly created production company.
There are many in the public, especially in England, that view the possibility of an extension to their royal exit plan as exploitation of their titles for financial gain as evidenced by their many new business ventures including, most recently, Markle's decision to invest in a line of instant oat milk lattes which seemed even to royal insiders, as reported by Good Morning Britain, "overt commercial activity" (via CafeMom).
British taxpayers are in an uproar about a possible extension
Wpa Pool/Getty Images
The report in The Sun stresses that the reason for the extension is primarily that both Prince Harry and Meghan are invested in holding onto their royal charity duties and patronages, and that Prince Harry is hoping to resume his military positions, many royal family fans and especially British taxpayers aren't buying it.
Twitter is overrun with criticism much like what one user expressed: "They need the one-year extension so that Charles will continue to foot their bills. They have no money. UK people suffer thru massive crisis and Harkles get million in stimulus money to be spent in the US. How sick is that?" Another tweeter speculates their expenses might be more than they can earn as private citizens, stating, "Just means they made no money despite all the deals they claim."
There's no doubt that the state of the pandemic in England and the financial and physical distress of the people impacted has played a part in the harsh criticism of the rogue royals. As one Twitter user explains, "Was never an enthusiastic fan, but didn't mind them. Now I just wish they would get lost. Not interested in either of them or their child or their 'problems.' There are real people living real lives who deserves our care and concern. You said you wanted privacy. Go away."