Why Marco Rubio's Tweet About Dr. Fauci Has The Internet Seeing Red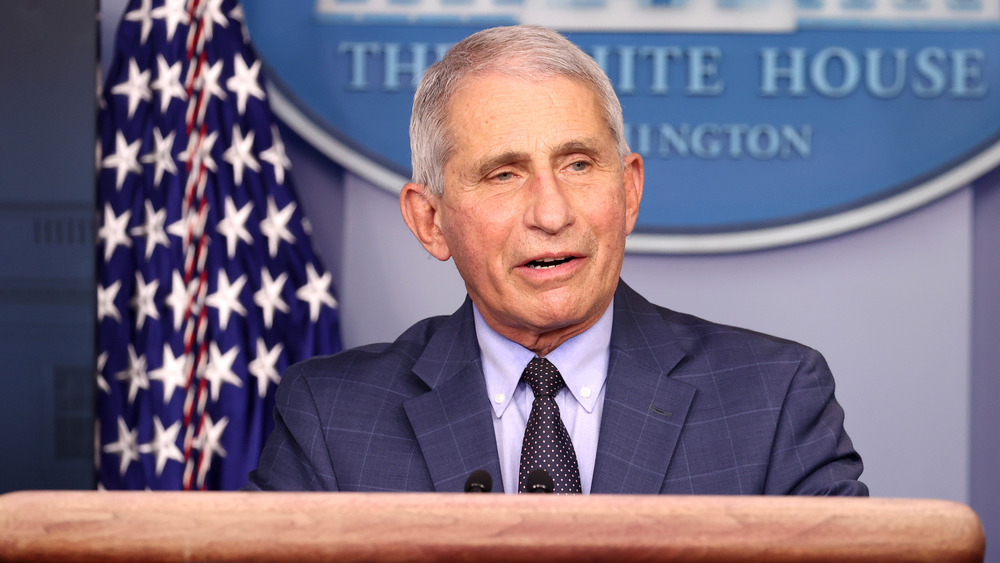 Tasos Katopodis/Getty Images
Think before you tweet. Sen. Marco Rubio (R-Florida) is getting raked over the coals online for a tweet he posted on December 27 about Dr. Anthony Fauci, director of the National Institute of Allergy and Infectious Diseases. Although many have looked to the virology expert for guidance on preventing the spread of the COVID-19 virus, the senator is no fan. Fauci recently adjusted his estimate of how many Americans would need to receive the new vaccine in order to achieve herd immunity (from 70-75% to 70-85%, per CNN), and Rubio's tweet appears to be a response. 
"Dr. Fauci lied about masks in March," he wrote. "Dr. Fauci has been distorting the level of vaccination needed for herd immunity/It isn't just him/Many in elite bubbles believe the American public doesn't know 'what's good for them' so they need to be tricked into 'doing the right thing.'"
The "lie" remark refers to Fauci's statement earlier in the year that only health care workers needed to wear face masks on a regular basis. Per People, the doctor was partly concerned about a mask shortage as the pandemic left hospitals scrambling for supplies. He has since changed his stance to recommend that all Americans wear masks in public (via the American Medical Association).
Sen. Rubio took heat for being "hypocritical"
Twitter wasted no time in pointing out that despite his disparaging remarks about Dr. Fauci, Marco Rubio was one of the first public figures to receive the newly available COVID-19 vaccine on December 19. In fact, he boasted about it while posting a picture of himself mid-shot: "I know I looked away from the needle/And yes, I know I need a tan/But I am so confident that the #Covid19 vaccine is safe & effective that I decided to take it myself." Historian Kevin M. Kruse asked, "So you elbowed your way to the front of the vaccine line and now you're yelling back that it's not something other people need? Is there a Bible verse for that you could hide behind?"
Celebs weighed in, too. Sarah Silverman attacked the "lying" accusation: "Fauci didn't know enough in March. Then scientific studies revealed more facts and he was changed by new information like I wish you would be." Patricia Arquette tweeted, "You supported the guy who said it would go away when the weather got warm," accompanied by a GIF of Buzz Lightyear saying, "There seems to be no sign of intelligent life anywhere." 
But the tweets that really hit home were from the health care workers themselves. This one said it all: "Why are you getting vaccinated prior to me — a frontline nurse? I've worn my mask, taken care of COVID sick patients, and never questioned science! Yet somehow you are vaccinated before me!"