The Truth About Lindsey Vonn And P.K. Subban's Relationship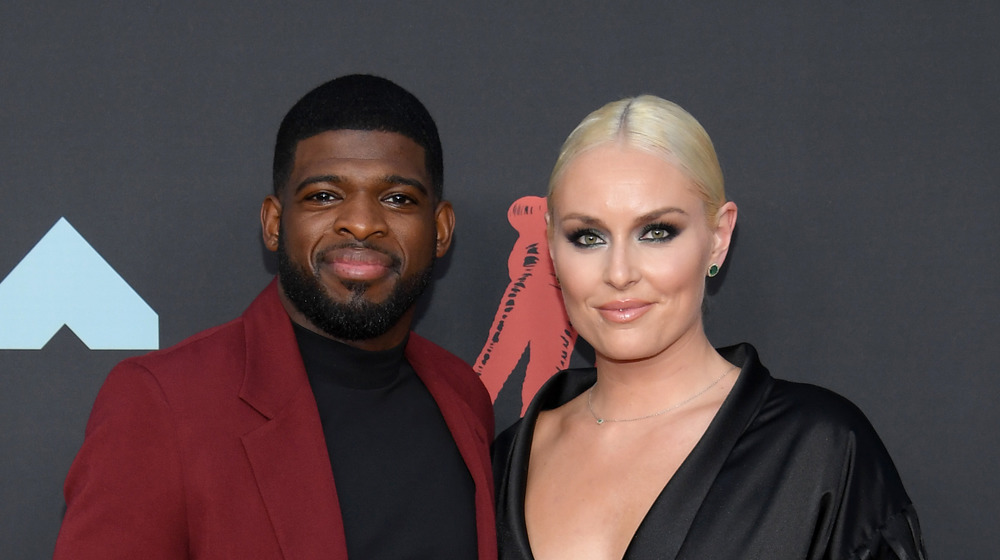 Dimitrios Kambouris/Getty Images
They seemed like a match made in sports heaven; she's a champion Olympic skier, he's a celebrated hockey star. In fact, the couple seemed like such a sure thing that Lindsey Vonn and P.K. Subban got engaged after just over a year of dating. As People reported at the time, he popped the question in August 2019 and she returned the favor by asking for his hand the following Christmas. Earlier this year, Vonn told Entertainment Tonight that the wedding was on hold due to the COVID-19 pandemic. 
"His family is in Canada, so I can't even travel there. My family is kind of scattered all over the U.S. My sister lives in Italy with her husband, so getting everyone together at this point is next to impossible," she said. The retired athlete advised she wasn't sure how to even plan the day. Vonn opined, "Ideally, a perfect wedding would just be all my friends and family and less of a ceremony and more of a party." Now, however, it seems the event won't be taking place at all. 
The athletic couple called off their engagement
The sweet couple took to Instagram to announce, in separate but equally emphatic posts, that they're sadly breaking up. "Over the past 3 years PK and I have had some incredible times together. He is a kind, good man, and someone I respect a great deal," the Olympic skier began. "However, after much consideration we have decided to move forward separately. We will always remain friends and love each other immensely. We ask that you please respect our privacy during this time," Vonn added. 
Using the same photo of them in happier times, the New Jersey Devils star shared, "Lindsey is one of the most kind and caring people I know. I will always treasure our time as a couple together and the many laughs we shared," before echoing her statement regarding staying friends. As People noted, Vonn seemingly referred to moving on in the new year during an interview conducted just a few weeks ago. Describing a "clean slate" in 2021, the celebrated athlete advised, "I just want to break free from it, and I feel like I'm so optimistic and so looking forward to a new year."