Makeup Tricks For Hooded Eyes You Have To Try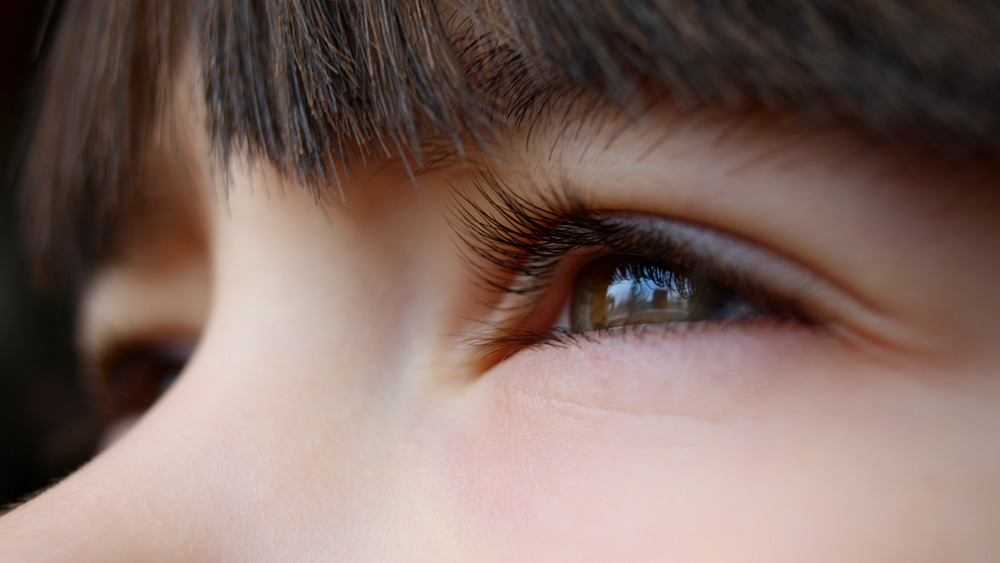 Shutterstock
An eye shape that can leave your makeup looking streaky in a matter of minutes, hooded eyes are generally characterized by a creased lid and outer edges that turn downwards. Buzzfeed explains that this type of eye shape looks like it sounds — it has a hood that prevents most of the lid from being outwardly visible when your eyes are opened. This isn't anything to worry about, just make sure that you know the best tricks to avoid smearing your hard-earned smoky eye.
The first step starts with a great eyelid primer. To avoid smudging and that annoying black line on your top lid, eyelash primer helps keep all of your products in place, Good HouseKeeping notes. Since hooded eyes are more prone to creased makeup, having an oil-zapping, layer-building base can make a big difference in the way your makeup looks after a few hours. 
The next step involves keeping your eyes open during application. While that may sound next to impossible, applying eyeshadow with your eyes closed can lead to a distorted look when you open them up. Makeup artist Liz Pugh tells the outlet that readers should, "Look straight ahead into a mirror, that way you can see where you need to create the socket shape," when applying shadow. From here, "Apply a shadow just above your natural crease – if you apply it just to the lid, you won't see it when you open your eyes," she says. "However, don't take the shadow too far up towards the brow bone – you still want to have some space here."
Choose your products wisely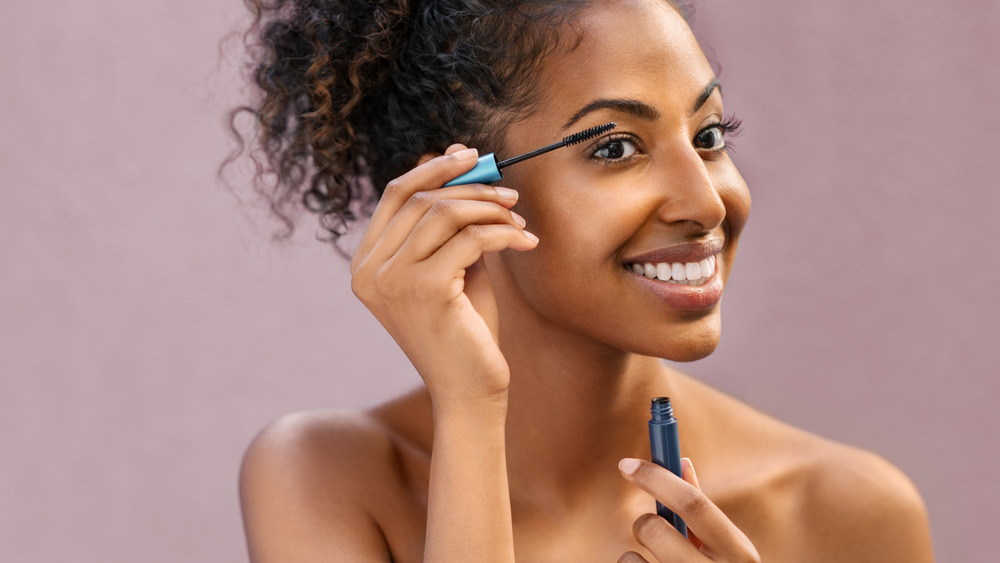 Shutterstock
In addition to applying your makeup carefully, it's best to look for matte products without tons of oil to keep your products in place. According to L'Oreal Paris, using a matte shadow with a highlighter on the outer creases of your lids will help your look last the day as well as add the pop of brightness you're looking for. The outlet recommends applying the highlighter to the inner corner of your eyelids and right underneath your arch.
As for eyeliner, keep it as thin as possible. Since the part of your lid that's visible may be rather small, it's best to avoid taking up room by using a thick line. The outlet recommends making your lines rather small so that it doesn't cover up the rest of your makeup either. Furthermore, waterproof mascara may be your new best friend. Similar to the way in which other oil-based products can ruin your look, regular mascara may spell disaster if you're prone to smudging. Since your lashes may touch your brow bone after you apply the product, BuzzFeed notes, regular mascara may leave its mark on your skin if it isn't waterproof. 
When it comes to hooded eyes, it's clear that carefully-applied makeup with a matte base can give you the look you're after without the dreaded smudges.