Why Iman Says She'll Never Marry Again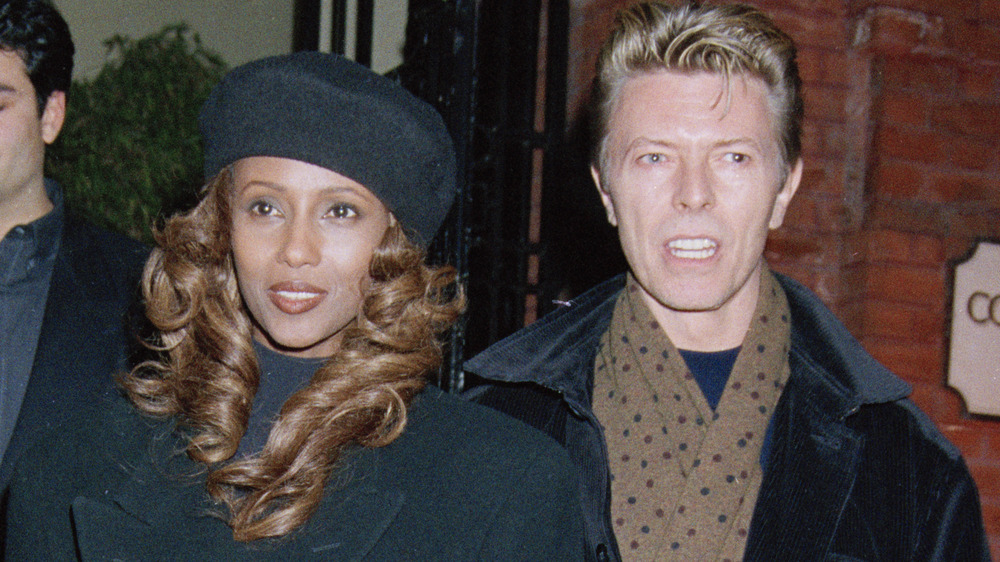 Dave Benett/Getty Images
Fashion legend Iman graces the February cover of Harper's Bazaar UK, and in the magazine profile, she discusses her life today, four years after David Bowie's death in early 2016. She tells the outlet she will never marry again. "You know, this was my true love," Iman said of Bowie, whom she married twice in 1992: first in a private ceremony in Lausanne, Switzerland, on April 24, and then in Florence, Italy, on June 6. "My daughter once asked me if I would ever marry again and I said, 'never'" (per People).
David Bowie said it was love at first sight for him when it came to Iman. They started dating two weeks after meeting and were married two years later. Biography says the "Ziggy Stardust" singer proposed to Iman in Paris and that it rained on their wedding day in June. Those present at the ceremony told the couple that they would be happy and "married for 50 years." David Bowie passed away on January 10, 2016, in Manhattan, New York, after a battle with liver cancer. The English rocker was 69 years old. He and Iman were married for 24 years and counting.
Iman: "David is in our hearts and minds on a daily basis"
In speaking with Harper's Bazaar UK about what it's like living day to day without David Bowie, Iman said, "He's hiding in plain sight. His fans are still around, his music is still relevant. And on the day of his passing, I went on a hike and a bluebird flew in front of me. A bluebird, above all things!" As fans know, Bowie speaks of a bluebird in "Lazarus," the last song he released during his lifetime (on December 17, 2015).
Iman had said back in 2018, too, that she would never marry again. In another cover story, the Somalia-born supermodel declared to Porter, "I will never remarry. I mentioned my husband the other day with someone, and they said to me: 'You mean your late husband?' I said, no, he is always going to be my husband." At the time, Iman admitted that it can be lonely at times, but that she cannot see herself saying "I do" to someone else.
Iman and David Bowie had one child together, Lexi, born Alexandria Zahra Jones in 2000. She and Iman got inked with tribute tattoos to Bowie on the second anniversary of his death (via TODAY). Iman said at the time about the grieving process, "I get the fans' grief, but it's not the same. They have lost someone they look up to; we have lost a husband and a father."