Ivanka Trump's Twitter Gaffe Is Turning Heads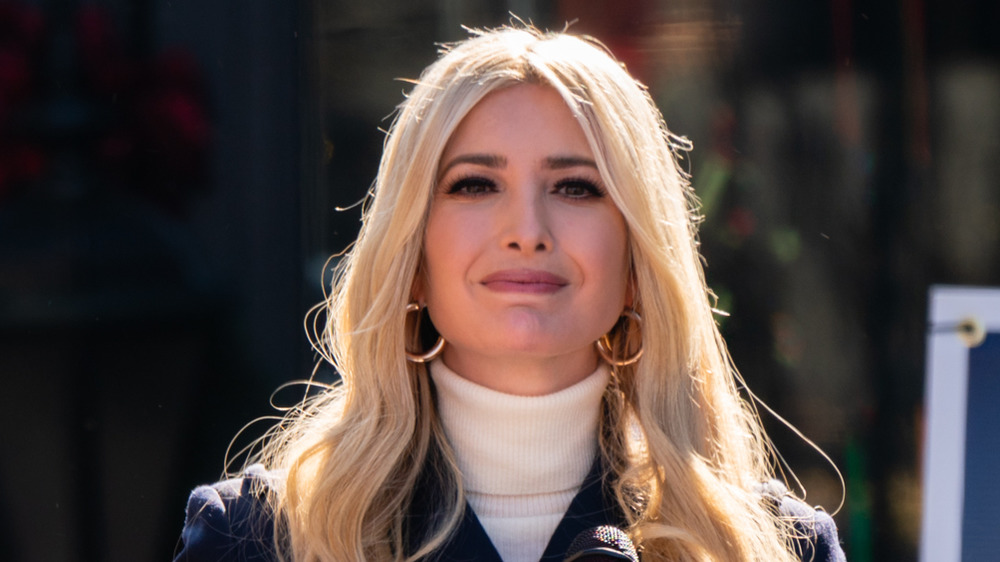 Elijah Nouvelage/Getty Images
A recent photo tweeted by Ivanka Trump has people scratching their heads. In the photo, she and her father, President Donald Trump, are on board Air Force One. Trump smiles for the camera while her dad can be seen looking at something on his phone. "Off to Georgia with Dad!" she wrote. "Get out and VOTE Georgia!!!"
Trump tagged several people in the photo, including conservative politicians David Perdue and Kelly Loeffler who are running for the U.S. Senate in Georgia's Senate runoff election. Trump also tagged White House deputy chief of staff Dan Scavino and the official Twitter account of the Republican party. More puzzlingly, Trump tagged singer Meat Loaf.
The Independent noted that Trump tagging Meat Loaf was probably an accident, but it still raised a lot of questions — especially as she didn't tag her father in the photo, something that led to many people joking about the apparent gaffe on social media.
Meat Loaf and the Trumps go way back
"I would just like to point out that she didn't tag her dad in this picture," observed one Twitter user. "However, she did tag Meat Loaf. I feel like there is some symbolism in that." Another user tweeted "Ivanka tagging Meat Loaf in the photo instead of her dad is peak Trump behavior," while someone else joked, "Ivanka tagged Meat Loaf because at this point he somehow miraculously adds a bit of luster to the Trump brand."
While the tag may not have been intentional, there is a link between Meat Loaf and the Trumps. Meat Loaf appeared on the president's reality show Celebrity Apprentice in 2011 and had nothing but good things to say about him in a 2017 interview with Billboard.
"He's intelligent," said the singer. "He's like me in the sense that he will hire the best people for the position that he can find. And he will then listen to them and I would say probably say 70 percent of the time he will go with their recommendation. And probably 30 percent of the time he will go, 'I think it's better if we go this way.' His daughter's really intelligent. Don Jr. is really intelligent. So is President Trump."