The Hidden Connection You Missed Between Taylor Momsen And Heidi Montag
Jeff Hahne/Getty Images
Taylor Momsen and Heidi Montag may seem like they're from two totally different worlds, but there's an interesting thread connecting the two blonde beauties. Momsen is best known for her roles as Cindy Lou Who in How The Grinch Stole Christmas and as Jenny Humphrey on Gossip Girl, according to IMDb. Montag is best known as Lauren Conrad's frenemy on Laguna Beach and The Hills (per IMDb). Both ladies, however, share a passion for music that has eclipsed either of their acting or reality careers. 
Momsen traded in acting for the rockstar life, finally finding a producer in 2009 that clicked with her vision, the singer-songwriter explained to Interview in 2010. "It was a natural formation. I'm a singer-songwriter, so for two years or so, I was experimenting with various producers, to see who shared the same vision as me," she explained, adding, "When I finally met Kato [Khandwala], it was a big relief, because he's like the most rocking guy you'll ever f**king meet. That set the standard. Then [guitarist] Ben Phillips and I wrote all songs together." Thus, launched the band The Pretty Reckless, with Momsen at the helm.
A song from Taylor's past caught Heidi's eye.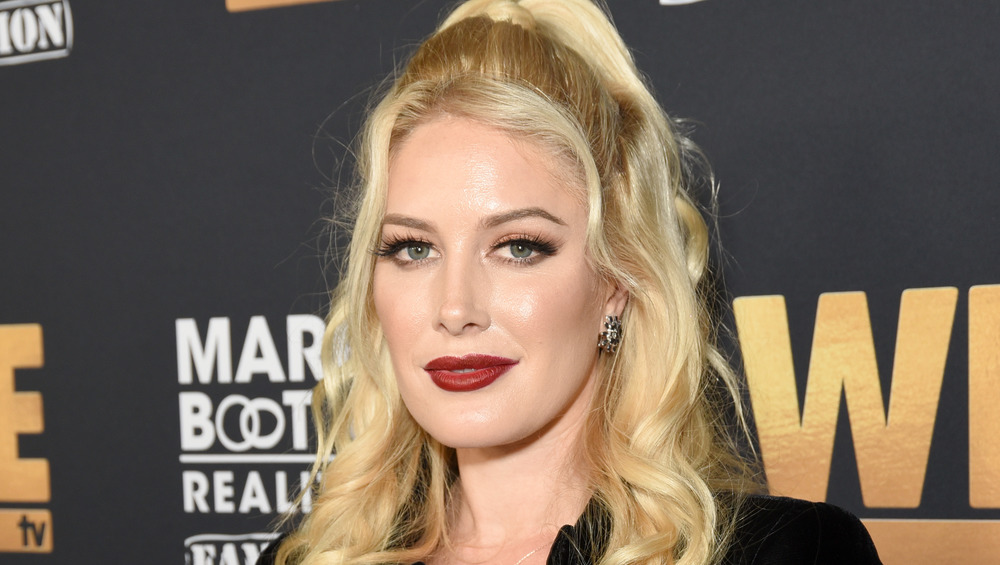 Presley Ann/Getty Images
Heidi started working on her own music career around the same time. For her debut album, Superficial, Heidi fell in love with a song penned by Momsen. "Believe it or not, Taylor Momsen wrote 'Blackout' with Cathy Dennis. But I didn't know that until I cut it," Heidi told Life & Style Magazine. 
"Cathy played it for me and it was love at first listen — and I knew I needed to record it. It really felt like my anthem for Spencer. It was just so us, and explained perfectly how I felt about being with him. And the creator of The Hills actually loved it so much that he wanted to play it during our wedding on the show, but the higher-ups at MTV said no. But that's how much they loved it, too. So I think 'Blackout' is forever one of my favorite songs."
Momsen was amused by Montag's affinity for the song. "I wrote a pop song [called 'Blackout' when I was 8] and recorded it with a producer as a demo. Heidi Montag from The Hills just recently sang it and put it out as her single [laughs]," she told Access Hollywood.
"I'm like, OK, dude, you're singing an 8-year-old's words, but that's cool. It's so funny because I didn't shop it or anything and I get this call going, 'Did you write a song for Heidi Montag?' and I'm like 'What?'"