The Broke Girl's Guide To Finding Workout Classes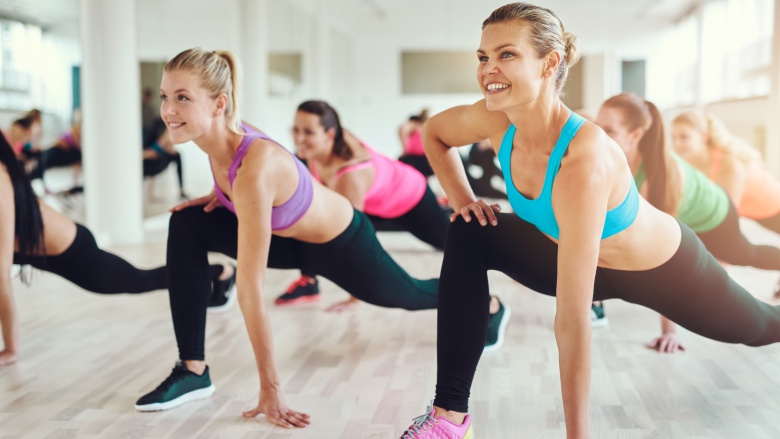 Shutterstock
Workout classes can be a lot of fun and a great way to get in shape. As a certified personal trainer, I'm a big proponent of workout classes for all of my clients as a way to supplement their one-on-one training. Not only do they provide a camaraderie in the gym that can sometimes be lacking, they're often designed to give you a really hard, sweaty workout in a short amount of time. If you're looking to really scorch some calories and have fun, workout classes are a great way to go. The problem is they aren't always cheap. If you're a college student, new grad, or someone who just doesn't have a lot of expendable income, the thought of shelling out hundreds of dollars on spin classes or kickboxing may seem unreasonable, especially if you're already paying for a gym membership where the classes you want to take aren't being offered as part of the membership. Luckily, there are ways to find cheap and free classes to help all of us broke girls get in a workout no matter what.
Look for online coupons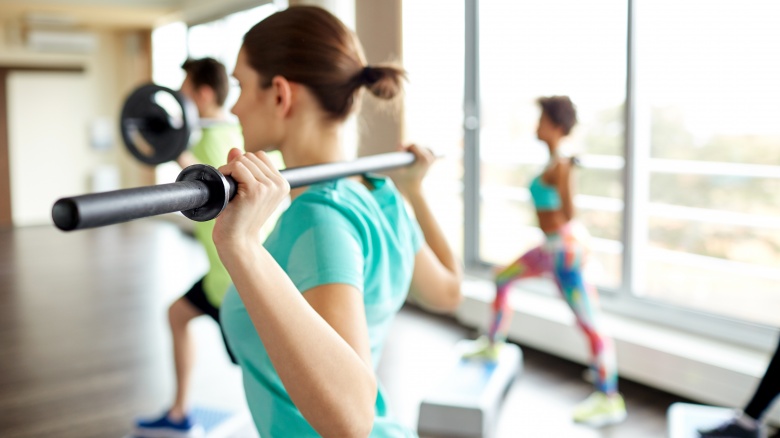 Shutterstock
Deal sites like Groupon and LivingSocial specialize in discounted goods and services. While you may be more familiar with deals for restaurants and spa services (who doesn't love a discounted blow out or 50% off a mani-pedi?), there's an entire section on most deal sites dedicated to health and fitness. Depending on your location and the time of year, deals range from gym memberships and entry into 5K races to discounted yoga, barre, CrossFit, and bootcamp classes, to name just a few. When you sign up for an account, you can even select the kinds of deals you want to be alerted to by email. The very first bootcamp class I ever took, long before becoming a personal trainer, was one I found through Groupon. Since the class was more affordable, I was able to do something I otherwise could have never paid for as a graduate student. That class is what taught me fitness can be fun and, in part, led me to seeking a personal trainer certification.
If you're buying a lot of vouchers for different deals, be sure to check the expiration dates so you can be sure to use your deals in time. Even after the expiration date, the amount that you pay never expires. For instance, if your voucher costs $50 and that is meant to get you $100 worth of yoga, after the expiration date you'll still have $50 toward that yoga studio, but you won't get the full promotional value of the voucher. While there may be more options available if you live near a large city versus a small town, these deal sites are worth checking out no matter where you live.
Volunteer at your favorite studio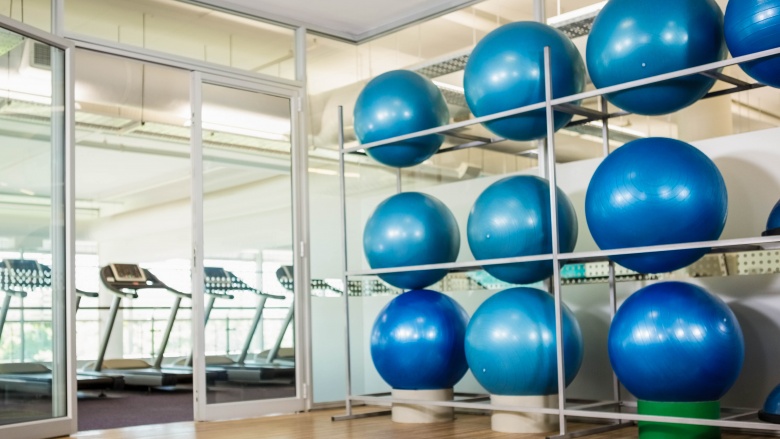 Shutterstock
From my experience as a trainer, many gyms and fitness studios offer free classes to their employees, including front desk and childcare personnel. The problem is that your favorite gym may not be hiring or you may not have the time to take on an extra part-time job. If, however, you have a few extra hours per week to volunteer to help clean the fitness studio, you may be able to get some fitness classes in exchange for the hours you put in. While not all gyms and fitness studios are open to the volunteer and barter exchange systems, many are happy for the extra help. This may be especially true in locations where classes are included in the membership and instructors get paid a set rate (rather than by commission based on how many paying customers are in the class). These gyms aren't losing much by offering you free classes, and the help they'll gain by having you volunteer your time is worth it to a lot of gym owners and managers. Not to mention that by having you as a volunteer, they don't have to worry with extras like payroll and benefits, so the work they're getting from you is free labor. Even as a trainer, I have offered deals like this to clients. One former client who teaches singing lessons offered to give me lessons in exchange for training. Other trainers and instructors I know offer their services to hairdressers in exchange for a monthly haircut or to contractors in exchange for work in their homes. Whether you're looking to exchange your time or your services for classes at the gym, everyone can offer something.
Buy in bulk during the holidays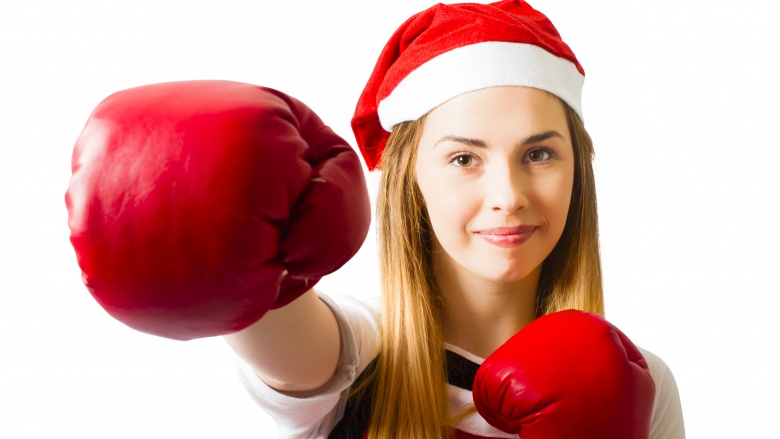 Shutterstock
In addition to deal sites, many gyms and fitness studios offer promotions on their workout classes during the holidays. The idea is that you'll buy gift cards and class packs for your friends and family, thereby bringing in more clientele to the establishment. But who says you can't buy the gift cards and class packs for yourself? By buying in bulk around the holidays, you can save money on workout classes all year long. Be sure to check about any exclusions or expiration dates, though, because the last thing you want is to buy a bunch of classes and have them expire before you're able to get through all of them. Speaking of holidays, why not ask for workout class bundles from your friends and family for the holidays? Whether it's a gift card to your favorite spin studio or a 10-class pack for yoga, asking for the gift of fitness for the holidays is a great way to save money on workout classes.
Check out fitness apparel stores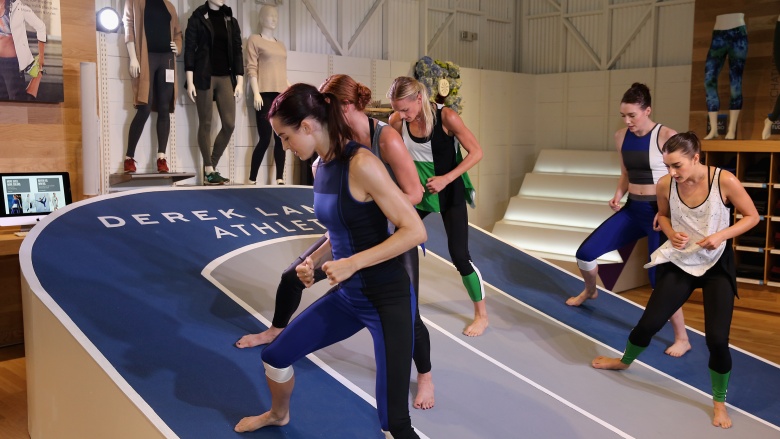 Getty Images
Stores that specialize in fitness apparel can be a great way to find free or discounted workout classes. Many running stores offer complimentary running groups, while stores like Athleta and lululemon often host free community fitness events that correspond with different promotions they're offering throughout the year. Often these events are offered in partnership with local gyms and fitness studios, so you may be able to get the exact same workout with the exact same instructor for free rather than the $40 you would normally pay. The next time you're at your local running or fitness apparel store, ask if there is an events calendar you can access online or have emailed to you. These stores love having people come to the events because it often means more sales for them, so if they have such a calendar, they're likely to want to share it with you.
Get local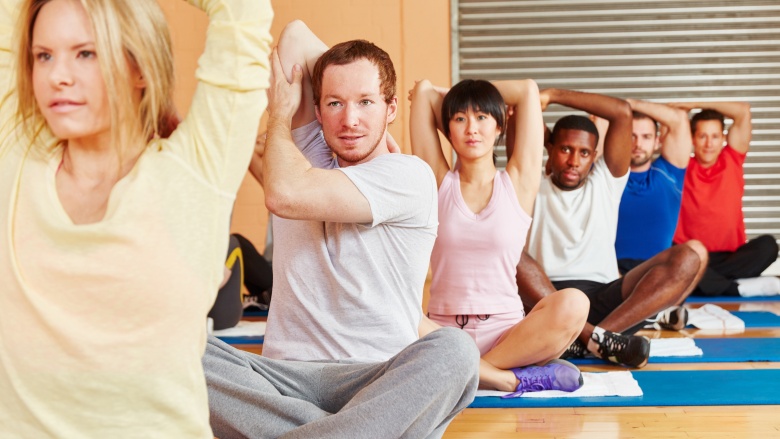 Shutterstock
Community centers are another great way to find discounted or free fitness classes. This may be particularly true if you live in a small community with fewer choices for fitness. At these centers, group fitness instructors and certified personal trainers offer their time either for free or for a very nominal fee to help bring fitness to the community. As a personal trainer I have volunteered at events like this, and it's not only a great way to get inexpensive workout classes, it's great for building community. Many community members will come week after week to try new classes and meet new people. It's a great option if you're new to an area or if you'd like to get more involved in your community in general. It's also a great way to try something new, whether it's community kickboxing, yoga, or Zumba.
Find a free trial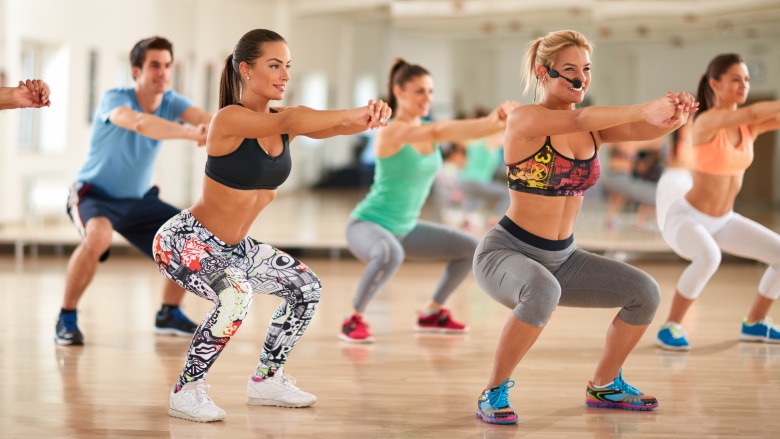 Shutterstock
If you live in a city or an area with a lot of competing gyms, you could benefit from free trial offers. Many gyms have some workout classes included in their memberships, and several of these offer free trial memberships ranging from a week to a full month or more. Some of these gyms, like 24 Hour Fitness, LA Fitness, and Snap Fitness even let you sign up for the free trial online, so you don't have to deal with a membership sales rep up front. If there are several competing gyms in your area, you could do free trials at different gyms in subsequent months to enjoy the benefits of the free workout classes. Just make sure you cancel during the trial period so you aren't charged for a full membership. It's also important to note that many gyms will only let you take advantage of a free trial period once, so while this can be a really great way to save some money, it isn't a long-term solution.
Get social with it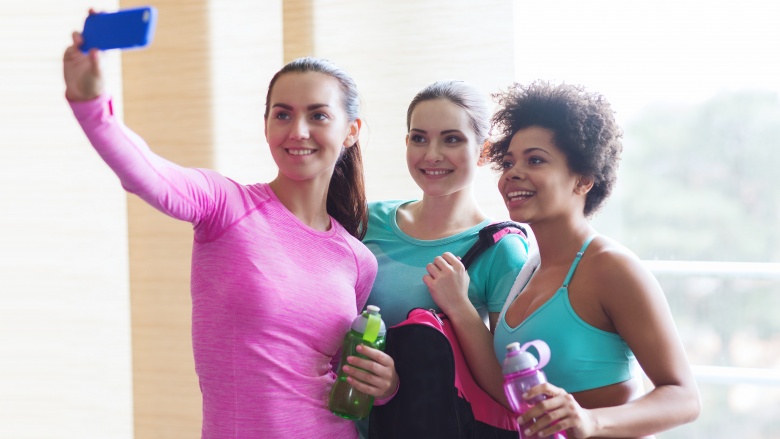 Shutterstock
If you're a regular user of Instagram, Facebook, Twitter, or Snapchat, put those thumbs and selfies to good use and follow local gyms and studios on social media. Just like fitness apparel stores like to host free events to get more people into the store (and to potentially spend money), gyms and fitness studios occasionally host free events for the same reason. Be on the lookout for events like open house celebrations, studio grand openings, bring-a-friend specials, community appreciation nights, et cetera. You never know when you'll be able to snag a free workout. In addition to special events, many gyms and studios use social media to host contests where you could win a membership or free passes. As a trainer I've even used social media to promote last-minute, free group workouts that I've hosted during the summer. With a little bit of research and persistence, you could be hashtagging your way to a workout.
Avoid the gym membership altogether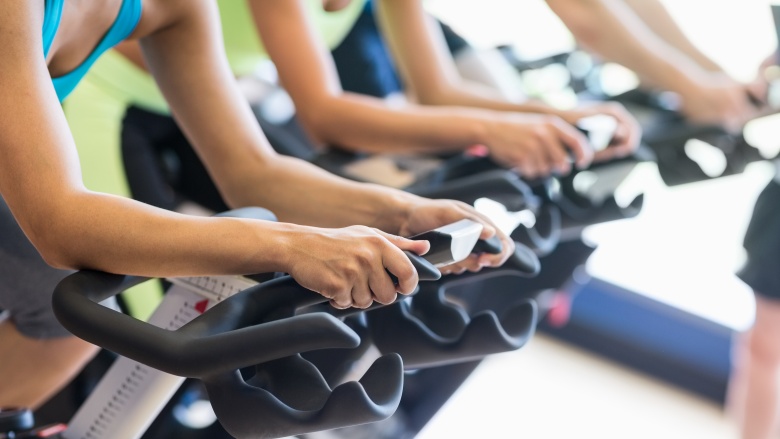 Shutterstock
Are you looking to try a variety of workout classes, but can't find a gym or studio that offers all of them? Or maybe you aren't ready to commit to a specific gym or studio because you aren't sure of your finances long-term. There are now fitness booking sites online that allow you to go to multiple gyms and studios for the workout classes without being a member. ClassPass may be the most recognizable name among these, but with their price hikes and recent elimination of their unlimited option, you may be looking for an alternative. FitReserve (currently only in New York City and Boston) offers access to a studio's full class schedule, and you can book up to 14 days in advance. Depending on how many classes you are looking to attend each week, this may be more affordable for you than joining a luxury gym like Equinox where classes are included.
Find local bloggers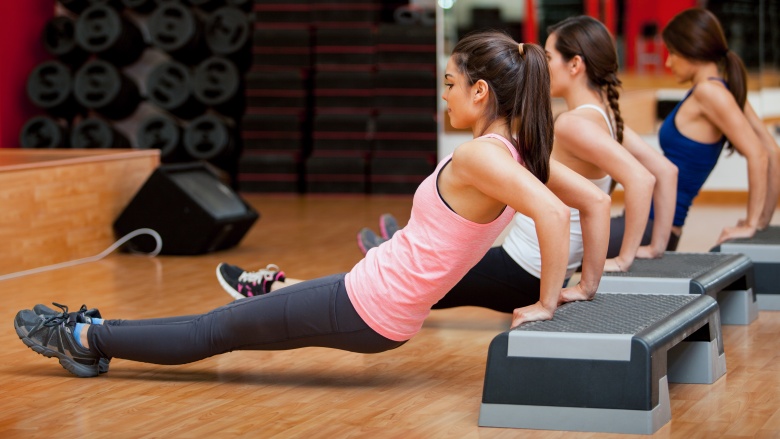 Shutterstock
Another way to get the scoop on local gyms and fitness studios is to follow local fitness and healthy living bloggers. Once you've found a blogger or bloggers near you, subscribe to their blogs and follow them on social media. Often these bloggers will host giveaways for memberships or class packs that they receive in exchange for a review of a new gym or studio. Even if they aren't hosting giveaways, they may give you an inside peek at what the classes are really like at a studio you've been thinking of joining so you know more before you go. Some fitness bloggers are trainers themselves, so they may even host free workouts of their own. Another option? Start a blog of your own! Once you've developed a following (which may take a bit of time and hard work), you can pitch your own services to studios and gyms to get free classes in exchange for spotlights and reviews on your site.
Do it all online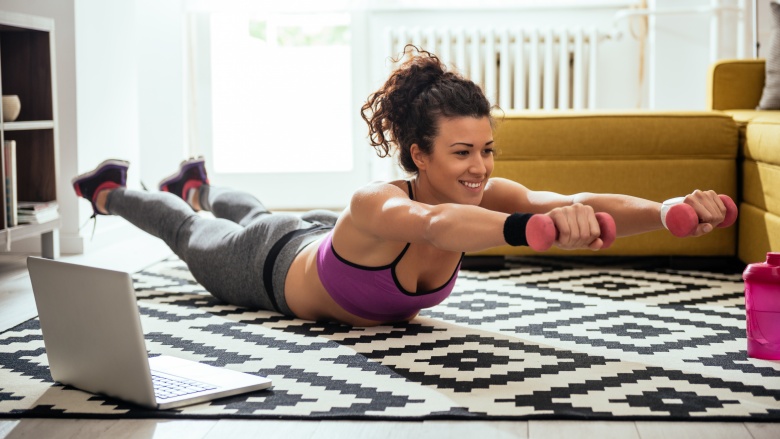 Shutterstock
If your schedule is crazy and you can't seem to find affordable classes offered at times when you could actually take them, another great option is to try online workouts. While you may not get the same camaraderie that you would get from an in-person group workout, online workouts are often designed to mimic the style of workouts you would get in a group fitness class. There are several great workout channels on YouTube and many websites also have a section dedicated to online fitness, often searchable by category. If you're willing to pay for a bit more organization to your online workout classes, another great option is Daily Burn. You can start with a 30-day free trial, and every month after that is $14.95. Not only will you get streaming fitness videos, you'll get a personalized plan and tailored workouts from awesome trainers like Bob Harper.
Find the option that is best for you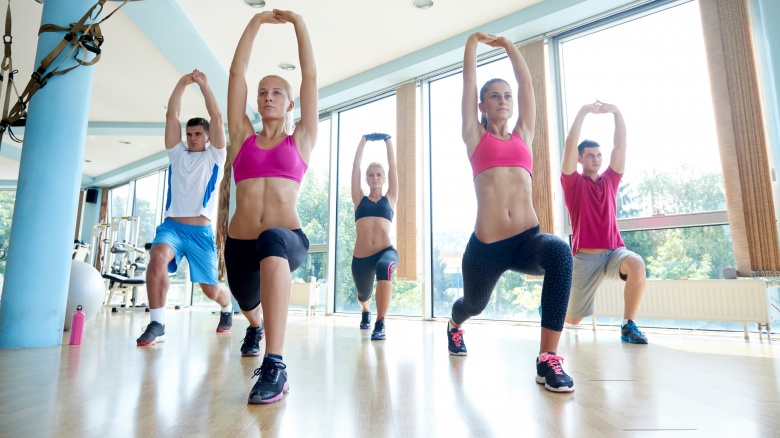 Shutterstock
From Zumba to kickboxing and pilates to spin class, group classes are a great way to get in a fantastic workout complete with the accountability and camaraderie of fellow fitness enthusiasts. Finding the right class, at the right price, isn't always easy. With a little ingenuity and creativity, there are lots of ways to find classes that won't cause sticker shock when you look at your credit card statement at the end of the month. Whether you're looking for completely free workout classes in your community or inexpensively priced workout classes at local gyms and studios, there are options for every budget.