Arnold Schwarzenegger's Video On The Capitol Violence Has Everyone Talking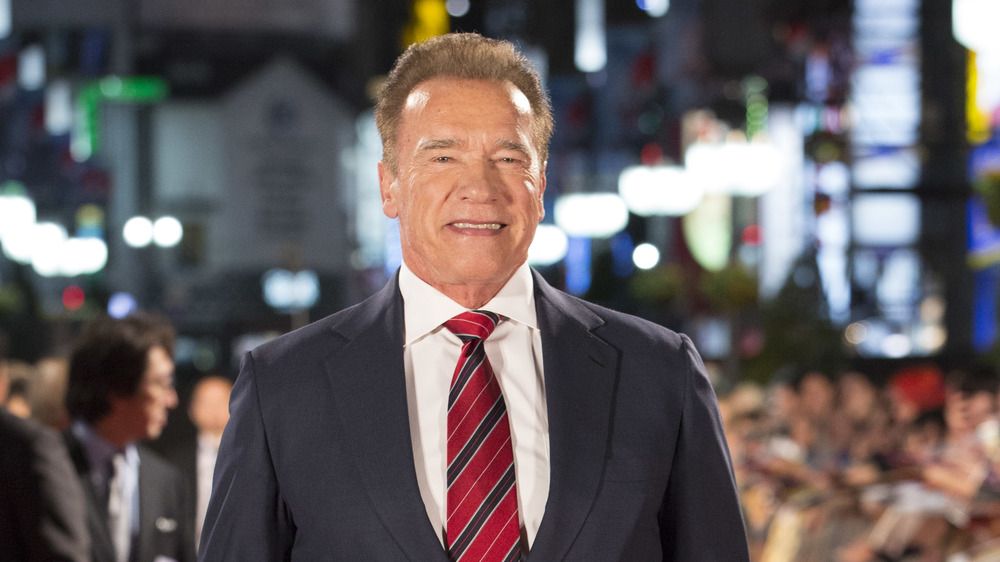 Yuichi Yamazaki/Getty Images
He's back ... and people are listening. Arnold Schwarzenegger took to Instagram on January 10 with a message about the violent assault on the Capitol that has garnered nearly three million views. Introducing himself as "an immigrant to this country," Schwarzenegger pulled no punches as he compared the Capitol event to Kristallnacht ("Night of Broken Glass"), the November 1938 Nazi attack on German Jews that foreshadowed the Holocaust (via History). "Wednesday was the Day of Broken Glass right here in the United States," said the actor and former California governor. "But the mob did not just shatter the windows of the Capitol. They shattered the ideals we took for granted. They did not just break down the doors of a building that housed American democracy. They trampled the very principles on which our country was founded."
Schwarzenegger got personal as he recalled his childhood in post-World War II Austria, where his father was one of many men who drank and abused their families, as they wrestled with their memories of the Nazi regime. Most frightening, he pointed out, was that many of these people were simply average citizens, who had been willing to listen to evil propaganda and follow what they thought was the right path. "It all started with lies, and lies, and lies, and intolerance." Though Schwarzenegger doesn't believe that America is actually on the way to becoming another Nazi Germany, he said, "I do believe that we must be aware of the dire consequences of selfishness and cynicism."
Arnold Schwarzenegger called President Trump "the worst president ever"
Despite having been a Republican governor (via Biography), Schwarzenegger had nothing but contempt for certain members of his party. Without naming names, he denounced "spineless" Republican officials whose support of Trump and his election-fraud claims helped inspire the rally attendees to attack. But his strongest words were for Trump himself, whom the actor called "a failed leader," adding, "He will go down in history as the worst president ever." 
The video ended on a note of hope, as Schwarzenegger declared, "America will come back from these dark days and shine our light once again." He called on elected officials of all parties to embody "a servant's heart," acting for the good of the country. Then, showing the impressive sword he used in the Conan movies, Schwarzenegger noted how the weapon's strength comes from "tempering" — repeated exposure to fire and water. "Our democracy is like the steel of this sword: The more it is tempered, the stronger it becomes." 
Among the many commenters who praised the former Terminator were two of his children from his former marriage to Maria Shriver. Katherine Schwarzenegger posted applause, prayer and heart emojis as she said, "Great!!" Patrick, also an actor, wrote: "Really profound dad. Beautifully said. Thank you."